IPOB denies female executioner arrested by security operatives in Enugu
3 min read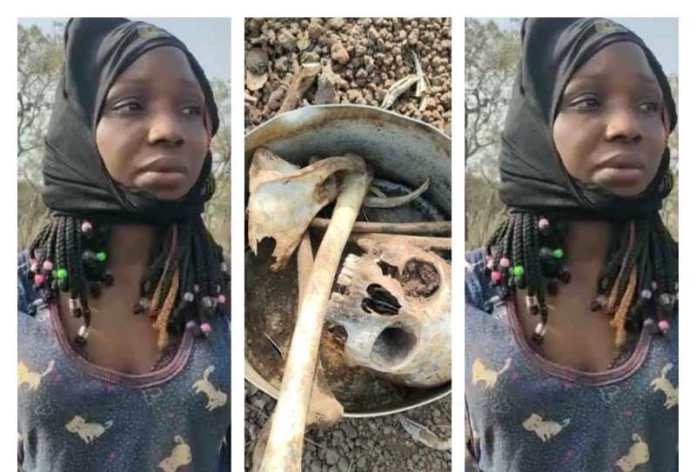 The leadership of the proscribed Indigenous People Of Biafra (IPOB), has denied a female executioner of the group arrested by security operatives in Enugu forest.
The separatist movement in a statement by its spokesman, Emma Powerful said that said that the alleged executioner and her accomplices were recruited by the Enugu state politicians to fight their perceived opponents.
According to Powerful, the thugs were used to terrorize their opponents, especially during the PDP primaries. He further noted that when the politicians could no longer manage the rogue group after arming and paying them, they decided to cause division among them.
The statement reads, "We the global family and movement of the Indigenous People of Biafra (IPOB) under the leadership and command of Mazi Nnamdi Okwuchukwu KANU wish to categorically for the second version and time in our press release, disassociate ourselves from the caricature exhibition of the so called female executioner in Enugu State.
"The so called suspect female executioner in Enugu State paraded as an IPOB member arrested in Igbo Eze North or Igbo Eze South LGA was recruited by the Enugu State politicians and chairmen of the two local governments as a member of their thugs group against their political opponents.
"They used the thugs to terrorize their opponents, especially during the PDP primaries. At a point, when they could no longer manage them after arming them and paying them salaries, they caused division among them.
"They selected the ones loyal to both the Chairmen of the Local Governments and the member, House of Representatives for Udenu/Igbo Eze North, Hon Simon Atigwe, and sent them on a three months training where they were also fortified by herbalists with anti- bullet charms.
"Since they returned, those loyal to Hon. Atigwe, Chairman William Ejike Itodo, and Jacksolo, nephew of Governor Ifeanyi Ugwuanyi, have branded those they had been working with as IPOB/ ESN and have been eliminating them. They once lured some of them into a peace meeting where they killed several leaders of the rival gang members.
"The purported woman executioner they paraded as IPOB's female member is a member of their rival gang group, which they have been working with. She is NOT a member of IPOB or ESN. Let security agencies open their eyes because a lot of our youths have been killed just because the politicians want to stay in power.
"Again, IPOB and ESN operatives won't allow these criminal politicians in Enugu State and the two local government chairmen to see the light of the day in blackmailing IPOB and ESN members. That plan will never go well for them, and we must expose their evil deeds to the public.
"IPOB and ESN will not spear them unless they come out in public and speak their evil dealings with these criminals that they recruited. The governor of Enugu State, Chief Dr. Ifeanyi Ugwuanyi is advised to investigate this matter or we come for these evil politicians in Isiuzo Council Areas."