CSU: Nigerians call on Tinubu to resign over certificate forgery
2 min read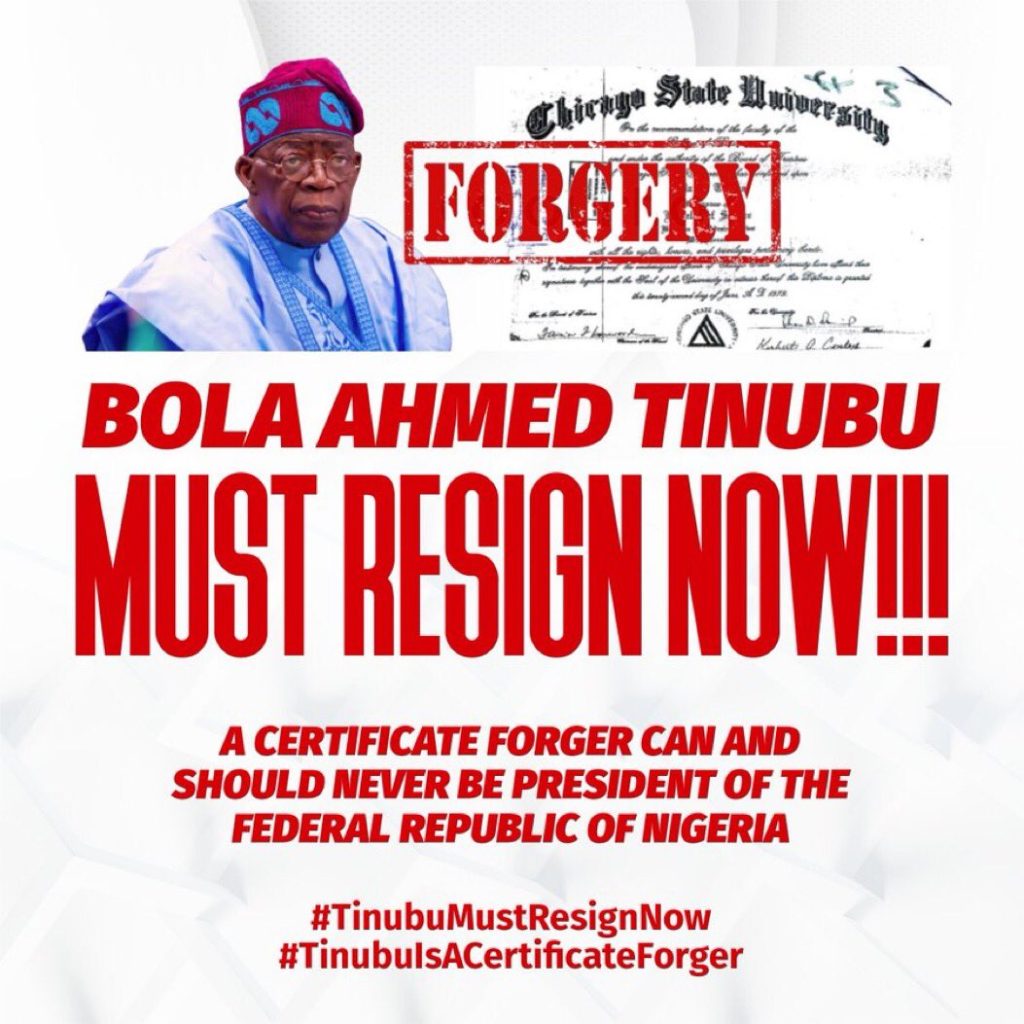 Nigerians are currently calling on President Bola Ahmed Tinubu to resign immediately after the records released by Chicago State University—CSU, showed that he presented a forged certificate from the institution to the Independent National Electoral Commission—INEC.
Also, Nigerians are calling for his resignation as the records released by Chicago State University—CSU, revealed that Bola Tinubu who was admitted into the institution was a female and not a male.
According to the documents obtained by NewsBand Newspaper, the academic record from South-West College which President Bola Tinubu used in gaining admittance into Chicago State University—CSU, belongs to a woman. This is tantamount to identity theft which is enough reason for the National Assembly to commence his impeachment.
More disturbing is the fact that the Social Security Number on the Chicago State University certificate President Bola Tinubu presented was issued in Virginia in 1976 to a female.
The Social Security Number since then has been used by Bola A. Tinubu and Abimbola Adenike Tinubu, a medical doctor in Louisiana, United States.
Nigerians are wondering if Abimbola Adenike Tinubu could be the real owner of the Cambridge GCE result in Physics, Chemistry and Biology, which was part of the academic records for "Bola Tinubu" released by the Chicago State University—CSU.
Following all these glaring discrepancies, Nigerians are calling on President Bola Tinubu to resign, adding that a certificate forger should have no business being the President of the Federal Republic of Nigeria.
Speaking with NewsBand, public affair analyst, Abimbola Yusuf, said that the records released by Chicago State University—CSU indicted Tinubu for forgery.
"President Bola Tinubu must resign now. The academic records released by Chicago State University—CSU unmasked him as a certificate forger. This is a big embarrassment to Nigeria"
Also, author and human rights activist, Paul Njoku, has called on President Tinubu to honorably resign and apologise to Nigerians for presenting a forged certificate to INEC.
According to Paul, "Now that the Chicago University documents have finally identified the hitherto mysterious Bola Tinubu as a female, we now know what Tinubu's lawyers meant when they begged frantically against releasing the documents, because it would inflict 'irreparable damage " on their client.
"Since the deposition would be made today before the judge, Atiku's lawyers and media team would have by tomorrow ( taking time difference into account) sourced enough facts to 'bomb' Aso Rock and further shock a terrified nation".
However, from the constitutional and moral standpoint, as his Chicago State University—CSU records has turned out to be forged, it is expected of President Tinubu to resign immediately because he has committed an act of perjury.
As a matter of urgency, Godswill Akpabio led Senate must commence his impeachment process as soon as possible to avoid further global shame and embarrassment.