OBITUARY: Justice Nwali Sylvester Ngwuta
2 min read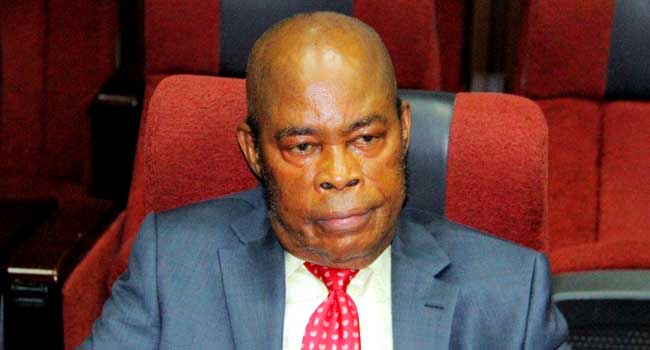 Hon. Mr. Justice Nwali Sylvester Ngwuta was born in 1951 in Amofia-Ukawu, Onicha Local government Ebonyi State. His lordship had his basic education in the Eastern part of Nigeria and got his LLB in University of Ife (Now Obafemi Awolowo University). lle-ife in 197- and BL at the Nigerian law school in 1978.
My lord, Hon. Mr. Justice Nwali Sylvester Ngwuta, is an hard working and dedicated public servant, who was a primary school teacher, far back as 1966, he became a clerical officer (Account Ministry of Education in (Divisional School Board, Afikpo) August 1971). He was deployed as the state counsel in charge, Ministry of justice, Oturkpo, Benue State, during his National Youth Service Programme in August 1978-october 1979. He started his private legal practice at Abakaliki in July 1978-October 1995, from where he was appointed a judge of the High Court Abia state in October 1995 and there promoted to the Court of Appeal on 22nd May, 2003, was finally sworn-in as Justice of the Supreme Court of Nigeria in May 2011.
His lordship was the chairman of judicial panel of inquiry into the Obegu Enyibichirikwo Disturbance 1997-1998 and has been a member of several Election Petition Tribunal, Governorship and legislative House Election Petition Tribunal; Nasarawa State held at Lafia in February 1999, National Assembly Election Petition Tribunal Plateau State held at Jos in April 1999, among others.
His Lordship had attended several seminars within and outside Nigeria, and also presented several papers; "Elements of Good Brief Writing" delivered on 9th Nov.2005 on prosecution of Appeals for legal officers in Delta State Ministry of justice, "The Importance of Locus standi and Jurisdiction to the Dispensation of justice in Nigeria and Effect of same where Absent" delivered at law Dinner organized by law students' Association of Nigeria, Ebonyi state University Chapter, Abakaliki on 17th August 2007. His lordship had received several awards such as Human Rights Awards by Human Rights Commission, Ebonyi state, on the World Human Right Day December 2000, Kwame Nkrumah Leadership Award 2011/2012 by West African Students Union Parliament on 25th April, 2012, and Commander of the Federal Republic (CFR) 2012.
Hon. Mr. Justice Nwali Sylvester Ngwuta died in his sleep after a brief illness on Sunday the 7th day of March 2021. He was happily married with children.