I kill ladies to get their parts for buyers — murder suspect confesses
8 min read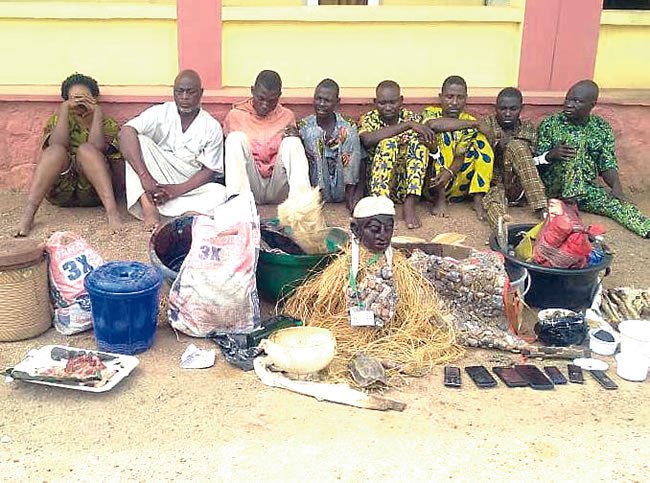 Lukmon Oladele was a native doctor attending to patients, using for traditional means to heal and to boost their businesses.
However, unknown to his neighbours and residents of the area he lived in, the Ijebu-Ode-born suspect was also into sale of human parts. He would lure ladies, especially commercial sex workers, to his house.
In the process of intimacy, he would grip his victim, kill her and remove needed body parts, after which he would throw the body in a place that would either not be seen or recognized, since it would be headless.
His cup, however, became full with his last deed with a mother of two, Oyindamola Adeyemi, whom he lured to the house of his accomplice, Taiwo Ajalorun, purportedly for sex.
With the aid of his accomplice, Ajalorun, who pinned her down, Oyindamola was strangled by Lukmon one afternoon.
Having achieved that, Lukmon began to work like a butcher, slicing off the parts he needed to sell to his waiting clients.
In the early hours of the following day, he squeezed the body stump into a big bag and took it to a distance to dump it.
Thinking that it was over, Lukmon relaxed in his home, awaiting payment from his client.
However, about a week after the killing, detectives in the Ogun State police command arrested him, his partner-in-crime, Taiwo Ajalorun, for the gruesome killing of the 26-year-old lady.
The Police Public Relations Officer in the state, SP Abimbola Oyeyemi, who exposed the suspects in a statement, said that buyers of the body parts were also arrested while one of them is still at large.
According to the PPRO, a neighbour of the deceased went to Obalende divisional headquarters; Ijebu-Ode to report that Oyindamola had not returned to her place of abode since she left in the morning of December 28, 2022, while her line was unreachable.
Though the neighbour was told to come back after 24 hours when Oyindamola could be declared missing, a police patrol team from Obalende division saw a dismembered body by the roadside the following day. Her neighbour, who came to check the body, identified it as Oyindamola.
Nigerian Tribune learnt that investigation by the detectives led to the arrest of Taiwo, a native doctor in whose possession the deceased's iTel phone was found.
The PPRO said that during a search in his house, a container filled with human blood was found. His confession led to the arrest of Lukmon in whose house the legs of the deceased were also recovered.
Nigerian Tribune had an interview Lukmon, aged 36. He said: I'm a native doctor and have been practising for about seven years. On December 28, Taiwo called me and gave me Oyindamola's number, telling me that she was a commercial sex worker. He asked me to lure her so as to kill her to get her body parts for sale.
Before we invited the lady, one of our buyers had been asking for human parts that he used to buy. He usually bought the head, feet and chunks of meat from the human body. He used to send bike riders to come and pick the parts or I would take them to him.
"I called the lady and we agreed on N5,000 as payment for the intimacy we would have. She came at about 1pm and was on the bed with me. While fondling her, Taiwo came in as planned. One of us pinned her down while the other strangled her. When she became lifeless, I used a knife to remove her head, hands, feet, heart. I kept her body at the backyard of the house I live in. The native doctor who requested for the human parts came that same night to collect them. He said he would pay N50,000 for the head, N40,000 for the hands and N30,000 for the feet. The heart was taken by Taiwo who said he needed it for one of his clients.
"Early in the morning, we put the stump in a bag after wrapping it with cellophane, begged a man to lend us his bike and went to throw it along the expressway. The bike owner didn't know what we wanted to use it for."
How we were caught
"After killing the victim, Taiwo decided to keep the victim's phone for personal use. Some days after, he called me that he was at the police station because of N30,000 he was owing. He asked me to come and help him out. I was arrested when I got there."
How I started killing victims to get body parts
I started last year (2022). I don't know what made me do it. There was a lady, Fatima, who was also a commercial sex worker at a place called Sanga. She came to spend the night with me. She asked for N10,000 but I told her that I would give her N5,000. She was with me that night when she told me that she wanted to go somewhere, promising to return. She came back after 11pm.
"In the morning, she woke up and went to ease herself in the toilet. Before she returned, I searched her purse and found a small knife in it. When she came into my room, I asked what the knife was meant for and she said I should not ask such a question.  That was how we argued and I killed her.
"The buyer of the body parts was always coming to my area, with the request for them. He is also a native doctor. He said that the person he used to purchase them from in the past was dead. One day, I went to his house and met him burning something. He told me that it was one of the body parts he got from me."
Taiwo's confession
"I'm 42 and from Ijebu Ode. I'm also a native doctor. I was arrested because of the lady we killed on December 28."
How I joined in killing to get body parts
Lukmon and I are native doctors so we consult each other on our jobs. We used to exchange visits too. In May, last year (2022), I went to visit him as usual, but was shocked when I saw human flesh in his hand. I asked: 'what is this?' Instead of responding to my question, he stood up and held my dress, holding a knife. He said that since I had seen what he was holding, he would not let me go until I swear to an oath that I would not reveal his secret.
"Immediately, Lukmon dipped his finger into a bowl containing blood and spread on my tongue. I couldn't swallow the human blood, but he took a bottle containing alcohol, put it to my mouth and asked me to drink it with the blood already in my mouth. I had no choice than to do so. He made a pronouncement, saying that whatever a mortar covers can never have a peep of outside again (ohun ti o do ba de ko gbo odo tun ri ita mo.)
"I went back home and started thinking of the matter. I prayed that my going to Lukmon would not land me in trouble. About a month after, he called me and told me that such a job had come up. He brought a lady home and told me that we would get her body parts after killing her. He said that once he got in the room with the lady, he would call me on the phone whenever it was time to strike.
"After about 30 minutes, he beeped my number and I went in. The next thing was that he told me to hold the lady's hands while he held her neck until she became still. Thereafter, he brought out a knife underneath his bed and started cutting the lady's body parts which included the head, hands, feet and heart. He licked the bloody knife he was holding, then pointed it at me and asked me to also lick it, saying that the two of us would be working together under the oath. That was how I got hooked.
"The next day, he gave me N5,000 as my share of the money he was paid by the buyer.
"I was the one who gave Lukmon the lady's number. I used to see her at the drink joint that I used to visit. I knew her as a commercial sex worker. I thought of it that she would be appropriate for our next operation so I got her phone number at the joint.
"On December 28, I gave Lukmon the lady's number, asking him to call her as she already knew me. He called her and she agreed to come. Lukmon brought her to my house and they went to the room to share intimacy. As I came in, Lukmon just shouted 'hold her!' I did and Lukmon strangled her until she died. All the ladies we killed were commercial sex workers.
"After the latest killing, he gave me the lady's heart. I took it home and kept it in a bowl. I didn't know that I needed to soak it in alcohol. I had not collected my share after the third one when I was arrested."
Admitting that what they did was inhuman and very terrible, Taiwo said that it was the oath he was forced to swear to that kept him on the trade.
One of the buyers of the human parts, an Islamic cleric, Adebayo Alebiosu, aged 56, said that he did not buy any but was given by Lukmon who is his relation.
"He put it in a tin and I took it home. However, it got rotten where I kept it. He didn't tell me what to use it for. Taking it from him was a mistake on my part," he said.
Another buyer, Akeem Bello, also a native doctor, confessed that he once bought human head from Lukmon in February 2022.  I also bought pieces of human flesh from him about six times.
"The head was already decomposing when he sold it to me. He told me that he exhumed it from the grave. I paid N40,000 for the head and N10,000 for the flesh part.
"When I learnt that he killed the person whose part was sold to me, I quarreled with him. I reported him to Taiwo and he told me that Lukmon was killing human beings whenever he could not get hit-and-run victims."
The PPRO said that the state Commissioner of Police, Lanre Bankole,  ordered transfer of the suspects to the Homicide section of the State Criminal Investigation Department for further investigation.