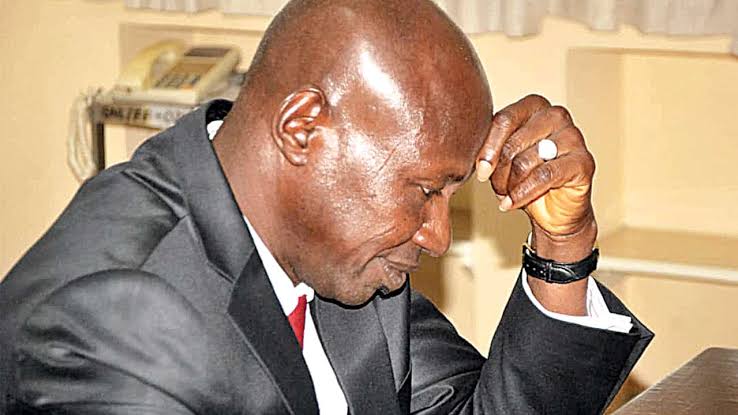 THE PUBLIC AND DRAMATIC ARREST OF MAGU IS A STRATEGIC BLUNDER FOR BUHARI
Dr. Johnson Greg
The presidency says the arrest of Magu, Acting Chairman of the Economic and Financial Crimes Commission (EFCC) shows that nobody is above the law and that his government is serous about the war against corruption. But people will see the whole drama as God exposing Buhari by leading him to self destruction.
Magu is a man twice rejected by Nigerian Senate because there were serious allegations of corruption against him. But Buhari violated Nigerian constitution to force Magu on Nigerians for 5 years. The fact that the same Magu has been arrested for the same allegations of corruption shows that Buhari's administration is a disastrous failure.
The proper questions now should be: Why did Buhari impose Magu on Nigeria in violation of the constitution? What kind of logic led Buhari to insist on such a man? According to the report Punch 7th July, 2020, "Most of the allegations (against Magu now), it was learnt, emanated from a report by the Attorney-General of the Federation, Abubakar Malami (SAN), and a DSS report which was submitted to the Senate in 2016 and 2017."
If I were Buhari's adviser, I would urge him to recover the looted money from Magu and allow him to resign quietly in order to save his administration from such a huge embarrassment. But it seems that God is the one now advising Buhari. He advised him to expose himself and reveal the truth to the country, that his administration is a total failure.
If Buhari is really serious, he should know that everything they accuse Magu of doing was done by all EFCC Chairmen before Magu, and there is need to extend the probe to all of them. Further, this probe should show the world that Nigeria has not made any progress in the fight against corruption. EFCC was a failure from day one. Nigeria needs to disband EFCC and radically reform the Nigerian police force. Also, one may now ask: How come that every EFCC chairman has been a Northern Muslim? Has that do with the fact that the EFCC has always been an instrument of political control?