Video: 'Allow girls with big breast to breathe', Unical female law students call out faculty Dean, prof Ndifon over sexual harassment
1 min read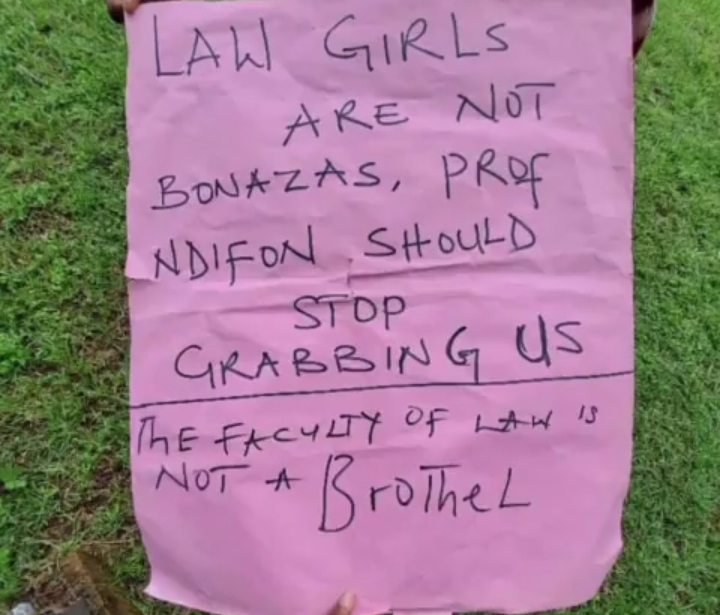 There is palpable tension at the University of Calabar, after female law students of the institution called out their faculty Dean, professor Cyril Ndifon for sexually exploiting and harassing them.
In a video shared by a Twitter user, the female students and their male colleagues were seen protesting in front of the law faculty.
Unical female Law students have called out their Dean, Prof Cyril Ndifon. Right now they are being threatened and shushed by the establishment.

Lend your voice! #CyrilNdifonMustGo#ProtectOurGirls pic.twitter.com/xrlsB20ctN

— Where is Chijioke? (@Ada_mummyya) August 14, 2023
The protesting students also displayed placards with disturbing inscriptions like, "We are tired of sucking big dick", "Professor Ndifon, let the girls with big breast breathe. Stop suffocating us", "Enough of law school list manipulation",
News Band gathered that the randy Dean was once suspended by the institution over allegations of sexual harassment and other sundry issues but was later recalled.
Meanwhile, there are reports that authorities at the University of Calabar are trying to intimidate the students for exposing professor Ndifon's sexual misconduct.