UK doctors perform first-ever womb transplant
2 min read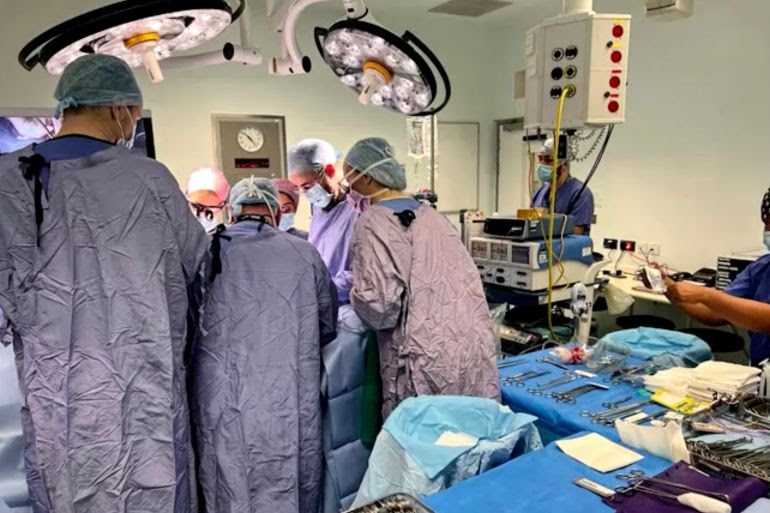 Surgeons have successfully performed the United Kingdom's first womb transplant, signalling a new future for childbirth.
According to surgeons at the Oxford Transplant Centre, a 34-year-old woman received a womb from her 40-year-old sister, who has two children of her own.
The recipient was "incredibly happy" and "over the moon" following the nine-hour operation, Isabel Quiroga, a consultant surgeon at the Oxford Transplant Centre, told The Guardian.
The woman, who is married, plans to try to have two children with IVF using the five embryos she had frozen.
She was born with a rare condition that left her womb underdeveloped. Donations to Womb Transplant UK covered the cost of the surgery, which totalled around $32,000.
More than 90 womb transplants have been carried out in different countries, including in Sweden, the US, Saudi Arabia, Turkey, China, Czech Republic, Brazil, Germany, Serbia and India. However, this is the first womb transplant to happen in the UK.
Most of the surgeries have been performed with a living donor, and about 50 babies have been born following these operations.
The first successful womb transplant took place in Sweden in 2014, with a 36-year-old woman giving birth to a baby boy she named Vincent.
Quiroga, who co-led the UK surgery, reported the patient was "thrilled" and "extremely proud" the operation had been a success.
She was able to leave the hospital after 10 days.
"She was absolutely over the moon, very happy and is hoping that she can go on to have not one, but two babies," Quiroga said.
"Her womb is functioning perfectly, and we are monitoring her progress very closely."
Co-lead surgeon Richard Smith called it a "massive success."
"It was incredible," he told The Guardian, adding that the medical team and the recipient were almost "in tears" during the post-operation consultation.
"I think it was probably the most stressful week in my surgical career, but also unbelievably positive. The donor and recipient are over the moon, just over the moon."
He added: "I'm just really happy that we've got a donor who is completely back to normal after her big op, and the recipient is, after her big op, doing really well on her immunosuppressive therapy and looking forward to hopefully having a baby."