Tinubu meets top Muslim clerics in Abuja over Niger coup
2 min read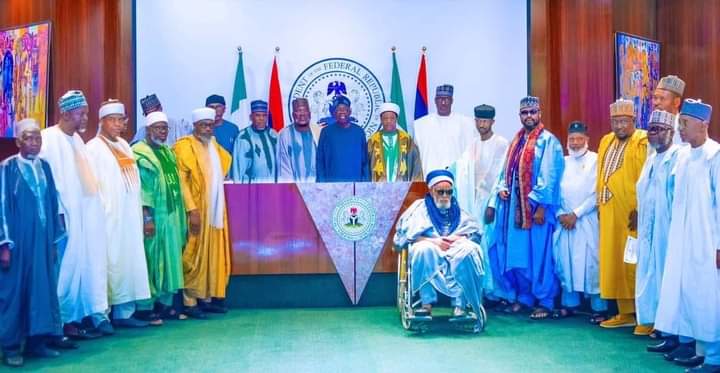 President Bola Tinubu on Wednesday received a delegation of Nigerian Muslim leaders, led by Sheikh Dahiru Bauchi, and accepted their mediation in Niger conflict.
The leaders were at the State House to consult with the President on the situation in the Republic of Niger.
The president had on Tuesday declared that all options were still opened to find an amicable resolution to the Niger political crisis.
While speaking to journalists earlier, Sheikh Bala Lau, said the delegation pledged to find a lasting and peaceful solution in neighbouring Niger Republic.
"The delegation of Ulamah here in Nigeria, met with Mr President on the issue of Niger Republic. We want to find a lasting solution. We want peace and harmony to reign not only in Nigeria, but in the sub-Saharan region and globally.
"So, the whole Ulamah advised Mr President, that we want peace and reconciliation.
"Always if there is anything that happens between you and your neighbour, the Holy Qur'an commands you to reconcile. So, we want reconciliation.
"That's why we're here and our able leader and President accepted the offer that he wants us to intervene and to talk to our brothers over there in Niger Republic, the scholars as well on how we can come together and bring a lasting solution to this problem,'' Lau explained.
Similarly, Sheikh Abdurrahaman Ahmed, confirmed that the president accepted their offer to mediate in the Niger imbroglio, adding that the mediation will start as soon as possible.
Mr Ahmed said that Mr Tinubu also accepted for them to speak with the military junta in Niger to give concession in order to find a common ground between it and ECOWAS.
"Other than that, the president deplored coup d'état in the Sahel region, and as a democrat himself, said he will do everything to ensure that there is democracy, justice, freedom and peace in the sub-region.
"We as Ulamah are also committed to peace and justice, and the president will be enabling the Ulamah to mediate as it is appropriate.
"So this is why we're here. And it is a mission accomplished, because the President responded positively and in turn he has given us an assignment to also mediate to ensure reconciliation between the warring factions in Niger Republic."
The News Agency of Nigeria recalls that on July 26, soldiers from Niger's presidential guard deposed President Mohamed Bazoum and closed the country's borders.
Entrances to government ministries were also blocked by the presidential guard.
While the ECOWAS Heads of State and Government agreed on a number of resolutions against the military junta, another round of financial sanctions were on Tuesday imposed on entities and groups associated with the junta.