The main reason Nnamdi Kanu is in detention today
10 min read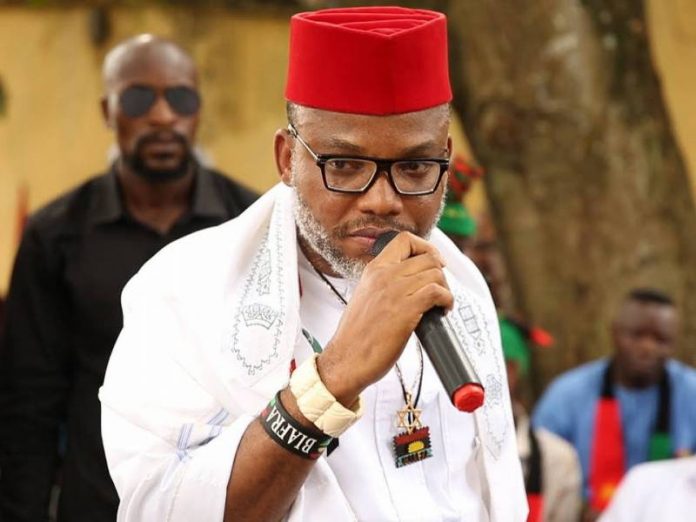 By Emeka Ugwuonye
Many may wonder the chain of events that led Nnamdi Kanu to where he is today and many are wondering the way forward. It may be difficult to understand the simple logic of how we got where we are in the case. As a lawyer once involved in his case, I know it is a classic case of ineffective representation by counsel.
I will start by taking you back to January 2017. I went to Kuje Prison to meet Nnamdi Kanu on his invitation. The invitation was conveyed first by his brother, Kanunta, and later confirmed by Nnamdi Kanu in a subsequent call. I went in the company of my associate. The prison authority welcomed us and arranged for me to meet with Nnamdi Kanu. He had been aware of my writings and views on many Nigerian legal issues and he had followed me for a long time prior to his arrest.
We discussed extensively the role I could play toward his release on bail and eventually toward the future of the charges then pending against him. I explained to him that his case had been unduly sensationalized and politicized, that I could not afford to be in the forefront because it meant I would be dealing or speaking with the thousands of his followers that thronged the court each time there was a hearing. Also, I explained to him that given the controversies then surrounding me and the Nigerian Embassy in Washington, it might not be in his best interest for me to be the face of his defense. One thing I did not want was to be his lawyer as well as the spokesperson for IPOB. I could draw a distinction between Nnamdi Kanu as a person facing criminal trial and needing effective legal defense and Nnamdi Kanu as a leader of a cause or a movement. I have never hidden the fact that I do not think that the Igbos need a territorial Biafra. However, I believe that the Nigerian Government officials have not been fair and sincere in the manner they have handled Nnamdi Kanu's prosecution. So, to the extent that Nnamdi Kanu would want his lawyer to also be a believer in his Biafra, I felt there could be a conflict. I was open to him on my feelings and reservations about my role as counsel.
He insisted that I should be available to him in some capacity. I then proposed to be only a technical and strategy adviser. In such capacity, I would be advising and guiding his lawyers that are in the frontline. Also, in such capacity, I could advise him on things beyond the charges he faced. Nnamdi Kanu accepted this idea. Also, I must point this out: in the capacity of technical adviser, there was no need for Ifeanyi Ejiofor, who had started getting noticed as his counsel, to be replaced. I specifically told Kanu to keep Ejiofor because he needed a lawyer who could address the Igbo traders that support him in the language they would understand.
In the course of that meeting, Nnamdi Kanu promised to direct Ejiofor to send me a copy of all the processes filed and pending in court. I believe it must have been when Kanu later directed Ejiofor to provide me a copy of all the processes that Ejiofor developed the fear that I was about to replace him. I noticed from day one that Ejiofor resisted giving me a copy of the processes. Without telling Kanu that Ejiofor was resisting his directives, I suggested to him that it was better for Ejiofor to deliver a copy of the process to Kanu in prison and I would get it during my next visit. That was how I was able to get the processes.
During my next visit to Kanu in Kuje, which occurred early in February, and by then I had seen the processes filed, I had further detailed discussions with Kanu. Because I knew that Ejiofor was resisting my involvement in the case, I had to present my suggestions on the case directly to Kanu, who would then pass them on to Ejiofor. I didn't want to get embroiled in any altercation with Ejiofor, who is not my mate in any sense of the word. He wasn't even up to the level of my associates. I felt that Nnamdi Kanu was in enough complication already and there was no need for more drama in his case.
Having reviewed the processes and made the suggestions I had to make, which were all well-received by Kanu, I was confident that he would be granted bail next time the court was to rule on his bail application. I felt it was necessary to start a discussion on Kanu's activities once he was out of prison. I opened that topic by telling him that his real challenge was what to do with the five million people that believed there would be a country of Biafra based on his promises. I told him frankly that he had raised the hope of imminent Biafra which he could not deliver on. I recall my words very clearly because I thought each word carefully before uttering it. I said to him: "You have actually done a lot by having millions of people ready to follow you on the quest for a territorial Biafra. But your real problem will start when you leave this prison and you are not able to deliver Biafra to them". He looked at me very keenly. And he asked me: "Really?" I nodded yes. He looked down at the table between us apparently in deep thought. When he looked up again, he said: "This is why I need you." I believe that at that moment, even if only that once, Kanu understood the predicament he faced. I also felt at that moment that he needed a lawyer/adviser who would help him out of that dilemma – how not to lose face even if he could not deliver on his promise of a country of Biafra. The fact, known to every reasonable person, especially to Ojukwu before his death, is that a territorial Biafra is an impossibility. Even Nnamdi Kanu knew that all along.
This is the point: The role of lawyer is how to help his client out of trouble, and not how to get him deeper into trouble. I felt that Kanu had successfully raised a new consciousness about Biafra. But he should steer in the direction of ideological Biafra rather than in the direction of territorial Biafra. Since he had a large voice which millions could listen to, he should use it in building the ideological Biafra without risking the impossible and the highly destructive option of pursuing a territorial Biafra. Indeed, I still regret that things went in the direction they did, and rather than the much needed ideological Biafra, Kanu pursued the territorial Biafra with all the destructive consequences to his personal life, his family and to the millions of the Igbos who suffer today as a result of the problems between Nigeria and IPOB.
The day Kanu was granted bail in April, 2017, I was present. I had arrived Abuja the day before and went straight from the airport to Kuje prison. I had predicted that he would be granted bail and I convinced him to expect that. It was another memorable day and we were optimistic. Kanu requested that if I got to the court before him the next day, I should wait until the prison staff would bring him to the prison because he wanted me to walk into the court with him. I didn't know why he made that request. But I waited for him to arrive at the court premises before I entered into the courtroom. However, my Associate was in court waiting for us. By the time I arrived in the court with Nnamdi Kanu, my Associate had written my name and his own name on the cause list (the docket) among the lawyers appearing for Nnamdi Kanu, which is a standard thing for lawyers to make it easy for the judge to write the names of the lawyers correctly.
When the case was called, Justice Binta Nyako called the names of all the lawyers appearing for Nnamdi Kanu and his co-defendants. My name was called, Ejiofor's name was called and the names of about 8 other lawyers, including my Associate, were called. Nobody objected to the list of lawyers appearing for Kanu and Kanu did not object. This is important to note because I later heard the rumor Ejiofor and the girl that works for him were spreading, alleging that I "smuggled my name into the list of lawyers appearing for Nnamdi Kanu". That was a malicious and tendentious lie. If a wrong lawyer tries to enter his appearance on a case he is not involved with, the real lawyer should raise an objection immediate as to the unauthorized representation or the client would do so. It is strange and a sign of lack of knowledge that Ejiofor would tell such a story without explaining why he did not object when a lawyer not engaged for a case he is handling entered his appearance in an open court.
The bail granted to Nnamdi Kanu in April, 2017, came with stringent conditions, including the condition that he should not address a gathering of up to ten people. I was alarmed by these conditions. I knew that the best thing was to apply to modify such conditions. We call it bail variation. That was actually the only option and that was the advice I would give. A number of things happened within hours after Nnamdi Kanu got out of bail. First, he was advised by Ejiofor that he could ignore the bail conditions and carry on as before he was arrested. Second, unlike Ejiofor, I did not try to follow Kanu in order to advise him. I am the kind of lawyer that waits for the client to call him if he needs advice. However, when I saw him doing things that clearly violated the conditions of him bail and there was no application to vary the bail terms, I knew he was being advised the wrong way. The difference between Ejiofor and me is that, while I saw myself only as lawyer for the man whose due process rights were at stake, Ejiofor saw himself as a believer and member of IPOB who was more interested in the power and fame that seemed to come from the agitation for Biafra.
Kanu's inability to either keep to the terms of bail or vary the conditions of bail was the tinderbox that led to the nightmare we have seen since August 2017. Anyone who has been detained in prison for two years will do anything on earth to avoid going back. So, I knew that even if soldiers had not gone to his house in Abia State, he would have to flee from Nigeria in order to avoid his bail being revoked and him returning to prison. I am sorry to admit that Ejiofor's wrong advice to Kanu in the first one month after he came out from prison was resinous and extremely harmful to him. I also regret that I did not allow Kanu to disengage Ejiofor when that was considered. Power is extremely intoxicating. The best thing any season professional could have done for Kanu immediately he came of prison was to show him how to retain the power of being the new leader of Biafra without so much exposure to the risk of violence that eventually trailed his leadership of IPOB. I believe that millions of the Igbos would still have followed him if he had pushed for a Biafra that did not seek to translate into the territorial characteristics of a separate country. He could have led the Igbos without asking for a country of their own. Ejiofor was not that type of lawyer that could help him. Ejiofor was just like any other misguided Igbo youth. The only difference was that Ejiofor was more susceptible to the intoxication of power.
As Ejiofor misled Nnamdi Kanu, he sponsored all manner of malicious rumors and lies against me. To show how malicious Ejiofor was toward me, he volunteered to represent the police against me in an unrelated case I had with the police, in which I was purely persecuted by the police. And Ejiofor's sole role in that case was to call a press conference and brand me an armed robber. In other words, Ejiofor actually said to the press that "This lawyer (who also happens to be representing Nnamdi Kanu, my client), is an armed robber." Ejiofor did not and could not appreciate the implications of his behavior. He did not know that if I was forced to fight him publicly, it might harm our joint client, Nnamdi Kanu. (Or he did not believe that I was also Nnamdi Kanu's lawyer). He did not understand that for him to take such a step, he should clear with his client.
In conclusion to this first part of this article, I will state that, it was bad legal advice that led Nnamdi Kanu through the chain of events that got us where we are now. As Kanu's legal position weakened, he became more legally vulnerable and more dependent on the same lawyer that got him into the mess. And that lawyer finally got to the position where he blackmails Kanu and his family today. With the proscription of IPOB, that lawyer becomes the de factor leader of IPOB. Rather than getting out of the present predicament, Kanu's position will worsen as long as he is not able to free himself from the lawyer that landed him in the mess. If you look at various things Ejiofor has done over time, you will know that he is working against Kanu's interest. Not only did Ejiofor resist me, he also resisted Bruce Fein, whom he called senile, but who got the important United Nation Committee's support for Kanu. He also resisted Aloy Ejimakor who actually got landmark judgements for Kanu. Unknown to many, Ejiofor resisted the inclusion of Chief Ozekhome in the defense team. And of course, the world saw how Ejiofor staged a meaningless walk-out on the court, which hurt the interest of Kanu.
In part two of this series, I will show the various missteps that Ejiofor's poor representation of Nnamdi Kanu led him into and how different things would have been if Ejiofor had not remained the lawyer for Nnamdi Kanu.