Senator Rochas has not joined PDP, still in APC — Spokesman
4 min read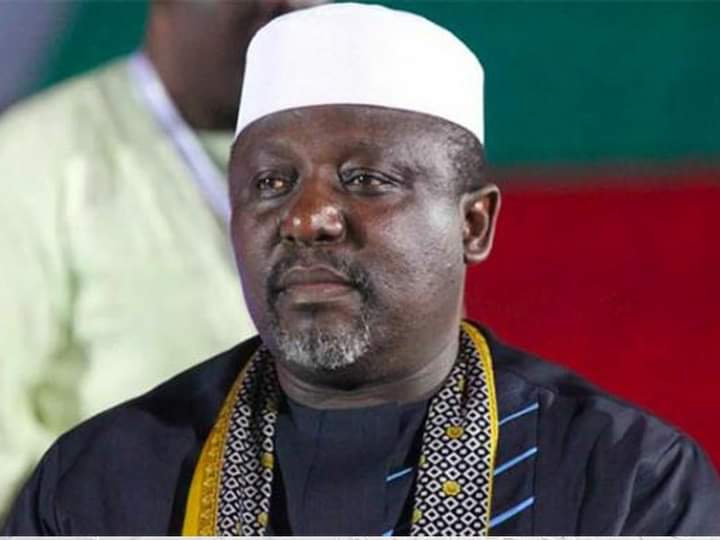 Former governor of Imo State, senator Rochas Okorocha, has refuted reports that he has joined the Peoples Democratic Party.
Okorocha, an APC senator was reported in some section of the media to have joined the opposition party.
Sam Onwuemeodo, Special Adviser on media to the former governor, described the report as false, adding that the senator wouldn't have announced his detection to PDP during a burial ceremony he attended which had PDP chieftains in attendance.
According to Onwuemeodo, Rochas who is currently representing lmo West senatorial District only attended the burial ceremony of the mother of his deputy Chief of staff, Honourable Kingsley Uju, member representing Ohaji-Egbema/Oguta/Oru West Federal constituency who served under his administration.
However, Onwuemeodo maintained that Rochas is still a member of the ruling party and if there is any such thing like detection, the right measures will be taken to communicate the party and the Senate.
Part of the statement reads, "Our attention had been drawn to a story, claiming that, the former governor of lmo state and Senator Representing lmo West senatorial, Owelle Rochas Okorocha, has joined the Peoples Democratic Party, PDP.
"To add flesh to the false story, those behind it also attached some photographs, with Senator Okorocha and a Chieftain of the PDP, Rt. Hon.Emeka lhedioha and others, being in the pictures.
"Those behind this false story, deliberately failed or refused to mention the venue and title of the event, where the photographs were taken. They could not also quote a portion of Okorocha's speech, since he is not a dumb man, and must have made a speech at the event.
"They concealed or withheld those vital aspects of every event or story, because they would not serve their aim or goal.
"We are at ease, to say that, Okorocha has not joined the PDP. He is still a member of the APC. Burial ceremony could not have become political declaration rally.
"On Friday, December 30, 2022, Hon.Kingsley Uju, representing Ohaji-Egbema/Oguta/Oru West Federal Constituency, buried the mother, Lolo Caroline Uju, at her Home town, Egbema.
"Uju was Okorocha's frontrow appointee. He served Okorocha and his government in various capacities, including being the Deputy Chief of staff and was his anchor man in the oil producing areas of the State. Okorocha was also instrumental to his going to the House of Representatives on the platform of APC. There're also a lot of them like that.
"Uju joined PDP when he discovered that his second term bid ticket, could not be guaranteed in APC. He succeeded in getting the PDP ticket. Okorocha would not have, in the circumstance, asked him to drop his second term bid.
"Uju buried the mother on Friday, December 30, 2022. Okorocha was at the burial because Uju served him and his government with dedication and commitment. Okorocha would not have boycotted the burial because of Uju's current political party. That would have been most uncharitable and unimaginable, especially when lgbos do not play politics with death and burial, even when the reverse seems to be the case these days.
"At the burial too, were PDP members where Uju belongs today. And lhedioha, one of the key leaders of PDP in lmo, was at the burial too, with his party chieftains.
"The burial in question created an atmosphere of conviviality, in which case, people mixed up and interacted freely without minding which political parties they belong. Photographers were taking their shots without anybody being conscious of any attendant mischief, since the political leaders were all there, for Hon. Uju mother's burial. lt was not a political rally. lt was also somewhat a carnival because the late woman lived a fulfilled life, with the children being handy.
"Unfortunately, those who play politics with everything, both human and inhuman, circulated some of the photographs taken at the burial and told their audience that, Okorocha had joined the PDP. Yet, they could not tell the same audience, the venue of the " joining" and what the event was all about .
"The correct story is that, Okorocha is still a member of the APC. And if he decides to leave APC today or tomorrow, the world would know he is quiting. As protocol demands, he would write to inform the leadership of the Senate. He would write to inform the leadership of the APC. And we would take off from there. That would not take place at a burial event. At a burial ground.
"This is new year. So, we wouldn't be hard on those behind this cock and bull story. We would only ask God to touch them, to know that politics isn't the end of life. To know that, it's ungodly and high level of wickedness to play politics with death or burial. To know that, one day, we shall be judged by our actions, inactions and utterances. lt doesn't end here.
"To also know that, those who played politics in the first Republic and second republic, even third republic, are not the ones playing it today. That is to say, later, if not sooner, those playing it today, would become history. We must, therefore, be mindful of the way we play our politics.
"All in all, we appeal that, the general public should disregard the story of Okorocha joining the PDP. lt's not true. The photographs attached to the false story are not evil since politics is not war. Not a do or die venture. Our only concern was the virus some mischief makers tried to inject into the innocent photographs, taken at Uju mother's burial, without malice or those involved being conscious of which political parties all those at the burial in question, belong.
"May God grant those behind this falsehood, Spiritual transformation and moral rebirth or formatting. They need it, more than ever before. They need to be taught that mischief isn't a good English word."