Re: Peter Obi cannot harvest wheat after sowing thorns
4 min read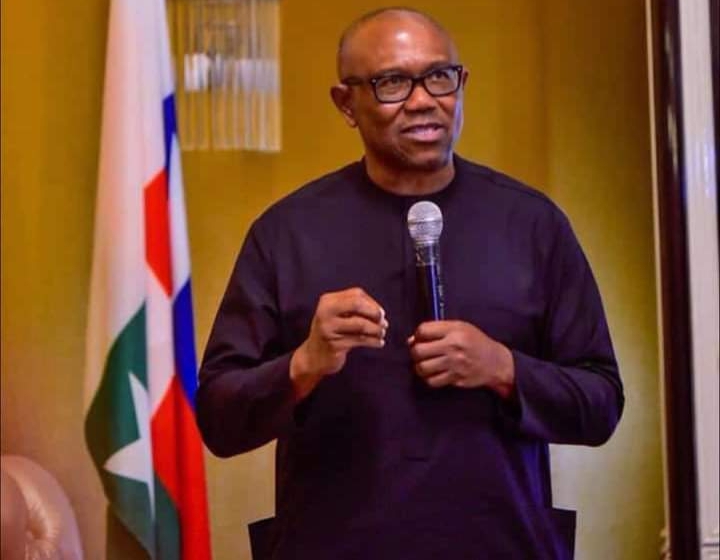 I refer to the above titled article written by one Cham Famliya Sharon, being circulated by agents of political buccaneers in Nigeria who are afraid to campaign on issues but are looking for cheap propaganda upon which they can ride to power.
In the said article the author tried to malign Peter Obi with the agitation for Biafra by concocting irrelevances aimed at inspiring hatred against him, demanding that he proscribes IPOB without telling the world where he will derive power to do so. She also slammed the entire Igbo leaders hoping to ethnicize the coming election and to help her hollow sponsors  dovetail the election into ethnic and maybe religious gutters where they are used to playing their dirty politics that has not helped Nigeria make progress.
Without renarrating her cheap propaganda here, my honest opinion is that the author is a jundiced ethnic bigot who think Nigeria should see her challenges from her deluded prism.
If she indeed knows the law, she will know the process of arriving at a decision of declaring a group a terrorist organization. But I suspect that she is half baked educated local propagandist who was recruited to do a job she does not have the mental capacity to do. She is ignorant, uninformed and eloquently pedestrian.
Nigeria is in various courts with IPOB, both home and abroad, because that is the right way to determine the appropriate pronouncment to be made on IPOB. Peter Obi or any Igbo leader at that does not have the right to name any organization as anything, it is within the purview of the court and the international judicial system.
Despite this obvious fact she passed a judgement on Peter Obi without recourse to established norms. And that tells a lot about the personality of the author.
On the other hand, I will like to remind the author and those circulating the wapped article that there was Niger Delta agitation when Nigerians elected to choose President Jonathan as their leader. There was Boko Haram which originally named Buhari as their negotiator even when the international community have proscribed them as a terrorist organization but Nigerians still elected President Buhari because we refused to play to the gallery. Those of us from the east saw beyond this kind of jundiced narrative and supported him because the two issues in focus at that material time was corruption and insecurity and we felt that he has the credentials to tackle them.
And we speak, the agitation for Oduwa Nation is loudest. Last month notable personalities, including Professors in Yoruba land (unlike street boys in the east) went to submit over five million signatures of Yorubas endorsing their separation from Nigeria. They have been admitted into UNPO and are marching forward with their demand. Yet the Emi lo kan of Yoruba land is the APC candidate and the author pretended not to know. ????????????
And that will not be the only example. The first group to ever attempt to separate from Nigeria was northern Nigeria and it happened before the Nigerian civil war. Those who know of it will tell you it was referred to as Araba. But today we have our northern brothers still with us and are still being elected into government without making reference to that incident.
But on the other hand, IPOB has been critical of Peter Obi and other Igbo leaders that this author is trying hard to malign, accusing them of opposing their agitation. And the author of this cheap propaganda can't deny it.
Yet, I didn't mention that prior to his election, President Buhari never really condemned Boko Haram. At some point when the army was seriously fighting them it was said that he accused them of killing northern youths. Those notwithstanding we elected him as our President.
And as we speak, Buhari is the President and we have Boko Haram, Bandits, ISWAP, herdsmen and others from his part of the country terrorizing Nigeria but responsible Nigerians have never pinned it on Buhari.
Is that not selective amnesia?
Even Atiku that could not condemn the brutal murder of Deborah in Sokoto is in the race for the presidency but this author never condemned his lack of sense of responsibility towards this nation but a Peter Obi who has condemned killings in the east is the person she chose to tarr with her brush of iniquity.
But like to have her know that there is nowhere in the world where someone can determine how another should behave and what he should do. Individuals in a any society have right of choice and you cannot judge another person for their choices. Even in the United States of America there is KKK, likewise other groups like them in other countries of the world.
If anyone is in the position to regulate people's behaviours that will be the government and not one individual or a group of people without the coercive instrument of state.
It is obvious that the author is deliberately pushing a malicious agenda against Peter Obi. But reasonable Nigerians can see through her jundiced propaganda and blackmail.
But I will like to ask: does her conscience not condemn her for such hatred targeted at an innocent man who is offering to serve Nigeria at a higher capacity having distinguished himself in his previous assignment at a subnational level and in the private sector where he has used his God given ingenuity to create thousands of jobs for Nigerian youths who are also of great support to their families? Why heap such hatred against him despite his good record and determination to help rebuild this nation and make it a nation we can all be proud of?
I ask: why?
Great Imo Jonathan