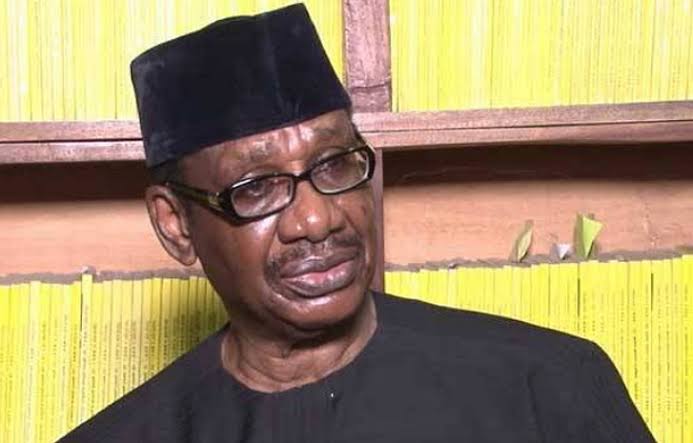 By Lucky Osagie
Many Nigerian lawyers now in their 50s and 60s will remember the mid 80s when a promising legal scholar became the founding dean of law at the University of Benin. That scholar was Professor Itse Sagay. He became popular to young law students on the account of his text book on Law of Contract, the first indigenous text book on contract law.
Something terrible happened to Sagay in 1986. Sagay was not only a scholar. He was also a politician and apparently a very ambitious man. He was involved in university politics and his faction squared off against the the faction led by Professor Grace Alele Williams, a professor mathematics. The situation paralyzed University of Benin and was getting violent and dangerous, and Sagey's faction was tilting toward militancy. The then Federal Military Government intervened by banning Sagay and his faction. Sagay and his deputy, Professor Festus Iyaye, were thrown out of the university. That was the end of Sagay as an academic.
Following his removal from the university, Sagay disappeared from public life. He never featured anywhere else. Apart from his book, which remained popular among entry level law students, nothing else reminded the society about Itse Sagay for nearly 25 years.
Meanwhile, Sagay had settled down in Surulele, Lagos with an obscure law practice. He had become a SAN due largely to his early days promise as a legal scholar. People who knew that it was a military government that cut short Sagay's career as a university don instinctively felt he was a victim of a dictatorship. Most of them did not care about the facts of his case. The involvement of a military government was enough for many to assume he was a victim and their sympathy automatically went to him. If things had stayed that way, Sagay might have gone down in history as a man who stood up against dictatorship and suffered for it. He might have ended up one of the heroes of Nigeria.
But destiny is destiny. God gave Sagay long life. But that made it possible for Sagay to reveal his real self – his behavioral DNA, not as a champion of rule of law, but as an anarchist and promoter of jungle justice.
As they say, if you really want to know the true character of a man, give him opportunity to wield power. Sagay had such opportunity when President Buhari in 2015 appointed Sagay a Presidential Adviser on Anti-Corruption Reform. You would expect that Sagay would help Nigeria develop a comprehensive anti-corruption reform policy, a unified single-stop program to combat corruption in Nigeria. But that didn't happen. In fact, you cannot point at any concrete policy achievement that can be attributed or credited to Sagay or his involvement except series of misguided and incoherent rants and vitriol.
When much is expected of you, and you end up giving nothing, it fills you with a sense guilt which leads to desperation. Sagay seems to be suffering from both – guilt and desperation. He knows that there has been no improvement in Nigeria since 2015 as far as corruption indices are concerned. In effect, Sagay has been totally useless to the government that appointed him. And out of desperation, he has lost all restraint and the wisdom that comes with age.
Sagay's acts of desperation have been too numerous. When Buhari's security forces arrested judges in the middle of the night, the nation was in shock for such an unprecedented erosion of the independence of the judiciary. Only one senior lawyer in Nigeria was publicly cheering the government. And that was Sagay.
Also, when the former Minister of Finance, Mrs. Kemi Adeosun, was caught up in a certificate forgery scandal, everybody understood how that scandal dented the anti-corruption image of the government. The only public official that supported Amaosun was Sagay. For that, Nigerians roundly condemned Sagay, and the Minister ultimately resigned.
Further, when the Chief Justice of Nigeria, Justice Walter Onnoghen, was removed from from office in clear violation of the Constitution of the country, there was an outcry. But one man cheered and supported the action of government. That man was Sagay.
Recently, when a Federal High Court Judge exercised jurisdiction in violation of the Constitution in the case of Orji Uzor Kalu, the Nigerian Supreme Court did the right thing by declaring the supremacy of the Constitution and quashing the judgment of the lower court that lacked jurisdiction. This was well understood by most Nigerian lawyers as eminently sensible. But there has been one lawyer who does not believe in the supremacy of the Constitution. And that is Sagay!
Sagay thinks that once the word corruption is invoked, it justifies the suspension of rule of law and the Constitution. Sagay believes that the only way we can fight corruption is to operate outside the rule if law. What Sagay is preaching really is jungle justice. Given that Sagay is 80 years or older, one must ask: what will be the legacy of Sagay? What will he be remembered for? His support for jungle justice comes easily to the top. That is really unfortunate for a man from whom so much was expected.