No going back on my 5-point agenda, says senator Adeleke
2 min read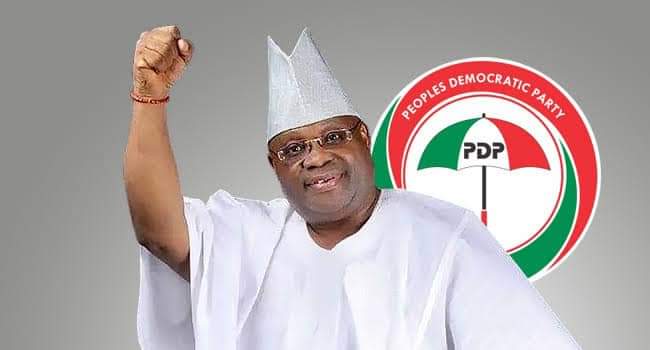 Senator Ademola Adeleke, Osun State governor-elect, on Tuesday, reaffirmed his commitment to his five-point agenda, including settlement of workers' pensions and gratuities.
Adeleke, in a statement by his spokesman, Olawale Rasheed, described as fake, a report alleging that he had reneged on his promise to clear the backlog of salaries and pensions during a Channels TV interview.
"This is a lie from the pit of hell as Senator Adeleke throughout the interview never at any point disowned his promise to clear outstanding workers' salaries, pensions and gratuities, and better the lives of all Osun people."
"Contrary to the frustrated mind of the deceitful author, the governor – elect explained in detail how he will source fund to meet the needs of workers including his unique promise of reviewing issue of leakages in state finance and redirecting security votes to meet urgent state needs," Rasheed stated.
He said during the interview, Adeleke reiterated his pledge to address workers' welfare which is number one on his five point agenda and affirmed that payment of workers' entitlement would not be recorded as an achievement as a labourer deserves his/her pay.
The statement read in part, "On the larger governance issue, the governor-elect touched on his plans for education, security, job creation, agriculture, infrastructure, debt management and other germane issues. A people still in shock at their defeat probably could not concentrate on the full interview to watch a governor-elect displaying his clear grasp of issues and his preparedness to hit the ground running.
"For the governor- elect, public office is a sacred trust in which the occupant must displayed honour and integrity. As a Senator , Senator Adeleke over-fulfilled his electoral promises which was arrested to across Osun West during the electioneering campaign. He will repeat that feat as governor of Osun state.
"To the good people of Osun state, Senator Ademola Adeleke reiterated his commitment to his five point agenda as well as his readiness to serve the people with full sincerity and openness. He is not only prepared for the task ahead but has an action plan to transform his five point agenda into reality."