Kuje Attack: Correctional service faults presidency over number of escaped terrorists
2 min read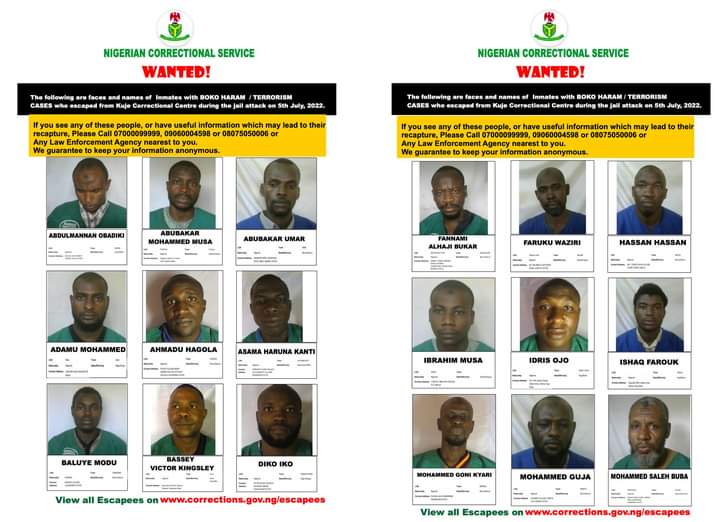 The Nigerian Correctional Service (NCoS) and the presidency have contradicted each other as regards the number of Boko Haram suspects who escaped the Tuesday attack on Medium Security Custodial Centre, Kuje, Abuja.
After inspecting the level of destruction at the custodial centre, President Muhamalmadu Buhari on Wednesday said 63 terrorists were missing.
The president had in a statement by his spokesperson, Garba Shehu, had expressed disappointment in the intelligence system, wondering how terrorists could carry out such attack successfully.
"The President was apprised that, at the end of it, none of the 63 terrorists are accounted for, but it was emphasized that records are not lost because they have been backed up," the statement had said.
Also, Minister of Defence, Bashir Magashi, while disclosing that all the terrorists in detention were set free by the attackers, gave their number as 64.
He had said, "I think everything is under control. The people who came to do this activity, from the records, we believe they belong to a particular group. Most likely, they are Boko Haram members because we have sizeable number of Boko Haram suspects in detention, and presently we cannot locate any of them.
"I think they are about 64 in the prison and none of them now is available they have all escaped."
But On Friday, NCoS released 69 names and pictures of suspected terrorists who escaped from the custody, contradicting the figures given by the presidency and the minister.
Over 800 terrorists had reportedly escaped during the jailbreak for which the Islamic State in West Africa Province (ISWAP) claimed responsibility.