Journey to Nigeria's rebirth begins today, Obi Peter declares
2 min read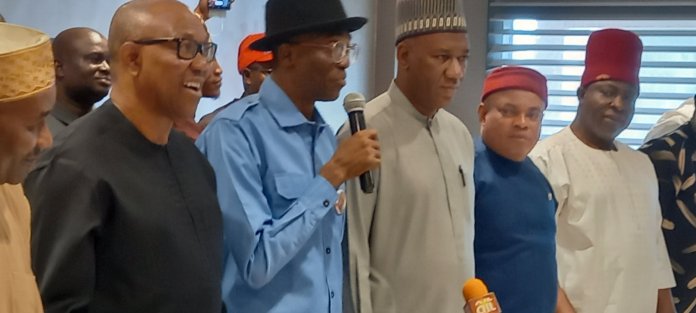 …as he Pressents his running mate Sen. Datti Baba-Ahmed
The Presidential Candidate of the Labour Party, Mr Peter Obi said yesterday in Abuja that Journey to Nigeria's rebirth begins with the presentation of his running mate, Senator Yusuf Datti Baba Ahmed at a ceremony at the Transcorp Hilton Hotel Abuja.
In a brief remarks Obi told the gathering and his numerous supporters he referred to as the Obidient family that " finally, after very long and wide consultations, we in the Labour Party have found an eminently qualified Nigerian, who will be my partner as we embark on our march to a secure, United and productive Nigeria.
He noted that his running mate Senator Baba-Ahmed, is "one of Nigeria's youngest and brightest personalities, who has distinguished himself in various areas of human endeavors"
Dr Yusuf Datti Baba-Ahmed brings to this mission, great personal, academic and entrepreneurial strength ; impeccable credentials and added value of rich experience as an ace DMI Ian, businessman, public servant, economic and development expert, and politician. He is a recognized wealth creator and manager; who fits well into the mold of a transformative and adaptive leader.
"Today, I will not dwell too much on our national challenges. yet I will be remiss to gloss over them completely. These are extremely difficult times for our country. Nigeria straddles the lowest rungs of the global development indices. We are hugely indebted and the poverty capital of the World. Nigerians are hungry and angry; and fed up with bad leadership. Times like this, does not call for politics of business as usual "
According to a statement from his media office, Obi reiterated " my mission is to give full expression to our democracy by moving our country from consumption to production noting that with the completion of the Presidential team "we will in the days ahead, unveil our governance principles, priorities, and programs for turning Nigeria around, which shall be anchored on the the 17 Sustainable Development Goals(SDGs)
The Labour Presidential flag bear said that with Dr Baba-Ahmed by his side" we shall ensure that in moving Nigeria forward, no state or community will be left behind"
Pursuant to its statutory responsibility to protect, our Government will promote the rule of law, ensure that governance is inclusive, cost- effective, transformative, less transactional; and national investment s regenerative.
Senator Baba-Ahmed in his brew remarks pledged to join the large chunk of Obidient family both home and in diaspora particularly Nigerian youths to rescue and take back our country.
The ceremony was attended by members of the National Working Committee of the Labour Party led by its National Chairman Bar Julius Abure other notable supporters of the Obidient family including Senator Victor Umeh.