Ihedioha: Facing the facts, dispelling the fallacies — By Collins Opurozor
6 min read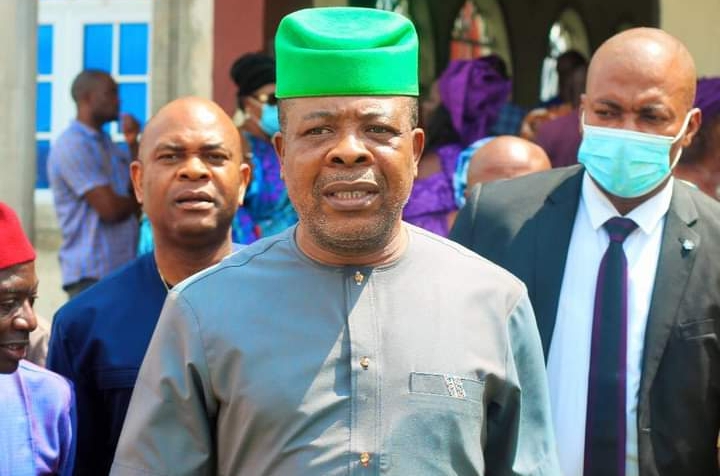 There is something known as proxy warfare. Those who have had to take courses in strategic studies, political science or power politics should understand that. The attempt by a state to increase its power or influence by instigating other states to fight without participating in the actual conflict sums up the whole substance of a proxy war. This can also happen among groups, and even among individuals.
To be clear, this is the strategy which the APC has now relied upon in its bid to make some electoral inroads in the South East in 2023. Remember, as far as the South East is concerned, APC is an endangered political party which is aware of its collective rejection by Igbo people. The litany of atrocities and brazen anti-Igbo policies, including the unapologetic marginalization of the people, earned the APC this wide and deserved reproach.
In Imo state, the story is even more pathetic. Despite the outrageous killings and ravages which the iron-fist APC regime in the state has been accused of masterminding, the unelected regime is also struggling for a comeback. This is amidst growing disenchantment and mass resentment! And so something must be done to deal with the situation.
Before trying this latest option of instigating proxy wars against ostensible political foes, the regime in Imo headed by Senator Hope Uzodinma had unsuccessfully tried a number of other options against former Governor Emeka Ihedioha, who is seen not just as a foe but as a terrifying one.
For instance, there was a time agents of the government came up with a cloned audio recording, something very absurd, which they alleged belonged to the former Deputy Governor, Rt. Hon. Gerald Irona. The aim was to drag the Ihedioha administration into the insecurity debacle in Imo so as to establish a pretext to target and eliminate key officials of the administration. But it failed. Yet the search for options continued.
A few months ago, the streets of Owerri were barricaded by thugs who were hired and directly supervised by appointees of the fascist APC regime in Imo. They bore placards with inscriptions that called for the arrest of former Governor Ihedioha and other opposition leaders in the state. The idea was to cast a slur on PDP leaders, pit them against the masses and instigate attacks against them.
This happened shortly after Senator Uzodinma made some remarks during a church service, saying the so-called unknown gunmen had been unfair and selective in their attacks, suggesting that the there was no reason the unknown gunmen would not be attacking and eliminating PDP leaders in Imo state.
It is also curious to note that when the Spokesperson of the CUPP, Barr. Ikenga Imo Ugochinyere, made a startling revelation about INEC voter register compromise in Imo state, the APC regime in Imo quickly said it was Ihedioha that sponsored him to expose the fraud. For them, everything that happens in Imo must be blamed on Ihedioha just to discredit a man whose accomplishments they are helplessly scared of. It is an obsession!
Just recently, also, the very malleable police command in Imo state was used by the APC tyranny to illegally seal off a campaign office belonging to the PDP senatorial candidate for Owerri Zone, the Rt. Hon. Uche Onyeagucha. As if that was not enough, early this week, it was reported that the very same police command had gone to court and obtained warrant of arrest to lock up almost all PDP leaders in Imo state ahead of the 2023 elections. It is as serious as that!
So, recently, Ihedioha was in Ghana. He was hosted by some of our compatriots in Ghana. Addressing them, he reflected on the plethora of injustices meted out to Ndigbo by the APC in Nigeria. These injustices are clear and undeniable. For a man whose home state has been run aground and whose country has been kept in tatters by the APC, there could not have been a better message to take to his brothers in the diaspora than that APC should be collectively sacked from power. And that Ihedioha did. And that every patriotic Igbo person should do.
Make no mistake, Ihedioha has been a member of the PDP since the party was formed in 1998. Nobody disputes the fact that PDP while in power managed both the Nigerian economy and her cultural diversities, as well her fault lines, better than the woeful misadventure of the APC. So, as a participant in the making of that glorious era, Ihedioha's displeasure with the APC should be understood. And as that Governor who rekindled the spirit of oneness among Ndigbo and restored our dignity by bringing back the unifying Ahiajoku Lecture Series, Ihedioha should also be genuinely concerned about the future of Ndigbo in Nigeria if APC's anti-Igbo rule is allowed to continue beyond 2023.
Lastly, watching the undeserved agonies which Imo people go through in the hands of the imposed APC junta in the state, nobody expects Ihedioha, a man whose seven months as Governor left unimpeachable legacies, to romanticize the situation or applaud the APC.
Peeved by the foregoing, Ihedioha in Ghana said any Igbo person who ignores the heartbreaking maladies visited upon our land by the APC and still chooses to vote APC is a saboteur. Yes, that was what Ihedioha said. This is a statement which Ndigbo should uphold as an article of faith, because it summarizes the feelings of the people and captures the centrality of the 2023 elections to the survival of Ndigbo in Nigeria. Allowing APC to continue in power will be most disastrous for Igbo people, especially given the disdain which Bola Tinubu has for Ndigbo. A presidential aspirant and now a candidate who has refused to step his feet on Igbo soil! Danger obviously lies ahead!
Cleverly, the very same APC enemies of Ndigbo sat down, analyzed Ihedioha's statement, saw that it was a masterstroke against them, and so they went to town with a totally different narrative. This time, they chose to adopt proxy warfare, instigating Peter Obi's supporters to fight Ihedioha on the false premise that he had described them as saboteurs. Yet in the video they parade, Ihedioha was clear and explicit in his statement, that only those who in spite of the anomie which APC represents still choose to vote APC are saboteurs. There was no mention of Peter Obi or his party or anything related to his aspiration. Recall that Peter Obi himself had had anticipated this scenario and alerted that his enemies would soon pretend to be his supporters just to incite people against great personalities and cause disaffection. This is it!
And those who did not take time to watch the video to understand what was said soon followed the bandwagon to castigate Ihedioha based on this tall fallacy. They have fallen for APC's wicked trick. Like the Biblical Satan, APC is only out to kill, to steal and to destroy.
Lest we forget, many unarmed Igbo agitators were rounded up and slaughtered in a field where they had congregated to pray in Aba. It is an act of sabotage to their innocent souls for any Igbo person to support the APC. Many Igbo sons are today languishing in various detention facilities across the country. What else could sabotage mean than for an Igbo person to support the same APC which has denied them justice. The largest senatorial district in Imo state, Orlu Zone, is today uninhabitable as killings have become a daily fact of life. This is also true about Eha-Amufu in Enugu state. This also occurs in Okigwe, where abductions occur almost everyday. Is it not pure sabotage to support a party that could not secure our people.
Think of the waterways bill, which is APC's plot to take away Igboland, think of their insistence on grazing routes and think of their opposition to restructuring and devolution of power, then you will be convinced that anyone who still supports that party is more than a saboteur to everything Igbo people love and cherish.
What Igbo patriots should do is to rise and say boldly the APC and their goons: "Ihedioha has said the truth to us. You cannot not divide us or pit us against one another. We shall not support you. Never! We shall reject you, expose you and vote you out, for you have marginalized us, insulted us, denied us peace and security, locked up our young men and women, and our sons and daughters have gone into exile because of you. We shall not be saboteurs by voting you! Never! Go, APC go!"
Collins Opurozor is a political scientist, and he wrote from Owerri, Imo State.