How I went to prison without committing any crime — Emeka Ugwuonye
6 min read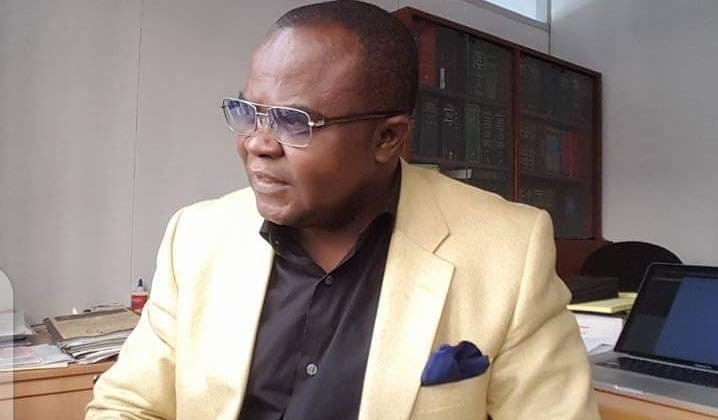 Harvard trained attorney and founder of Due Process Advocates International (DPA), Emeka Ugwuonye has recounted how he went to prison without committing any crime following his criticism of the corrupt disposition of the Nigerian police force.
The human rights lawyer in a detailed report which he sent to News Band, noted that the time he spent in prison went so fast because he dedicated much of it on multiple activities.
According to Ugwuonye, he interviewed over 500 prison inmates, some for hours and days. During the course of this interview, he recorded thousands of atrocious acts by police and hundred of corruption by judges.
Emeka in the report further said that he was also extremely occupied studying Nigerian judicial system and figuring out how some anomalies which has hampered smooth running of the criminal justice system could be addressed.
On the other hand, Ugwuonye said he learnt a whole lot more about the administration of criminal justice in Nigeria but he was shocked by what he learnt.
While recounting how he was able to keep a high spirit in detention, Ugwuonye said, he was able to pull through after he was inspired by the life story of a renowned French philosopher, Voltaire who however, became his mentor.
Part of the report reads, "I still look back and wonder how it was possible for me to spend two years in prison (without committing any crime) and yet it was the fastest period of time ever. I always emphasise that I did not commit any crime because when people hear that you were in prison, they would think that you committed a crime. My case was the opposite: I was held in prison because I did the right thing – I criticized the Nigerian police for committing atrocities against Nigerian citizens. They manufactured serious charges against me in order to detain me in prison. And while I was in prison, Nigerians went on a massive riot against the police, leading the death of hundreds and destruction of properties worth billions. So, my observations about police abuse were right.
"So, I look back and ask myself: how was I able to go through that as if nothing happened? Two years went like two weeks. First, I had the right mental attitude. Before I was even arrested, I knew I would be arrested. In fact, I actually believed they would try to assassinate me. You know: when you are expecting to be killed, and all that happened was that you got detained, you feel happy. I knew that Nigerian police officers were killing innocent people for something as small as a fight over a girlfriend. When I went out to inform the world that some top officers of the Nigerian police were committing crimes against humanity, I understood the risk I was taking. Even though I was right, even though events proved me right, I knew that in Nigeria, telling the truth could get you killed. In my case, I was lucky not to be killed.
"The time I spent in prison went so fast because I was extremely busy in prison. I interviewed over 500 prison inmates – some for hours and days with each prisoner. I recorded thousands of atrocities by police and hundred of corruption by judges. I was extremely busy studying Nigerian judicial system and figuring out how it could be fixed. I learned a whole lot more about the administration of criminal justice in Nigeria. I was shocked by what I learned. I documented a lot but I cannot publish them yet because some of the cases are still pending in court. In fact, the last two weeks in prison was extremely busy time for me because I was afraid that I could leave before I finished the work I set out to complete. I had to work without sleep for days, just to make sure everything was in place.
"Now, to the main purpose of this post – how a mentor guided me through the time. My most influential philosopher mentor is Voltaire. I had read a lot about his life and I found him the one most deserving of my following. In other words, I am inspired by Voltaire and how he lived his life. I carefully noted the challenges he faced and how he tried to overcome them. Before going to prison, I remembered how Voltaire was detained in the most notorious prison in France then – the Bastille. Not that I craved being detained in prison, but I accepted it gladly when I realized it was inevitable. I did not fear the police. I did not fear them because I knew Voltaire did not fear them. He used his wits to survive and I chose to follow that example. To understand this, let me share with you a piece of Darrow's writing on the life of Voltaire and how the prison affected him.
"Darrow wrote about Voltaire as follows:
""No sooner was [Voltaire] back, than a violent attack on the government appeared. This was at once charged to Voltaire, who had in fact not written [the article that caused the protest]. During this time he had been writing his first play, which had been accepted and was then on rehearsal at the theater, but on account of the anonymous verses, which he did not write, he was sent to the Bastille. A few days after he was placed in prison he signed a receipt for "two volumes of Homer, two Indian kerchiefs, a little cap, two cravats, a night cap and a bottle of essence of cloves."
""It was some time before he was given a pen and ink, which all his life he needed more than anything else; but without these, he began to compose a new play. He was able to carry in his mind whole cantos of the play and, as Frederick the Great said, "His prison became his Parnassus." Voltaire was not the first or last man to convert a prison into a hall of fame. A prison is confining to the body, but whether it affects the mind, depends entirely upon the mind.
""It was while in prison that he changed his name from the one his father gave him—Arouet—to the one he has made famous throughout all time—Voltaire. He said, "I was very unlucky under my first name. I want to see if this one will succeed any better."
"I had these in mind when I found myself in Kuje Prison. The prison is confining to the body, but whether it affects the mind, depends entirely upon the mind" Kuje prison kept me within walls and cells, but it freed my mind. I have not felt as much freedom of the mind as I experienced in prison. I was like a lab scientist that was locked up in the lab surrounded by all that he needed for the experiments he needed to carry out.
"My prison work will be published whenever any of two things happens – either upon my death or upon the conclusion of the cases in court. I can't wait. So much will shock you when you read my work. Like Voltaire, I was once denied books and pen in prison, but eventually, I was allowed to surround myself with books, turning my cell into a small library.
"As I have suggested to my students and followers, if you want to understand why I do things the way I do them or why I hold certain views on subjects such as love, marriage, law, politics, religion, philosophy, you need to understand Voltaire's life and his works. For instance, it was through Voltaire that I learnt that lawyers are not the most intelligent group in the society – they are clever, smart and competitive, but not all that intelligent because they venerate the past and value the dead more than the living.
"For anyone that wants to gain a quick insight into Voltaire's life and work, I refer you to the piece by Clarence Darrow."