How Buhari turned down weapon dealers Ejike Mbaka brought to Aso Rock — Report
3 min read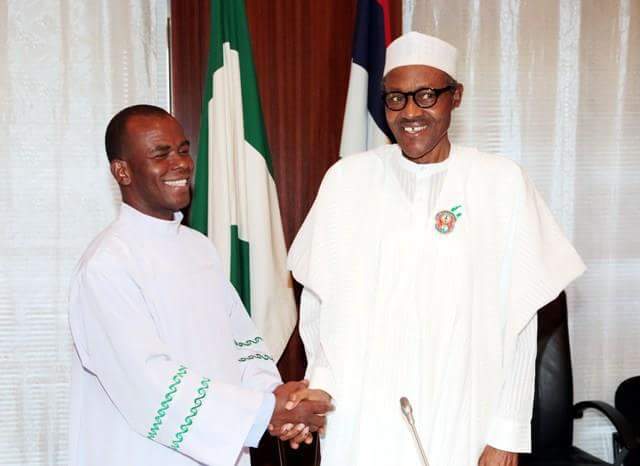 Harvard trained attorney and founder of Due Process Advocates International (DPA), Emeka Ugwuonye, has revealed how president Muhammedu Buhari turned down the weapon dealers Reverend Ejike Mbaka brought to Aso rock so as to procure weapons for the federal government.
Ugwuonye's revelation is contained in a report which he made available to News Band.
On Sunday, the leadership of the Catholic Church in Enugu State directed Reverend Ejike Mbaka to immediately proceed to the monastery for prayers after he was removed as the director of adoration ministry
The human rights lawyer and Chief editor of Eculaw News, said that Mbaka through his commercialized prophecies has been influencing the outcome of elections in favour of corrupt and incompetent politicians that paid him handsomely.
While accusing the cleric of religious and political corruption, Ugwuonye further noted that Mbaka sold his fake prophecy to Buhari thinking that Mr president will pay him back by awarding contract to his stooges.
Unfortunately for the controversial priest who has been dubbed as trouble maker, Buhari refused to fall in line to his overtures which however, made him to go berserk and started attacking Mr President.
Part of the report reads, "Father Mbaka posed a huge threat to democracy in the South Eastern Nigeria. He also posed a significant security threat to Nigeria. He also posed a serious danger to the Catholic church, especially the Enugu Diocese. I shall explain how he did this. The decision to separate him from Adoration Ministry was long overdue. The Bishop had no option.
"First, through his commercialized prophesies, Mbaka has been influencing the outcome of elections in favour of politicians that paid money to him, rather than competent politicians that would serve the people. In Enugu State for instance, all a politician needs to do to stay in power is to pay Mbaka for a favorable prophesy. That in itself is a threat to the goals of democracy.
"Second, Mbaka sold his prophesy to Buhari believing that Buhari would pay him back by awarding contract to Mbaka's clients. He then took to weapons dealers to Buhari hoping he would get contract for them to supply weapons to Nigerian government. Buhari turned him down. What Mbaka did next will shock you. Mbaka immediately started supporting ESN, which he knew was looking for who would supply them weapons. So, it is reasonable to suspect that Mbaka would strike a deal between ESN and Mbaka's clients. This is a major security concern for any country.
"Third, Mbaka repeatedly deviated from the standards of catholic theology. He created a personality cult and demagoguery that threatened the office of his Bishop. This became obvious when Mbaka's followers rioted against the Bishop, causing the Bishop to flee for his life.
"Removing Mbaka was necessary. It was a difficult task for the Bishop because the Diocese allowed him to go too far before they decided to act. I do not believe that Mbaka will ever be allowed back to the Adoration Ministry unless the Ministry has undergone a serious structural reform that will create checks and balances against his excesses.
"From the rambling speech Mbaka gave to his Adorers about his departure, you can see the troubling mindset of Mbaka. He is a bitter and vindictive man who feels defeated and who needs vengeance. To bring him back to anything like Adoration Ministry is to give him opportunity to cause havoc on the church again. After the Ministry, he should be posted to a clerical / administrative position directly under the supervision of the Bishop.
"I'm from Enugu State. I know what is happening there. When I told you that Ekweremadu was not coming back soon, many of you doubted. And when I told you that Senator Nnamani was about to get into big trouble, nobody believed it. Mbaka is gone from what we knew about him."