Guinea junta blames corrupt leaders for Africa's political instability
4 min read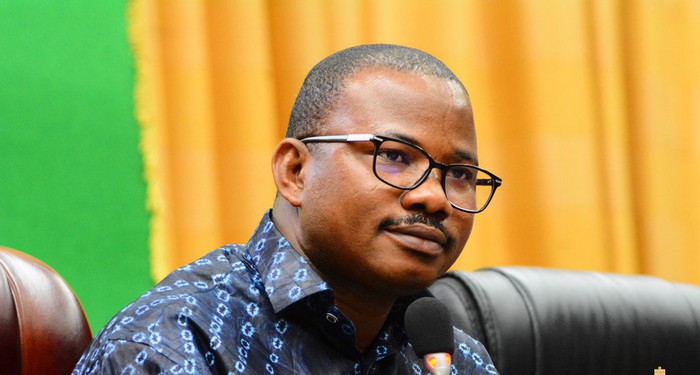 By Paul Ejime
Dr Dansa Kourouma, President of Guinea's National Transitional Council (NTC) has blamed political instability in Africa on corrupt and insensitive leaders who conspire with foreign interests to exploit the continent's rich resources leaving the people impoverished and underdeveloped.
"The issue is Africa's natural resources, which some foreign countries prefer to deal with undemocratic regimes to exploit," said Kourouma, Guest Speaker at the Chatham House London, a leading British policy Think-tank, on 30th August 2023.
Kourouma, 43, a medical doctor and civil society activist, could be described as Guinea's de facto Prime Minister following his appointment in January 2022 to lead the 81-member legislative Council in the aftermath of the September 2021 coup led by Col. Mamady Doumbouya, that toppled elected President Alpha Conde.
Explaining the nexus between economic development and political stability, Dr Kourouma urged continental organisations such as the African Union and the Economic Community of West African States (ECOWAS), to review their engagement and intervention strategies on economic management to avoid political crises.
For instance, he argued that ECOWAS was set up for economic integration, insisting that the original objective must take precedence over political integration.
"ECOWAS should be restructured to effectively tackle issues related to economic infrastructure, as well as unemployment and illiteracy" affirmed Kourouma, who was accompanied by other Guinean officials including the country's Ambassador to Britain Aly Diallo.
On election, which is a major cause of political crisis and instability in Africa, Dr Kourouma said the "political class must realise the power of the youths, who have mastered the technology of all aspects of the electoral process."
The Doumbouya coup followed discontent and disaffection that greeted Conde's ill-advised decision to change Guinea's constitution through disputed referendum for his controversial third term project in 2020.
At the Chatham House event anchored by Dr Alex Vines, Director, Africa Programme, and attended by diplomats, researchers as well as security and governance experts, Dr Kourouma outlined the 10-element transition programme of the NTC.
The highlights are conducting two types of population census, preparing an electoral register, a new constitution, setting up an electoral body, and conducting elections (referendum, local, legislative, and presidential), culminating in the handover of power in 2025.
The 24-month transition timetable, which started in January 2023, was a compromise between the junta which had wanted a three-year programme and ECOWAS, which condemned the coup and had given the junta six months to restore constitutional order.
Asked if the junta would not go back on its words to seek further extension, Dr Kourouma said: The transition is difficult, there might be some delays, but we are on course."
He said the NTC was working hard to deliver a credible voter's role, through an electoral body with integrity, because previous elections in the country lacked transparency and did not reflect the will of the people.
"Our mission is to restructure the institutions to ensure that the more than one billion dollars realised from mining annually is accounted for," the NTC President said.
On the Euro 600 million budgeted for the transition programme, he explained that no amount was too much for political stability in a Bauxite-rich Guinea.
Dr Kourouma disclosed that the country was currently using its internal revenue and had not received any external financial support for the transition programme.
A Steering Committee, monitoring the transition implementation is made up of local and international stakeholders, such as ECOWAS and development partners, with former Benin Republic's former President Yayi Boni, who has undertaken several missions to Conakry in his capacity as the ECOWAS Mediator on the Guinea crisis.
Dr Kourouma said the regional bloc has a responsibility to rally international support for the effective implementation of the transition programme for a seamless restoration of constitutional order in Guinea.
The NTC comprises representatives of Guinea political parties, civil society, armed forces, employers' organisations, trade unions and other interest groups, including farmers.
Its role as a legislative body in the absence of a parliament is crucial to the implementation of the transition programme.
Dr Kourouma told the Chatham House audience that Guinea under the present military regime was making progress on governance issues, including by freeing all political detainees, adding that any politician or former public office holder aboard was free to return home.
The regime is also promoting human rights, the rule of law and press free freedom, he added.
Three of the four ECOWAS countries currently under military dictatorships are Mali, Burkina Faso and Niger. Like Guinea, Mali and Burkina Faso are also implementing different transition programmes.
With Africa facing "military coup contagion" or "domino effect," political leaders and the armed forces owe the citizens the constitutional obligation to play their part in line with international best practices in governance systems to ensure that Africa's resources are used for its development and prosperity of its more than 400 million long-suffering people.
Paul Ejime is a Global Affairs Analyst and Consultant on Peace & Security and Governance Communications