Defamation: Trouble looms for Azubuike as DPA drags him to court next week
5 min read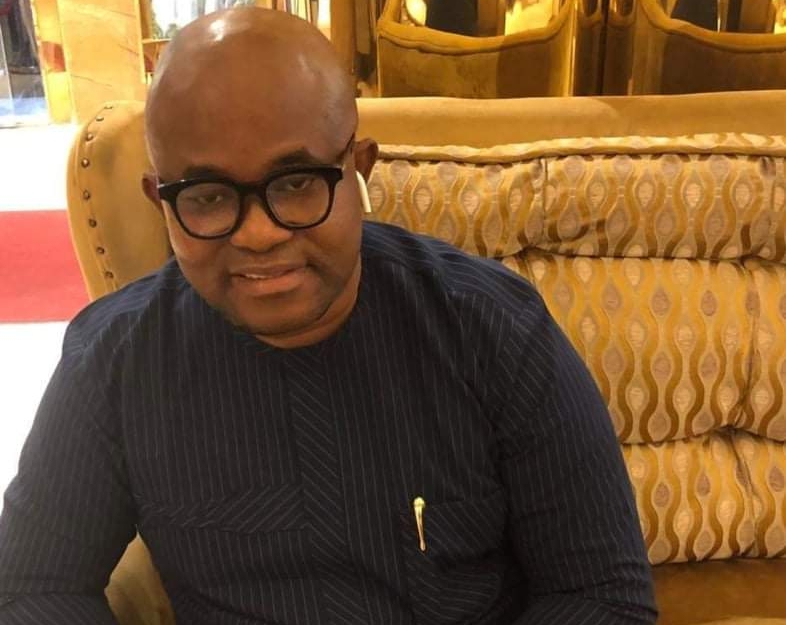 Serious trouble could be knocking on the door of self-styled ponzi scheme fighter, identified as Azubuike Ihemeje who in a brazen manner earlier today, attacked Emeka Ugwuonye and the Due Process Advocates (DPA).
Azubuike in a post he made on his Facebook wall, called Ugwuonye all manner of unprintable names. The said post which was monitored by Newsband elite investigative team, in one hour attracted over 400 comments.
Though, in what appears to be a well calculated plot by people with grudges against Ugwuonye and his organization (DPA), most of the initial comments to the post came from people who were prepared ahead of time to launch the attack.
Many of the comments against Ugwuonye were uncoordinated. Their anger from what Newsband gathered from their comments ranged from the fact that they were removed from Ugwuonye's social media forums, to the fact that they could not be admitted into DPA without registration. Apparently, many of them view DPA as a government agency that should render services to them free of charge.
When Newsband probed into the allegations Azubuike made against Ugwuonye, it could not lay hand on the specific thing Emeka Ugwuonye did wrong. One thing rather shocking about the post of Ihemeje is the fact that he could not point at any single scam or fraud Emeka Ugwuonye committed. He simply called him names, but without facts.
The nearest thing to facts was his vague reference to somebody he claimed Emeka Ugwuonye threatened to report to some Embassy. Though that was a vague allegations. He only established a link that one could follow to trace the origin of his attack.
When Newsband contacted Emeka on the matter, he seemed to have been expecting this attack, though he did not know it would come this early. The initiator of the attack, according to him, were the Emelogu sisters – Christabel (Christiana, Chrixty) Emelogu, Margaret Emelogu and Uchenna Emelogu – who were involved in a domestic dispute between Uchenna Emelogu and her husband, one Mr. Godwin Ikenga.
The three sisters and their mother according to the human rights lawyer, were ferociously against Godwin. Godwin married Uchenna under the customary law of Abia State. They have a daughter under 10 years of age. Uchenna had an affair outside her marriage and confessed to Godwin. Godwin forgave her but demanded for some purification rituals according to their custom. Uchenna refused and left her matrimonial home in Abia State and moved to Abuja with her daughter to stay with Christabel and her own husband.
According to DPA's records sighted by Newsband, Christabel got a visa to travel to the United Kingdom and wanted to take the child of Uchenna and Godwin to the UK without the consent of Godwin. To do this, she planned to change the name of her niece and make her pass as her own child. DPA warned her that such was illegal. The sisters mounted pressure on DPA to use the police to arrest Godwin so that he would not resist and would release some documents that belonged to Uchenna.
This paper also gathered that DPA advised them that the best way was to seek the consent of Godwin so that his daughter could follow Christabel to the UK without having to change her last name.
DPA revealed to Newsband that Christabel wanted to use Uchenna's daughter as babysitter in the UK. Uchenna appears to be the weakest of the sisters and was actually been pushed around by her two sisters. DPA advised them that mediation should be tried and if it failed, then divorce petition might be considered. They seemed to agree.
Emeka Ugwuonye further told Newsband that he then began to speak with Mr. Godwin Ikenga. Ikenga was cooperative. He only asked for access to his daughter. DPA conveyed the message to Christabel and Uchenna that Godwin was willing to negotiate and might agree that his daughter should go to the UK. Based on this, Christabel's mother contacted Godwin and they began to communicate. Godwin agreed. It now remained how to retrieve the documents of Uchenna. They contacted Ugwuonye again and urged him to send the police to Godwin's house for the purpose of forcing him to release the documents. Ugwuonye advised them to try the same method they used to convince him to consent to his daughter's travel. That was when Christabel demanded refund of the N250,000 fee they paid to DPA for their service. Of course, that was not possible. The infuriated sisters threatened to smear Emeka Ugwuonye and DPA, which they contracted Azubuike Ihemeje to execute for them.
From every indication, Newsband can authoritatively confirm that if Ihemeje fails to retract his post and tender apology, Ugwuonye and his team will commence serious legal action by next week against him.
The disturbing aspect of the suit is that, Ugwuonye leaves no doubt that he is suing the three sisters together with their mother and Ihemeje. He believes that keeping quiet and letting this go will only inspire similar attacks in the future. He wishes to finally address this ugly and dangerous trend.
But there is something else looming in the background. Azubuike Ihemeje seems to have his own personal ground and merely capitalized on the complaint and instigation of Emelogu sisters. This is obvious in the ruthlessness with which Ihemeje attacked Ugwuonye. Ihemeje has made a name for himself on Facebook as a person out to fights against the Ponzi schemes. But despite his various posts, he has not really been able to make an impact against dangerous Ponzi operators.
Recently, Emeka Ugwuonye and DPA entered into that field with clear plans on how to fight the Ponzi operators. Ugwuonye, with record of success in DPA and many lawyers already working with DPA, has proven means of fighting the Ponzi.
Could it be said that Ihemeje must have seen that Emeka Ugwuonye and DPA were about to take away the shine from his fame. This could have been why Ihemeje would attack Ugwuonye so viciously without considering the fact that there was no proof for the allegations he was making.
Meanwhile, other lawyers who spaoke to Newsband on this matter pointed out that they believe Azubuike will not be able to defend his post in a court of law. It is clear that he miscalculated so badly.