Abia gov orders removal of Labour Party billboard
2 min read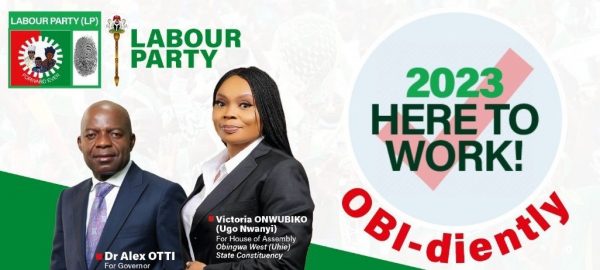 The governor of Abia State, Dr. Okezie Ikpeazu, has reportedly ordered the pulling down of a Labour Party (LP) billboard flex banner in his local government area, Obingwa.
The billboard, a 48-sheet site, is located at Obikabia Junction in Obingwa and was erected by a woman, a Labour Party Abia State House of Assembly candidate for Obingwa West, Mrs. Victoria Onwubiko.
The banner on the billboard had the image of Mrs Onwubiko alongside that of Dr Alex Otti, Labour Party governorship candidate for Abia State.
According to Onwubiko, her agent had been told by a staff of Abia State Signage Agency (ABSA) that there was a direct instruction from the governor to pull down the banner, failing which the entire site would be uprooted.
She recounted what transpired in a statement titled, 'How the Government ordered that my billboard be pulled down'.
Part of the statement reads, "I paid the sum of N150k between the 29th of July and the 5th of August to one outdoor site vendor called Kalu O. Kalu for a 48-sheet site at Obikabia junction in Obingwa for a three-month rent at the rate of N50,000 per month.
"The advert material which had myself, Victoria Onwubiko, as the Labour Party (LP) House of Assembly candidate for Obingwa West and Dr. Alex Otti as Gubernatorial candidate, came up on the 1st of August 2022.
"On the evening of the 6th of August my team noticed that the material had been removed.
"In a recorded call to the vendor, he said he had been asked to pull down the material by an ABSA staff by the name of Ben.
"According to the vendor, Ben told him that Okezie Ikpeazu did not want to see any Labour party advert material on that site and that he should remove it within five minutes of their conversation failing which the entire site would be uprooted.
"When I put a recorded call to the so-called Ben, he told a different story that the Government was about to erect a Government board on that site and needed to pull down anyone that was there.
"Up till today the 9th of August, there is no sign at all that any such plans are in the govts agenda.
"On further discussions with the vendor on way forward, he suggested that he would compensate with other sites which he owned around the area.
"Both APC and APGA political advert materials are at that same Obikabia and as at the 8th of August the vendor had put up another material that belongs to a church on that same site.
"The point is that it is unlikely that Labour Party will ever be allowed to erect any political adverts there during the course of this election," she stated.