2023: Peter Obi supporters, tourists, researchers shutdown Onitsha
2 min read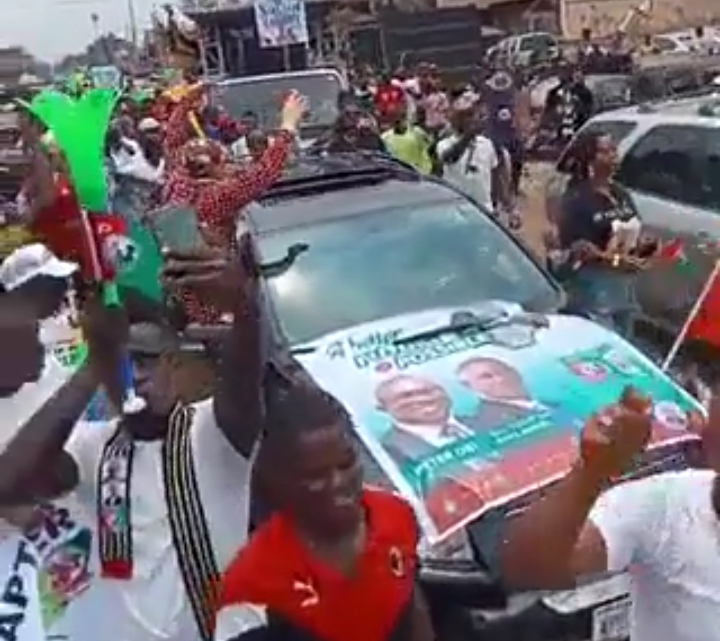 Thousands of supporters of the presidential candidate of the Labour Party (LP), Mr Peter Obi, locked down Onitsha, Anambra State in a solidarity march yesterday.
The rally commenced a little before noon from professor Chinua Achebe stadium and Fegge with visibly enthusiastic citizens, especially youths singing, dancing and marching along the Zik's Avenue as they head into the heart of the ever-busy commercial city towards the pre-planned destination, Chuba Ikpeazu stadium along Awka road.
They matched round the major streets of the city chanting songs, displaying joyous mood that gave an impression that the election has already been won.
Participants, as well as observers including journalists, local and foreign tourists, historians, students, researchers, political scientists were on ground to witness the epoch making political event.
They described it as "phenomenal"
A foreign media researcher who gave her name as Theresa Rice from United States of America told Newsband that her organization "became specifically interested in the Peter Obi project the moment the report of an awestruck international news reporter named her new baby 'Peter Obi'.
"More so, having been monitoring the proceedings within the campaign camps of the major political parties and their presidential candidates who evidently appear fixated on attacking Peter Obi/Senator Datti Ahmed. Unfortunately, the more the attacks the larger the Obi support base gets.
"This is phenomenal! Literally speaking, with what's happening here in Onitsha today, it's now an unstoppable political movement cum revolution that has come to stay.
"I was left in shock when some of those I interviewed told me they came from the hinterland, purely on their own just to identify with the Obi Project,that they saw it as a wake up call for all fair minded patriotic citizens"