2023: Kalu's supporters defy attacks, storm Tinubu's campaign rally in Abia
3 min read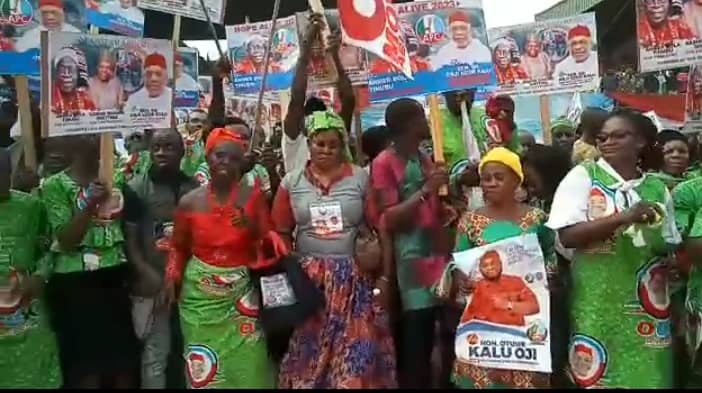 Supporters of Senator Orji Uzor Kalu, the Chief Whip of the Senate on Tuesday stormed the Umuahia Township Stadium for the presidential campaign rally of the All Progressives Congress (APC), despite violent attacks by sponsored political thugs.
Ahead of the visit of the presidential candidate of the All Progressives Congress (APC), Bola Tinubu, some political thugs had earlier attacked members of OUK Movement and Reality Organization— the political structures of the former Abia state governor.
A member of the party who refused to be named, accused the factional governorship candidate of the party, Ikechi Emenike and the member representing Isikwuato/Umunneochi Federal Constituency, Nkeiruka Onyejeocha of being behind attack.
"Kalu's supporters were attacked by supporters of Ikechi Emenike and Nkeiruka Onyejeocha when they arrived the stadium. They were obviously intimidated by the number of Kalu's supporters. They got intimidated and sent their thugs after them. But as you can see, his supporters are returning back to the campaign venue," the source said.
Our correspondent could not reach Chief Ikechi Emenike and Nkeiruka Onyejeocha for their reaction on the allegation against Senator Orji Uzor Kalu's supporters.
Recall that a socio-political group, Abia Rebirth Initiative, ARI had cautioned the APC governorship candidate in Abia State, High Chief Ikechi Emenike against importing thugs from the neighbouring states to the venue of the rally taking place on Tuesday, Jan. 24 in Umuahia.
The group said High Chief Emenike has concluded arrangements to bring thugs at the rally of APC presidential candidate, Asiwaju Bola Tinubu to unleash mayhem on some political figures in the state and their supporters, warning that this will have a grave implication.
In a release on Tuesday, ARI through its National Coordinator, James Nwaokike said it has been at the forefront of advocating for a peaceful campaign in the state, warning political figures against reversing gains made in building and culture of peace and tolerance in the state.
The statement read in part, "We have it in good authority that High Chief Ikechi Emenike and his co-travellers have imported at least 1000 thugs from Imo, Anambra, Ebonyi and parts of Akwa Ibom to storm the venue of campaign rally of APC presidential candidate, Asiwaju Bola Tinubu in Umuahia.
"Information available to us indicates that his prime target is the Chief Whip of the Senate and leader of APC in Abia State, Sen. Orji Uzor Kalu and his supporters numbering more than 60,000, such as the Reality Organization, OUK Movement etc.
"High Chief Emenike has shown bitterness against his party leaders, though needlessly and unjustified. This latest attempt is in a bid to cause tension and avoidable chaos in a politically volatile environment like Abia.
"He wants to unleash his foot soldiers and imported thugs against Sen. Kalu and those loyal to him at the campaign rally. This is not in the interest of anyone and must be avoided", ARI stated.
The group also called on the Commissioner of Police in Abia State, CP Mustapha Mohammed Bala, the Director DSS and other relevant security agencies to swing into action and avert a possible bloodshed in Abia.
It also appealed to Sen. Orji Kalu to as a matter of peace and stability of Abia stay away from the campaign venue along with his supporters.
ARI instead advised Sen. Kalu to continue canvassing for support for Tinubu but avoid the rally which he said has been populated by imported thugs whose aim is to unleash terror on innocent Abians.