Unical lecturer accused of sexual harassment suspended
2 min read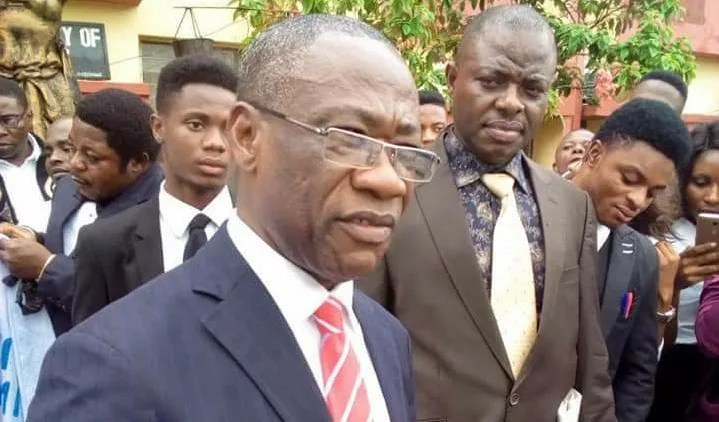 Authorities at the University of Calabar, have suspended randy professor Cyril Ndifon, the Dean of the Faculty of Law, following allegations of violating the institution's established laws and policies.
The suspension was transmitted through a letter dated 17 August and signed by the University Registrar, Mr Gabriel Egbe.
NewsBand gathered that his suspension came as a response to the manner he handled a query issued to him by the University Management.
In the wake of his response, the Vice Chancellor expressed dissatisfaction with his explanations, leading to the immediate suspension.
The suspension letter reads, "Please refer to our letter Ref UC/REG/DISC.45A dated August 14, 2023, on your alleged violation of the provisions of the extant laws and policies of the University and your response to the said letter which was dated 16th August, 2023."
As a result of the Vice Chancellor's dissatisfaction, Prof. Ndifon has been asked to step aside from his role as Dean of the Faculty of Law.
He was also instructed to transfer all University property in his possession, along with his official responsibilities, to the Sub-Dean of the Faculty before vacating his office.
Also, Ndifon was directed to stay away from the University environment, except when responding to an invitation from the panel overseeing the probe.
This is coming after female students of the Faculty of Law and their male colleagues staged a protest against Prof Ndifon for sexually abusing the female students.
The angry protesting students displayed placards with disturbing inscriptions suggesting that their demand was based on the Dean's amorous sexual harassment of female students.
Some of the inscriptions read, "Professor Ndifon, let the girls with big breasts breathe. Stop suffocating us", "We are tired of sucking dicks", and "Professor Ndifon must go for our sanity."