Umahi, the prodigal son that refuses to return home! — By Jones Fcc Onwuasoanya
4 min read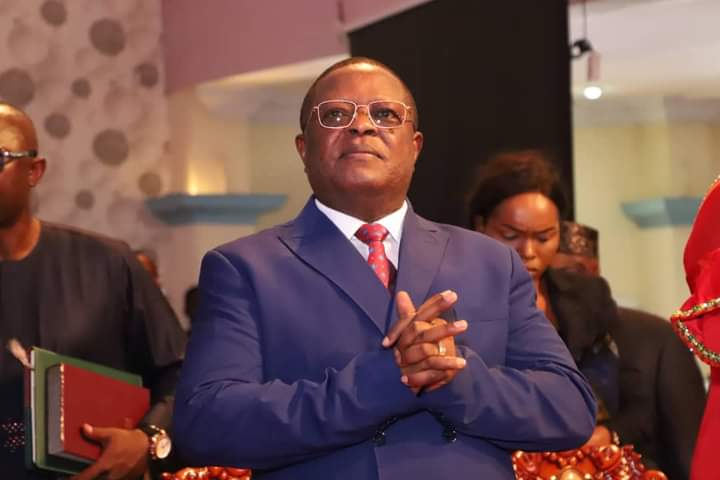 As soon the APC concluded its presidential primaries, I attempted what would have passed as a kind of postmortem analysis of what transpired at that convention, with particular focus on the very disappointing outing recorded by Southeast aspirants in the race. I shared my thoughts on why I think those Southeast aspirants recorded a disgraceful outing and brought shame to the Southeast by their performance. But I had to discard the post just as I was about posting it, as I felt that it wouldn't be courteous to bring up such critical thoughts just as these men were still nursing their pains and mourning their losses.
Among other things, I expected the honourable ones among the aspirants, especially, those who used stolen public resources to prosecute that shameful outing, to sit back in their closets and analyze the convention, vis a vis, their performance and what it says about their political leadership and electoral capital. However, like some spoilt child, with an excessive sense of entitlement, Umahi – whose rise to political prominence is tainted with serial betrayals, backbiting and ingratitude to those who provided him the platform- continues to insult our sensibilities with his rough-hewn and mendacious rhetoric.
Anyone who has listened to Umahi speak after the APC National Convention would think that His Excellency Ambassador Professor George Obiozor is either the National Chairman of his ruling All Progressives Congress or the decider of who gets the ticket of that Party, because, Umahi instead of taking stock of his strategies and looking for ways to recover Ebonyi State funds that he allegedly squandered in prosecuting his jinxed campaign and allegedly paying ransom to some Aso Rock cabals who promised to either make him the President or Vice-president, he is busy disparaging his Igbo heritage, insulting the Ohanaeze President-General and working hard to disinherit the entire Ebonyi from their Igboness.
The President-General of Ohanaeze Ndigbo is not a politician and does not own a single delegate's vote in the APC primaries. His, was to canvass support for the Southeast to produce the next President, while the politicians, especially, the aspirants work out their victory as politicians. Even if he didn't canvass support for Southeast Presidency, any serious minded and prepared aspirant from the Southeast could have still gone ahead to win the presidential ticket. After all, the leader of Afenifere Pa Ayo Adebanjo never supported either Tinubu or any other Yoruba aspirant, but Tinubu went ahead to win the primaries, and with ease, because he made the right political investments and got his strategies right, unlike Umahi, who wasted resources purchasing nomination forms, while in reality, he might actually be positioning himself for consideration as running mate to a Northern candidate.
Maybe, in his desperation to show his slave masters what a loyal slave he will be as Vice-president, Umahi has continually tried to distance himself from anything Igbo. His speeches tend to present Ebonyians as not Igbo. Unfortunately, instead of these slave masters of his to trust him, they apparently saw through his treachery and concluded that a man who is quick to denounce his people in his quest for power would not blink an eyelid to trade off the country, if he is given power.
It is on record that the Ohanaeze Ndigbo leadership under Professor George Obiozor championed the most aggressive and strategic campaign for power shift to the South and eventually to the Southeast. The Ohanaeze leadership took the campaign to the nooks and crannies of the country and succeeded in co-opting other sociocultural organizations and renowned voices in the country to support the agitation for power shift to the Southeast, but, when unserious political jellyfishes like Umahi are the only ones we could present as presidential aspirants, it is easy to understand why we missed the chance this time around.
Umahi knew he was one of the least qualified for the race in the entire Southeast, yet, he stood in the way of other more reliable and stronger aspirants, apparently, because of his access to State resources. Some school of thought believe that the Ebonyi governor was actually planted as a spoiler to stop eminent Southeast aspirants like Ogbonnaya Onu from emerging the Party's candidate. His surprising defection to the All Progressives Congress from the PDP, is said to be part of the conspiracy hatched more than two years ago to weaken Ogbonnaya Onu's chances.
Unlike the prodigal son who returned home remorseful, after squandering his father's wealth in a foreign land, Umahi is apparently an incorrigible betrayer of the Igbo interest, who after squandering the goodwill of the people of Ebonyi and probably, their resources, is shamelessly rubbing it on our faces, instead of returning home to apologize for his wasteful frolic in insipid comedy.
Onwuasoanya FCC Jones is the Acting Youth Leader, Ohanaeze Ndigbo Worldwide.