Tinubu is sick, mentally deranged, says former campaign director
5 min read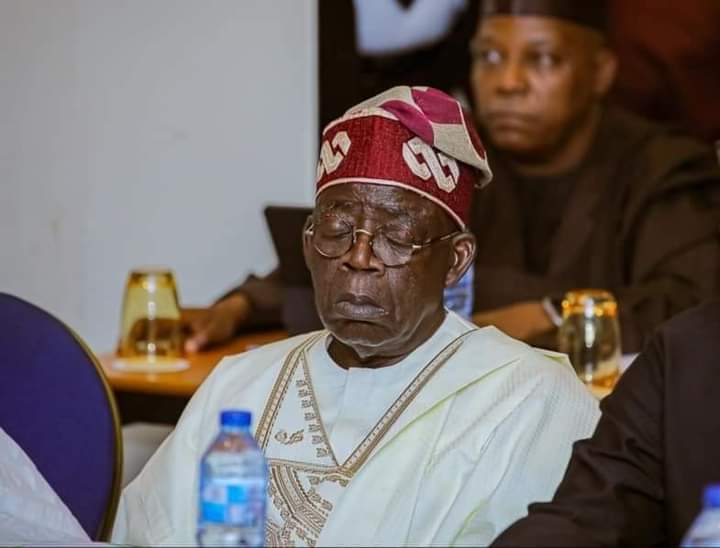 Former Campaign Director of the All Progressives Congress (APC), Hajia Najaatu Muhammad, has opened up why Bola Tinubu is not fit to be the president of Nigeria.
In a telephone interview with the WHISTLER, the former APC chieftain said that Bola Tinubu, does not have the presence of mind to be the president of Nigeria.
Hajia said that she took the bold decision to resign from her position after her disturbing encounter with the former Lagos governor in London.
She said, "Asiwaju that I sat with for two hours, he slept most of the time, it was Bisi Akande that I was really talking to. Most importantly he is not only physically unfit, he is mentally unfit, whether we want it or not, this is the truth. It's not that I hate him, I respect him because I have heard of one or two people that he assisted which is good. But when you talk of leadership of over 200 million people you know that if you remove tribal sentiments, you know that he is incapable, those that will rule are those around him. This is the reality. He is mentally deranged – I said it!
What evidence do you have to support your claim that Tinubu is not fit?
I sat with him for two hours in London, when you talk of green, he will give you an answer of red, he can't even decipher, he has very serious dementia, I believe he has Alzheimer's because he cannot even hold a cup of tea, if you remove tribal sentiment, if you remove the Lagos/Ibadan press, if Tinubu were not a Yoruba man, he will not dare contest election because they will crucify him, but people are all there to defend him because he is Yoruba, it's Egbe Omo Oduduwa over everything else.
You are from Kano where Kwankwaso comes from, why are you not supporting Kwankwaso who is younger?
Let's not talk about youths, there have been some old presidents in Asia that have been very very good, and there have been very young governors here that are nothing but tyrants, thieves. So, it has nothing to do with age but mental ability and commitment. At least you can make sense of what he is saying and what he is doing.
I was in the campaign for Yola, and we had to beg them to take the mic from him (Tinubu), everything about Tinubu is based on lies. Imagine he is an Hausa man, will he contest elections with all these gbese on top of him? In this campaign nobody should talk of corruption because they are corruption personified.
Do you think president Muhammadu Buhari is supporting Tinubu?
Buhari is not supporting anyone; he is too self-centred, quote me, Buhari has never supported anybody but himself. I will be shocked if he is supporting him and if Buhari is supporting anyone it is zero for that person. So, when I heard Asiwaju say he will continue from where Buhari has stopped I said, "you have killed yourself in the north" because Buhari is a taboo. Check his budget over the years, the highest he has given the northwest is 12 percent, the highest he allocated to agriculture is 2, and he is hated because of his nepotism, all the service chiefs including fire brigade, he gave to a northerner, and he picked the worst of the worse, so that we will continue to be killed and then you say your own brother is killing you. So, if your own brother is killing you what difference does it make to the victim?
As we are talking now people are being kidnapped in Katsina, there is no single day people are not kidnapped in Katsina, Zamfara and Niger states. So, when they say Fulani or not Fulani, who cares? If you dropped down from the sky and you are a good leader, what difference does it make in an enabling environment?
But when Nigeria has become the personal property of some elite. If you had given me Osinbajo, I swear I would have put my life on the line for Osinbajo, because he is a better person, he's open, he's proactive and he puts his eye on the ball and looks at Nigeria holistically. The few months that he was given to act he changed things, so why should I be sentimental, if the Yorubas were serious why not give it to Osinbajo, who is a pastor, you are doing Muslim-Muslim now, the holy prophet said a just atheist is better than an unjust Muslim. So, why do I care about Muslim-Muslim? But they are busy not only galvanizing the polity but deceiving people, how Islamic are they? Somebody that could not even read Fatiha is calling himself a Muslim, without Fatiha you can't pray, which means he has never prayed, what nonsense is that?
I don't care about a Muslim-Muslim ticket, but because Nigeria is a nation of ignorance, sheep's been driven to the slaughterhouse, that is why our ruling class deliberately took education from the people especially in the north.
Kwankwaso would have been my best friend because I'm from kano, he was my neighbour, I know what he has done for us, he did a great job especially in terms of education, he stopped bandits, he stopped political thuggery and engaged them, put them in jobs, took them to school, the children of the poorest of the poor were given scholarships to fly outside, he did a great job. But at this point in time, he has a weak party, it's a party that is unknown except in a few places.
In Kano, even in 2019, he won the election, but they came with police and killed hundreds, I worked in the Police Service Commission, protests were made with vivid pictures, hundreds of people were killed and that is why it was inconclusive, that is one of the reasons I had to leave the APC because I had to work for my candidate in Kano. But Kwankwaso does not stand a chance at the presidential level, this is the reality that one has to think. In my position I can't start to be sentimental, I have to be broad minded.
I don't wish for anything for myself, everything I'm doing is out of passion for my country, I went to a public school, Europeans were teaching me in Kano at a public school, except for my primary and junior school that I went to a catholic private school, I was the only black girl in the white school, after that Baba put me in a public school all through to the university, it was public. But Now I have to pay through my nose for my child to go to Oxford, why? Millions of our children cannot go to school, they are the bandits that are hunting us today, this is by our creation, and we still lie until we all become victims.