Tinubu: Calls to back down unjust — By Ademola Babalola
4 min read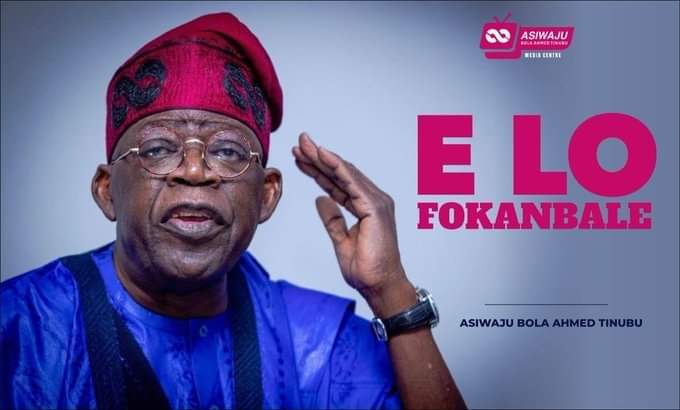 SIR: Chief Olusegun Obasanjo and Pa Ayo Adebanjo seem to be in the forefront among those who agitate for a Nigerian president of southeast extraction. They want a south-easterner to become the next president. Their major and prime point of view is that no native of southeast has been the president in recent time.
Therefore, both elder statesmen urged Asiwaju Bola Ahmed Tinubu and other aspirants, who are not from southeastern part of the country to drop their ambitions for aspirants from the Southeast.
I quite understand the sentiments and mawkishness of both Chief Obasanjo and Pa Adebanjo. They wanted a situation where the Southeast would feel they are part of Nigeria. They didn't want the southeasterners to feel as if they were not part of us.
Naturally, I expected the two elder statesmen to know more than some of us. But it will do us a favour, and it will be noteworthy to remind them of what transpired in our political arena in the past.
I'll like to remind us that, in Nigeria, we have six geopolitical zones: Northwest, Northeast, North-central, Southwest, Southeast and South-south.
And among these six geopolitical zones, three: Northwest, Southwest and South-south, out of six, had had the opportunity to produce one or two of their indigenes to become the Nigerian president while the other three zones, Northeast, North-central and Southeast, are yet to have their persons as number one citizen. Isn't it unfair to campaign only for a Nigerian president of Southeast extraction, but neglect other two zones, which, till today, have not also produced a president?
In 1999, almost every Nigerian, commoners and elites, agreed to support a president of Southwest genealogy. This was born out of the sympathy to pacify the Southwest over the sacrifice made by a south-westerner, late Chief MKO Abiola, the acclaimed winner of the June 12 presidential election, who, despite the danger to his life, adamantly put his life on the line to bring back the democracy we enjoy today.
There were, of course, two major political parties, the PDP and the AD/APP, among the parties, which presented candidates to contest the 1999 presidential election. In both parties, almost all the parties' stakeholders were of the opinion to allow only the aspirants from the Southwest to compete in the primary elections of both parties. This move was made to allow for a Southwest indigene to take the place of MKO Abiola, who was denied the opportunity to claim his mandate.
This move, undoubtedly, did not go down well with some members of the two political parties. And this led to Chief Olusegun Obasanjo, who was the leading aspirant of the PDP, to not get the ticket on a silver platter. He had to fight for the ticket with late Alex Ekwueme, a south-easterner and former deputy to late President Shehu Shagari. The late Ekwueme saw no reason the contest should be limited to only the aspirants from the Southwest. He saw this as an unmitigated injustice to other zones.
And likewise in the AD/APP, Chief Olu Falae, a south-westerner, who eventually got the ticket to become the presidential candidate of his party, did not slug it out with only late Chief Bola Ige, another aspirant from the Southwest; he competed against a south-easterner, Dr Chukwuemeka Ezeife, in the primary election of the AD/APP. Dr Ezeife, like late Alex Ekwueme, believed it was unfair to deny other aspirants from other geopolitical zones their rights. Both were right of course.
Since 1999, I have not seen a situation where any political party willingly allowed its primary election to be one-sided. Any aspirant that had emerged as a flagbearer of his political party competed against other aspirants from other zones to get the ticket.
In 2018 when the presidential seat was thrown to the North, Bukola Saraki and David Mark, both who came from the North-central competed the primary election of the PDP against Atiku Abubakar of the Northeast and Rabi'u Musa Kwankwaso of the Northwest.
Even late Chief Emeka Odumegwu Ojukwu, a southeasterner, in 2003, pitted himself against Chief Obasanjo, a south-westerner, in the presidential general election.
Hence, no one should expect the forthcoming primary elections to be different. It's unjust to now induce Asiwaju Bola Ahmed Tinubu to jettison his aspiration for aspirants from Southeast. All aspirants should be allowed to test their popularities. No aspirant should be persuaded to drop his or her ambition. It is their prerogative to be voted for.