Soludo is not an evidence to prove that Igbos do not love themselves — By Nichogbuagu Peter
5 min read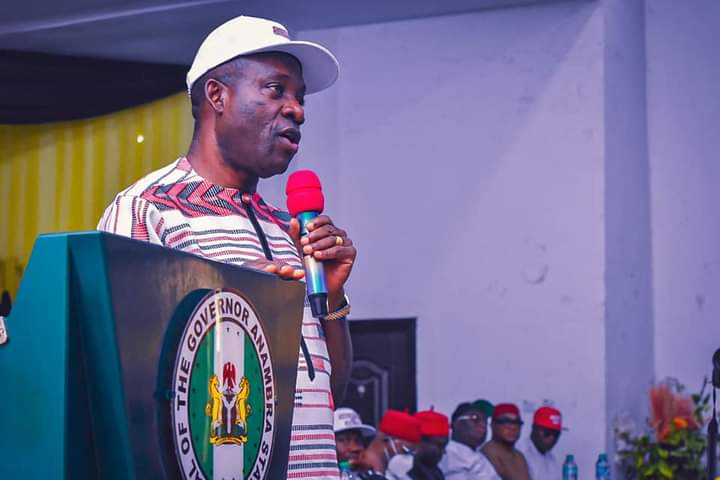 Soludo is not an evidence to prove that Igbos do not love themselves, he is just playing the normal Nigerian Politics
It is quite unfortunate that anytime Igbo men are having issues in politics, people who suffers selective amnesia, crawls out from their cave to remix their old boring song which sings "Igbos do not love themselves". I don't blame them, I blame some of NDI Igbos that buy these songs of fallacy.
Kwankwaso is the presidential candidate of NNPP, he is from Kano state but the governor of Kano is not supporting Kwankwaso, the governor of Kano is supporting Tinubu, a Yoruba man. Should we now say northeners do not love themselves?
Afenifere is a socio-cultural organization for the Yoruba people of Nigeria, this group issued a statement months ago that they are not supporting Tinubu, they made it clear that Peter Obi is their choice. Should we now say Yorubas do not love themselves?
I'm very sure that if it was Ohaneze Ndi Igbo that said they will support Tinubu and not Peter Obi, these boring singers would have remixed their " NDI Igbos do not love themselves" song.
Obasanjo is a Yoruba man, he is not supporting Tinubu, Peter Obi is his preferred candidate, Babaginda is a northener, he is not supporting Atiku or Kwankwaso, reports has been able to prove that Peter Obi is Babaginda's preferred candidate. Are we going to say these two former head of state do not love their tribe?
Osinbajo is a Yoruba man, he is the Vice president of Nigeria today because of Tinubu's efforts. He is a Yoruba man but he refused to step down for Tinubu, he contested against Tinubu in the APC presidential primary election and till date, Osinbajo has not come out publicly to support Tinubu. Should we now say Yorubas do not love themselves?
The governor of Kano is supporting Tinubu because Tinubu is the presidential candidate of his party. That's politics for you.
Soludo and Peter Obi are from Anambra state just the way Kwankwanso, the presidential candidate of NNPP and the governor of Kano state hails from one state, but the governor is not supporting his "brother".
Soludo as a governor and current member APGA will not support Peter Obi's presidential ambition when APGA has their own presidential candidate, that will amount to anti party activities.
Secondly, I don't expect Soludo to speak ill of Obiano who is a leader of the party that made him governor, atleast not now that he still need the party's ticket for second term.
So, why should we dance to the songs of fallacy that NDI Igbo hate themselves? Why should we allow outsiders write our story for us?
No matter how weak you are as a people, never you allow outsiders to write your history, as a people, write and promote your story by yourselves.
Growing up as a bonafide son of Igbo land, I was decieved to believe that we do not love ourselves, a demolishable lie was forced down my throat that Igbos do not love themselves.
I call it a demolishable lie because facts and figures are the natural bulldozers that can effortlessly demolish big fat lies that have been erected for years.
The reason why we celebrate hunters anytime they come home with lions is because lions might be strong, but intellectually weak to write their story. Not all lions brought home by a hunter was killed by the hunter. Some of these lions died a natural death or lost their lives by accident but the hunter will take the glory.
This is what happens when you don't know how to write your own history.
When PDP was defeated in 2015. PDP became a battle field for two Northeners, Ali modu Sheriff and Ahmed Markafi. They fought terribly to be the PDP national chairman. It was a serious fight between two Northerners but everyone viewed it as politics. Nobody came out to say Northerners do not love themselves.
In 2014 at the eagle square, the political battle was between Saraki, Tambuwal, Kwankwaso, Atiku and Buhari, all Northerners.
They all fought for the APC presidential primary election. None of them stepped down for the other.
If not for the magic Tinubu performed that day, Buhari would have lost terribly to Kwankwaso.
During this fight of no step down for "brotherhood" in 2014, no one said Northerners were not united. Nobody entered any studio to release a song that Northeners do not love themselves.
In that same election year, Chibuike Amaechi, was the governor of Rivers state, his brother, Good luck Jonathan was contesting for the presidential election. Chibuike led five governors to walk out of Jonathan. They all joined APC and Jonathan lost the election.
When this happened, no one came out to say Niger Deltans are not united. Nobody said the South south do not love themselves.
So why is it that anytime Igbo politicians are having issues in politics, we make it look like Igbos do not love themselves?
This was how they peddled the news that Igbos do not love themselves when Peter Obi was having some legal battles with a Labour Party member who happened to be Onye Igbo. As if it is new for politicians to drag themselves to court.
If Kwankwaso was an Igbo man, the narrative would have been," how can Ganduje, a sitting governor of Kano state be supporting Tinubu, a Southerner, when his brother, Kwankwaso is contesting for the same office."
If you get conscience, after reading these irrefutable facts, I want you to have a rethink before you write our history for us.
Our land doesn't lack writers. We have born writers that can write our story. we know who we are and we do not hate ourselves.
Igbos love themselves.
Politics is about interest.
Soludo is not an enemy of NDI Igbo, he is just an opposition to peter Obi's party
Peter Obi is not Igbo nation, the tribe called Igbo is bigger than anybody's political ambition.
Election will come and go, but Igbos will always be there.
Yagazie ❤️