Sexual allegations: Suspended Unical lecturer drags VC, others to court
2 min read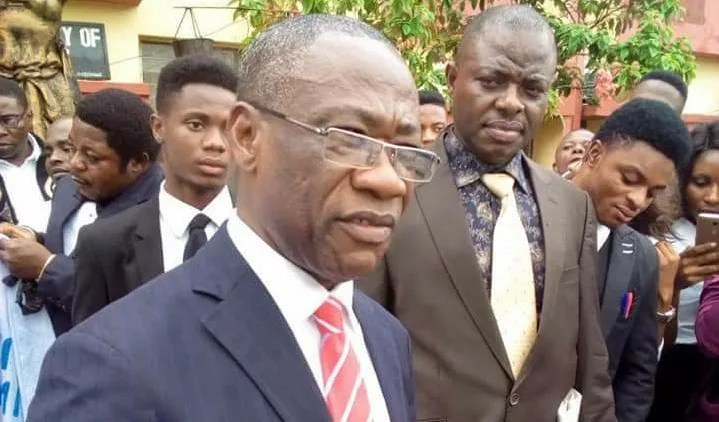 Professor Cyril Ndifon, the former Dean, Faculty of Law, University of Calabar, has instituted a suit against the school's management after he was suspended following various allegations of sexual harassment among female students.
The randy lecturer dragged the vice-chancellor of the University, Florence Obi, and other administration members to the National Industrial Court in Calabar.
In suit No: NICN/CA/ 42/ 2023 between Prof. Cyril Ndifon (claimant), and the Vice Chancellor, University of Calabar, and three others as defendants, Ndifon expressed displeasure over what he called dragging his image into the mud even when he did nothing wrong.
Also, in an originating summons from the National Industrial Court of Nigeria, Calabar Judicial Division Holden at Calabar, the defendants who include; UNICAL Registrar, UNICAL and Prof. Dorathy Oluwagbemi-Jacob to within eight days after service of the summon on them cause an appearance to be entered to this summon.
"If the defendants do not enter appearance within the time and at the place, a love mentioned such order will be made and proceedings taken as the judge may think just and expedient". The summons maintained.
In exhibit 9 emanating from an affidavit attempting to set the facts relied upon, the embattled Prof. of Law, accused the Vice Chancellor of colluding with the LAWSAN president (Unical chapter), Mr. Obi Benedict Otu, with the one of the VC's niece, one Destiny Omokiti, to stage manage a protest against him so as to pull him down.
"Shortly after the said protest, Mr. Obi Benedict Otu, issued a press release where he revealed that he deliberately hid his intention and real purpose of protest from innocent students who were freshers and upon their concealment of purpose, tendered a public apology, that went viral on social media".
"My right and freedom of movement to the University of Calabar premises has been restricted and curtailed by order of the Vice Chancellor. I am gravely prejudiced on account thereof. Ndifon stated.
"To remove from office as Dean of Law Faculty without any prior vote taken at a meeting of faculty of law board for purpose, constitutes a departure from the prescriptions of the University of Calabar Act", he said.
A clause from the right of summons reads, "By virtue of exhibit 10, the panel headed by 4 defendants is not Management Disciplinary Committee as established and provided for by extant regulations Governing condition of service of staff of UNICAL.
"The panel lacks the locus and competence to undertake the assignment in it's term of assignments.
"I am greatly prejudiced and subjected to excruciating psychological pais, trauma and anguish on account of the adore stated acts of defendants. The right of summons maintained."