Serious measures will be taken against persons maliciously attacking me — Ugwuonye
4 min read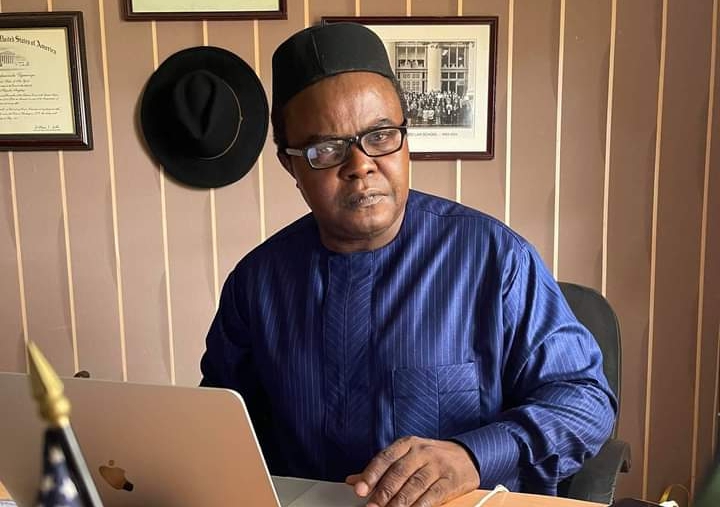 Founder of Due Process Advocates International, Attorney Emeka Ugwuonye, has vowed to take stringent measures against individuals who are in the habit of fabricating malicious falsehood against him and DPA.
The human rights lawyer, said this after last weekend encounter with three sisters identified as Emelogu's who had expected DPA to use the police for an illegal operation.
According to a report by Newsband which was sighted by Eculaw News, the three sisters had planned to fly an underage girl ( the said girl is one of the three sister's daughter) to United Kingdom for babysitting through the help of DPA without the father's consent, but the organization blatantly refused to play along, as this is against it's foundational principles.
Newsband also reported that, failure of the two sisters to have their way, they ganged up and requested DPA to make a refund of the legal services they paid for but the organization rejected the request.
This resulted to the sisters to procure the services of a self-styled Facebook vuvuzela, named Azubuike Ihemeje to launch malicious attacks against Emeka Ugwuonye and DPA.
However, Emeka in a terse statement which a copy was transmitted to Eculaw News, said tough measures will now be taken against persons who attacks and fabricate dumb, malicious and unfounded stories against him.
The statement read in part, "Since many Nigerians got into social media, my name has been subjected to all manner of abuses, lies and fabrications. Powerful opponents use miscreants to attack me. Men I defended their wives use social media to attack me. Scammers I defended their victims attack me too. Ordinary people who expected favors from me and did not get it use social media to attack me. They basically turned the social media into a weapon to bring down anybody they envy.
"As recently as few days ago, a lady who had engaged DPA services to help her sister in a domestic dispute asked me to refund the fee she paid "because she did not get the result she expected". And what was the result she expected? She expected that I would use the police to arrest her brother-in-law, even though that would violate the man's rights. Of course, we don't do that. DPA does not use the police to violate people's right. Besides, that was not what we promised to do for her family in that matter.
"In fact, DPA delivered more than we were hired to deliver. I spoke with the brother-in-law three times. I spoke with her sister (the alleged victim) more than 10 times, for average of 15 minutes each time. I spoke with the sister who brought the matter to us for more than 10 times. In all, I spent over 20 hours on the matter. Because of my intervention, the brother-in-law relented and the family was able to reach an agreement on the main issue of dispute – which was the lady's attempt to take the niece (daughter of the brother-in-law) to the UK, as she is relocating to the UK soon. Their original plan to take the minor girl to the UK without the consent of the father would have violated the British immigration law and even Nigerian law because they would have had to change the surname name of the young girl and falsely present her as daughter to the one traveling, instead of as a niece.
"Immediately the brother-in-law agreed for his daughter to be taken to the UK, these people felt that the main issue in the dispute had been resolved. And they became clever and wanted a refund of the fee they paid. I might have considered dashing them the money. But she came in an aggressive and threatening manner. When this woman threatened me, I warned her that her actions might put her in trouble with the British government, if I had not intervened, and that fighting me publicly over the matter might bring unwanted attention to her.
"The lady threatened me. Only yesterday one of her sisters had a chat with me. I explained to her that there would be no refund unless they could show me anything I did wrong in rendering services to them. She insinuated that they would get at me through someone else. And certainly today, I saw a post by one Ihemeje accusing me of fraud and referring to that case.
"I have to stop them the only way I know. Also, I want to try to put a stop to this madness going on in social media where people gang up to spread lies again someone they envy. Ihemeje knows that he can never be like me. He can never approach my level. Yet, he wants to be famous and to project my type of influence and intellect. Envy drove him to play this role. I will stop him. I must."