Rise and fall of humans: We are in constant state of vulnerability — By Emeka Ugwuonye
4 min read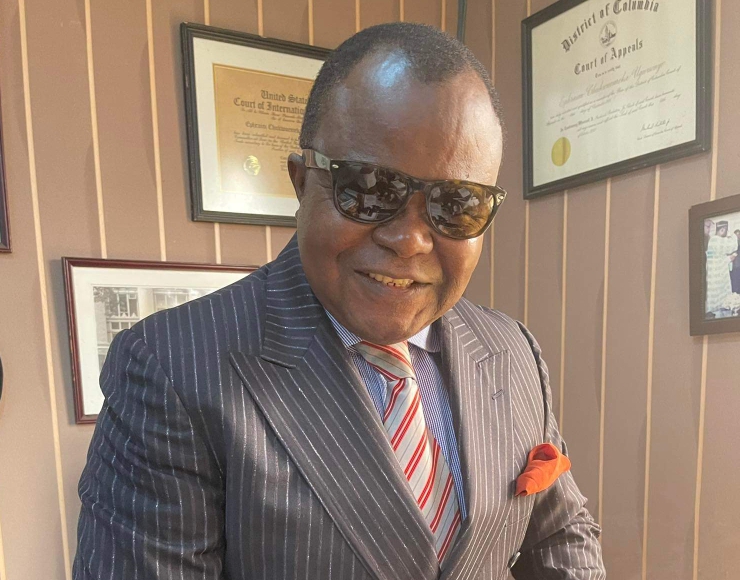 For some years now, since I represented General Abdulsalami Abubakar in the United States, I have been keenly studying the challenges big and powerful men face, which either rock them or bring them down. I became interested in the subject of The Rise and Fall of man because it helped me to deal with my own personal challenges anf falls.
In the past 20 years, I have closely studied this subject and I've studied scores of cases of rise and fall, ranging from the moment President Bill Clinton compromised himself with a White House intern, to bigger cases like the overthrow of Mubarak, the fall of Ken Lay of Enron, and Enron itself, the fall of Gaddafi, and many more.
What my study of this subject has shown is that no man can be sure of his future, however powerful he may be. All shall rise and fall. Indeed, the fall is inevitable unless you did not rise at all. We should not be afraid of it because it will happen. It is a matter of time. If you know about falling and know how inevitable it is, you will not worry too much. You should focus on your recovery and next rise.
Men who accept the inevitability of falling are more able to manage falls and avoid crashing when they fall.
In Nigeria today, we are witnessing a big fall of a personality. Tinubu, the almighty Jagaban, is falling. But because he is managing the fall so poorly, he will crash and not be able to rise again. Tinubu must understand that there is life for him without him becoming the President. He has set his eyes so single-mindedly on becoming the President that he now risks losing everything, including his liberty and freedom. That will be a crash far worse than the fall that is staring him in the face. MKO Abiola made the same mistake. He was so single-minded in claiming his mandate that he lost his life in the process. Ojukwu made a similar mistake. He was so single-minded in not allowing a rival to outwit him that he went to war he was ill-prepared for and lost 3 million people. I made a similar mistake myself: I was so single-minded in punishing Omoyele Sowore, owner of Sahara Reporters, for publishing false stories against me that I lost so much in the end.
In each case, as you mismanage a fall, you misunderstand who your real enemy is. Ojukwu thought he was fighting Gowon, a rival he was sure he would easily defeat, not knowing he was fighting a neo-colonial world order that did not want the emergence of a powerful black nation – they did not want an Israel in Africa. MKO thought he was fighting Abacha: not knowing that the international community he placed his hope on did not exist for his case. Ken Saro Wiwa made the same mistake. In my own case, though comparatively modest, I thought I was dealing with a blogger whom I was so sure I could crush, not knowing that I was dealing with a corrupt cabal of Nigerian government officials which included an Ambassador, a Chairman of the EFCC, a Minister, and several cabinet-level officials determined to steal 27 million dollars as the prize of the conspiracy against me. In the end, I was fighting the entire Nigerian Government, not the little Sowore. Muammar Gaddafi thought he was fighting a rebel group within his country, not knowing he was fighting NATO.
If you want to see examples of men who managed their falls well and avoided a crash, look at Buhari and Orji Uzor Kalu. Buhari was overthrown by his friend and colleague. He was detained for 42 months in house arrest. He lost his mother while in detention. He eventually ran for the office of the presidency and lost three times, including the one he won but which was stolen from him (Buhari actually beat Yar'dua in 2007. I know that as a fact because I was in a position to know). The ability of taking a fall without crashing was the only reason I once liked Buhari publicly. I was detained in Kuje Prison the day Orji Uzor Kalu was brought to prison. I knew of the plot and conspiracy that landed him in prison. I saw how he felt in the first few days he was in prison. But, I saw in him a man who knew how to take a fall without crashing. Look at where he is today, rising again.
Tinubu should learn how to take a fall without crashing. Otherwise, he is about to suffer a crash that will permanently erase and cancel his legacy.
Emeka Ugwuonye is a Harvard trained attorney, human rights lawyer and founder of Due Process Advocates International (DPA)