Residents loot palliatives donated to flood victims in Bayelsa
2 min read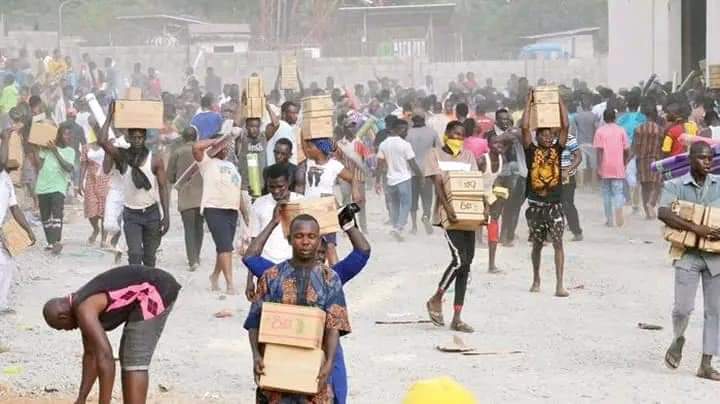 Angry residents of Bayelsa State on Sunday invaded a private warehouse used by the State government to store foodstuffs and other materials, carting away food items.
Other items looted from the warehouse which is located in the Kpansia area of Yenagoa included bags of rice and garri as well as cartons of noodles and bottled water.
The items is said to be part of the relief materials donated by some concerned Nigerians during the 2022 flood disaster in the state.
According to reports, the incident happened at about 7:30pm. Residents stormed the warehouse with pick-up vans and private vehicles to move the foodstuffs away, most of which had already gone bad.
A statement issued by the State Emergency Management Agency, on Monday, said the incident happened at 7:45 pm on Sunday after the Director-General of BYSEMA, Walamam Igrubia, and some officials of the agency had left the warehouse premises.
The statement read in part, "During the 2022 flood in the state, the Agency used the warehouse to store food items.
"As part of preparations for an impending flood this year, the DG visited the premises, and in his presence, remnants of food items, notably rice and garri that were no longer fit for consumption, were cleared from the warehouse and placed outside for disposal the next day.
"The remnants, which were swept from the floor and packed in disused bags, were less than 10 bags of rice and garri and with some broken cans of oil. For emphasis, BYSEMA states that these items were not fresh food palliatives and were not hoarded by the Agency or the state government.
"Importantly, these items are unfit for human consumption and a responsible, caring government like ours will not give Bayelsans such items as palliatives. In essence, there were really no food items to loot. So, those who carted away the unfit items are please advised in their own interest not to consume them."
BYSEMA has condemned the action of the yet-to-be-identified persons who stormed the warehouse premises, and "the attempt to politicise the incident by opposition elements in the state, who seek to score cheap political points from the ugly occurrence."
The state government assured of its preparedness to handle the distribution of palliatives provided by the Federal Government as part of efforts to cushion the effects of its fuel subsidy removal policy as well as the fallout of impending flooding this year.