Over 25,000 birds killed as flood destroys farm in Anambra
2 min read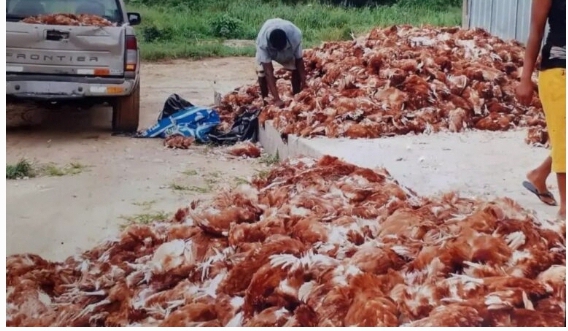 Amulti-million naira automated farm in the Agbobo Umuoga Ossomala community in the Ogbaru council area of Anambra State has shut down operations due to a flood disaster.
The disaster resulted in the death of more than 25, 000 birds at the poultry section of the farm and adversely affected fish and potatoes and other crops.
Patrick Sule-Ugboma, the proprietor of the farm complex, disclosed this on Wednesday when he took journalists around the facility.
He said about 400 company staff had been directed to stop work.
The communities in Ogbaru live on the River Niger coastline and often experience flooding.
Mr Sule-Ugboma said the farm, sitting on 20 hectares of land, had lost a fortune to the flood disaster.
"We have lost more than 25,000 poultry birds, fish in our ponds worth several millions of naira, and numerous other properties worth several millions of naira," he said.
According to Mr Sule-Ugboma, the flood has equally affected some bridges on Onitsha-Ndoni Road, especially the Umunnakwo Bridge.
The collapse of the same Umunnakwo Bridge in 2022 resulted in a boat mishap, which claimed some lives.
Mr Sule-Ugboma said the collapse of bridges on Ogbaru-Ndoni Road posed dangers to residents and travellers, who had resorted to crossing the river by wooden boats.
He appealed to the federal and Anambra State governments to urgently address the situation.
"I am calling on Governor Charles Soludo to look into the plight of our people, especially with flooding hitting Ogbaru communities again.
" I also call on the Niger Delta Development Commission to consider the reconstruction of the Onitsha-Ndoni Road," he said.
NAN