Otti my biggest supporter, I'm shocked over media attack against him — Innoson
3 min read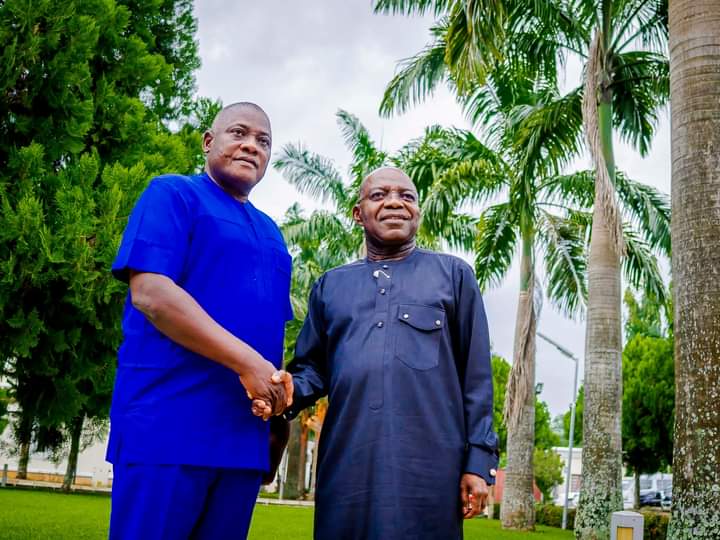 Chief Innoson Chukwuma, Nigeria's number one automobile manufacturer, has expressed shock over social media attacks against governor Alex Otti of Abia State.
The Anambra born businessman made his feelings known when he led some directors of the company on a courtesy visit to governor Otti at his country home, Nvosi in Isialangwa South local government area of the state.
He explained that he was the very first person governor Otti called on phone to supply those security trucks as a case of emergency following a request made by security agencies ahead of the inauguration of the security joint taskforce—Operation Crush but that because he had exhausted his trucks, he encouraged Mr Otti to consider patronising another company.
He noted that buying 20 trucks from Toyota is nothing compared to the volume of patronage he is enjoying from the governor.
He said, "The Governor called me and requested for Pickups which he needed urgently, but I told him our own had exhausted and encouraged him to patronise another company.
"He had earlier assured me even before his inauguration that he would patronise only Innoson which was the reason he used our Pickup for his inauguration parade which we delivered.
"Buying 20 Pickups from Toyota is nothing compared to the patronage we have enjoyed from him. Due to his patronage and unprecedented support we have decided to build a service plant in Abia in line with the request of the Governor. We have also concluded plans to use Aba as a HUB for the conversion of Vehicles to CMGs" he concluded."
While responding to his visitors, governor Otti thanked Chief Chukwuma and his team for coming.
He made it clear that he didn't make anything out of the social media fight because even the pickup for his inauguration parade was manufactured by Innoson and that he had to put Chief Chukwuma under pressure to get it ready and that his government has gone on to purchase 40 pieces of Innoson SUVs, with several pending orders yet to be delivered.
The governor recalled their meeting in the year 2005 when he was still producing Motorcycles, and expressed joy that his perseverance led to something bigger.
Otti disclosed that he had extended support to Chief Chukwuma during his career in the bank, a support which the Innoson boss acknowledged and still appreciates.
He further explained that his government needed 20 Pickups urgently for the take-off of the "Operation Crush " and that once Innoson didn't have, he knew that only Toyota and Mitsubishi have the capacity to manufacture in large quantities and keep permanently, hence his resort to buying Toyota Pickups.
The former bank chief reminded Chief Chukwuma of the Service Centre and requested that it should be built before the end of the year so that Innoson vehicles can be serviced and repaired in Abia.
Otti recalled their discussion during the COVID-19 period and the suggestion he made which led to the opening of a production line for Ventilators and urged the industrialist to put Aba in his industrial plans, explaining that investors are coming to the state because they have confidence in his government.