NTA worker crushed by train in Abuja used illegal level crossing — NRC
2 min read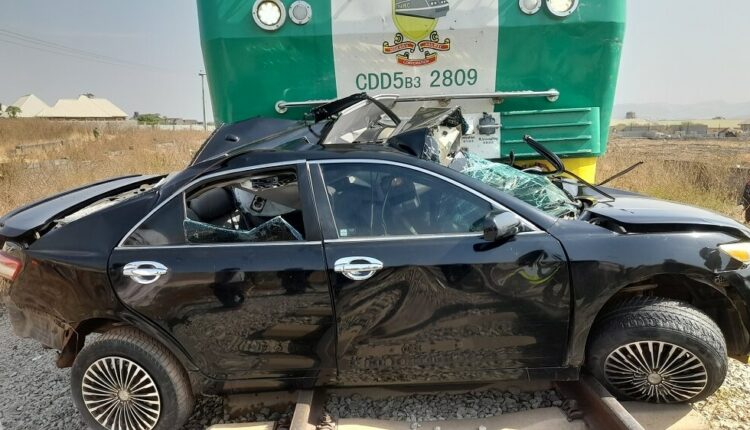 The Nigerian Railway Corporation (NRC) has cleared the air over last week's accident of the Abuja-Kaduna Train which crushed a woman driving on the rail line along Chikapere in Kubwa, an Abuja suburb.
The deceased woman, Selimota Idowu, was a staff of the Nigerian Television Authority (NTA).
There has been an outcry from members of the community over the tragic incident.
But the NRC in a statement by its spokesman, Mahmood Yakub, yesterday disclosed that two overpasses were constructed at different locations within the Kubwa Abuja environs for ease and safety of crossing railway lines of Abuja-Kaduna Train Service.
"However, motorists have been, for reasons best known to them, avoiding those two overpasses and instead resort to using illegally constructed level crossings which have been in recent times fatal as a result of collision by the moving trains," he said.
The NRC however enjoined motorists and other road users to always use the two constructed overpasses for their safety "instead of the illegal level crossings that portend great risks and danger to their lives and properties."
"We are appealing to the mass media to use their medium to enlighten the general public on the safety imperative of using the overpass to cross railway lines.
"The federal government policy on railway modernization is ensuring the safety of motorists and trains through the construction of overpasses in all railway lines constructions," the NRC added.
A railway engineer who did not want to be named had told our correspondent that the vehicle of the deceased must have been stuck in the track when the incident happened.
He said while it would have been easy to quickly jump out of the vehicle, the deceased must be very confused upon seeing the approaching train.
"But you know that most of the time, immediately they got stuck and they became confused. She could have opened the door and jumped out. For the driver, the train was on speed, he wouldn't know that anybody would be there," he said.