Navy arrests Tompolo's boys for oil theft
2 min read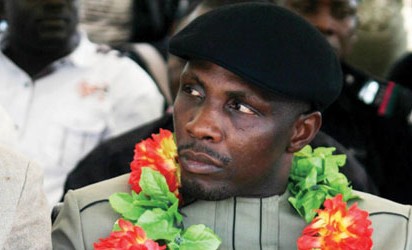 The Nigerian Navy said it forstalled an attempted oil theft at Lekki Waters and also arrested four suspects identified as operatives of TANTITA Security Service on Tuesday.
TANTITA is owned by a former Niger Delta militant, Ekpemupolo popularly known as Tompolo.
The suspects were taken into custody by men of the Nigerian Navy stationed at FOB LEKKI at waterways near Itolu community, Lekki after the residents of the area raised alarm following gunshots from the waterside.
However, parading the suspects on Wednesday, the Commander of NNS Beecroft, Commodore Kolawole Oguntuga, said they were arrested while they were attacking a resident from whom they tried stealing a boat engine.
He said, "In a swift response to a distress call, the Nigerian Navy stationed at FOB Lekki foiled an attempted oil theft operation on the waterways near Itolu community, Lekki, in Lagos State.
"The incident occurred in the early hours of August 29, 2023, when local youths reported gunshots in the vicinity of the community.
"Reviewing the information, naval patrol teams immediately launched a response operation. Upon arrival at the scene, the naval team met four individuals dressed in black polo shirts with TANTITA inscribed on the back, trying to recover a dismantled outboard engine from a local. The team recovered the engine and apprehended the four Tantita employees."
"It was after this arrest that the patrol team realised that the four individuals were part of a movement of a large wooden boat with two fibre boats. The four arrested individuals beckoned on the two fibre boats to approach them but when they noticed NN patrol teams, the boats altered courses fled away, and abandoned the large wooden boat laden with 11 x 1000L Geepee tanks with product suspected to be stolen crude oil.
"The arrested individuals have been identified as Asonja Goddey (28), Obajimi Oluwaseyifunmi (38), Awoowo Aribo (35), and Oluwadaisi Balogun (40), all hailing from Igbokoda in Ondo State. The owner of the boat they were trying to forcibly employ, Ishola Ojubuyi (42), is also taken into custody.
"The Nigerian Navy has initiated an investigation to unravel the circumstances surrounding the incident, particularly the possession of firearms used in the community, economic sabotage, how the product came from Ondo State to Lagos State as well as attempting to steal a boat engine from the locals.
"Also, one Mr Owoyele Omotuyi who was identified as a Tantita staff member, came to secure the release of the four apprehended, claiming they were Tantita employees. All suspects along with the confiscated exhibits will be handed over to appropriate agencies for further necessary action and prosecution".