My marriage still intact, says American TV host, Steve Harvey
2 min read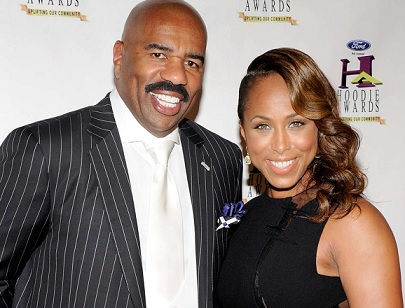 Mr Steve Harvey, American TV personality, has dismissed media reports claiming that his wife, Marjorie Elaine, was allegedly having a sexual relationship with their bodyguard and also, he has perfected plans to file for a divorce.
Last week, the internet was agog with news that his wife, Marjorie, filed for a divorce and demanded $200 million from the comedian after her alleged relationship with her body blew open.
But the 66 year old Steve Harvey cleared the air on Sunday evening when he appeared on stage at Invest Fest 2023.
While addressing the congregation, Harvey said, 'We fine. I don't know what y'all doing, but find something else to do because we're fine. I ain't got no time for rumours and gossip. God's been good to me, I'm still shining'
Recall that Steve cheated on his ex-wife with Marjorie and the lady reportedly moved on. Marjorie is said to have hired a cousin's lawyer for his sugar baby to block his ex-wife from getting even with him in court during the marital battle.
Marjorie Harvey is a well-known figure in the world of fashion, entertainment, and philanthropy.
She is renowned for her impeccable fashion sense and style. She is often seen wearing elegant and fashionable outfits at various events.
The couple tied the knot in 2007. Their relationship has been a subject of interest and attention, with both of them often sharing glimpses of their life together on social media.
Both Marjorie and Steve Harvey have children from previous marriages, and together they have formed a blended family.
They have been open about their experiences in navigating the complexities of blending families and have shared insights into their approach to parenting