JUST IN: Lagos-bound vessel nabbed loading illegal crude oil in Delta set ablaze by Nigerian army
2 min read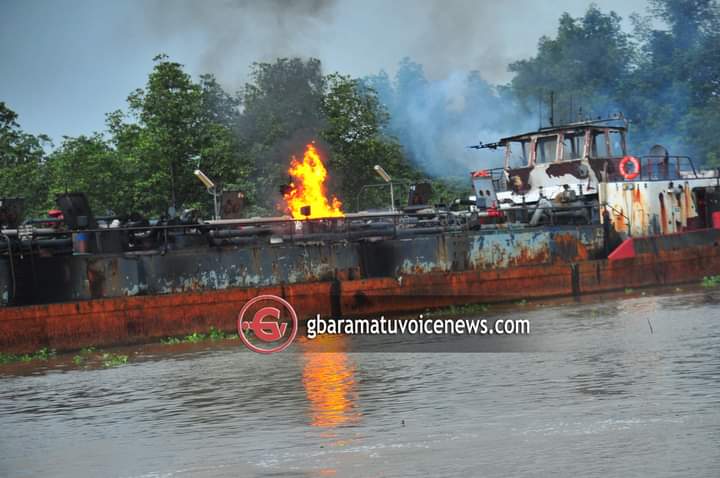 The vessel which was arrested by Tantita Services Limited, a security outfit owned by Tompolo, former Niger Delta warlord while loading illegal crude oil, has been set ablaze by the men of the Nigerian army along the Warri River in Delta State.
NNPCL recently awarded pipeline surveillance contract to Tantita Security Services Limited so as to help in curbing the problem of oil theft and pipeline vandalism in the country after it was reported that Nigeria is losing over one million barrels of crude oil daily to oil thieves.
Millions of Nigerians went berserk after Tantita Security operatives on Thursday, October 7, 2022 apprehended the crude oil tanker, MT Deinmo, with International Maritime Organisation (IMO) number 7210526, loaded with an unspecified quantity of crude oil at the Escravos River in Warri South West Local Government Area of Delta state.
During a search on the ship, eight crew members were apprehended by the Tantita Security personnel.
One of the security personnel who was part of the operation said they got a tip off that a ship was loading at the Escravos axis. The Tantita security officers swung into action and got the ship arrested.
The security operative further added that he was offered a bribe of N25m to let the ship go but he turned down the offer.
On the capacity of the ship, he explained that the ship is 1,500 metric tons and had on board eight all Nigerian crew members.
While noting that the captain confessed that they came in from Lagos and that if they were not arrested, the ship would have sailed back to Lagos.
Meanwhile, News Band could not independently verify if the authorities conducted proper investigation as to unravel the owners of vessel before setting it on fire.
However, some pictures which was shared by GbaramatuVoice showed the vessel being engulfed on fire.
See pictures below: