Is senator Orji Uzor Kalu only concerned about road construction in Abia North? — By Bernard Ogbe
4 min read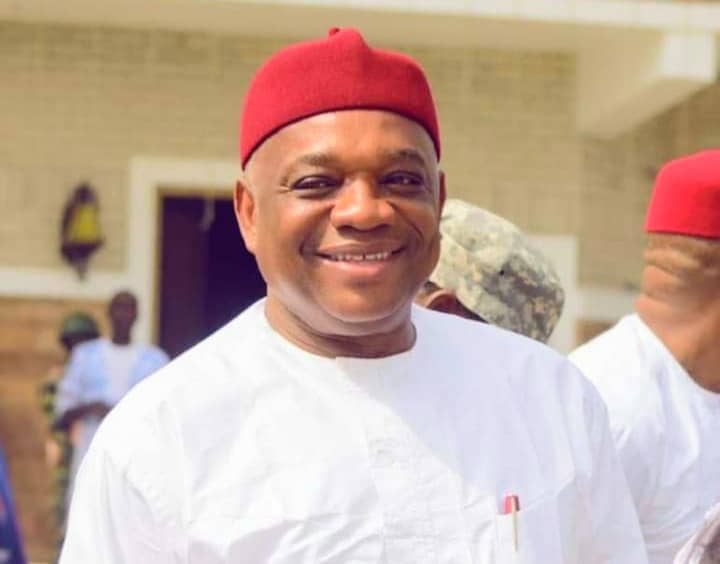 Just like his name implies, 'Uzor', meaning 'Road', and braced with the numerous roads attracted to Abia North senatorial District, by Senator Orji Uzor Kalu, which he also extended to other areas outside his constitutional jurisdiction, one would be quick to say, Orji Uzor Kalu, is only concerned about road constructions.
It would be ridiculous however, to peg Senator Orji Uzor Kalu, to just building roads. Orji Kalu, is a polished and updated leader, who knows the importance of roads as a step towards developing Abia North communities. He is also systematically touching Abia North, by giving the District, the attention he gave to his conglomerate that has made him sore higher in all sphere of his engagements.
As seen and demonstrated by world leaders in most developed countries, good road network is noted to bring about the ease of doing businesses. Aside the economic values of good road network, bad roads, usually have enormous negative effects on the health of the people and also, causes damage to cars, trucks, tricycles, bikes, as far as bicycles ( all road users ) making them lose durability. The health hazards of the dusts and the mixture of other exhumed particles, by these motorists, inhaled from these roads on daily bases, shortens the life span of both the old and the young, back home.
For the benefits of those doubting Thomases, who see nothing good in the road network distribution of Senator Orji Uzor Kalu, in Abia North, which he also extended to other areas like Aba, in Abia State!
The $500m Industrial Park, which as a matter of propensity, would be established in four communities in Abia North, by PowerChina and SWIBER, with over 20,000 jobs to be created from the capacity of a Deal, that revolves round productions, manufacturing, packaging for domestic usage and also exportation, including electricity generation. Such huge investments would not be DEALED, if the investors (PowerChina / SWIBER) were faced with bad road network. The peace in Abia North, has also made it conducive enough for investors to come in and establish, thereby creating jobs for the people.
Haven set the pace for business and other economic activities to thrive, there are other achievements that rejuvenated the presence of government in Abia North, through the Office of the Chief Whip of the Senate, Dr Orji Uzor Kalu.
In his judicious use of the Zonal Intervention Projects (ZIP), funded by the Federal government, Senator Orji Kalu, was able to re-define the learning and reading standards of the students in Abia North, by giving them enabling environment. Senator Orji Uzor Kalu, successfully renovated and built classrooms for schools in the five local government that made up the Abia North Senatorial District.
The quick intervention of Senator Orji Kalu, on education, resulted to the sharing of text books, bags new study desks and other educational materials, to both primary and secondary schools in Abia North and beyond.
Senator Orji Uzor Kalu, in his usual ways, quenched the thirst of so many communities by providing for them, drinkable water. A Senator that went extra miles into his pocket to get a drilling project completed in places like Nkporo, can not be stripped off his honor, which is expected to reflect through the votes of the people to return Senator Orji Kalu, back to the Senate.
The call on Senator Orji Uzor Kalu, by Abia North farmers, to provide for them farm tools, earned for the farmers, fertilizers, sprayers and other farm equipments to effect and improve farm produce.
All, Orji Kalu, had done in just four (4) years are with clear evidences, seen by those he has impacted their lives in various ways. The loans given to people through The Orji Uzor Kalu Foundation, to enhance their businesses, is also yielding testimonies as recounted by virtually all the recipients.
Senator Orji Uzor Kalu, can be said to have touched different aspects, concerns and some of the worries of Abia North people. He is a leader, sent to represent Abia North District, and did not disappoint. He took his legislative responsibilities to the peak of not just sponsoring over fifty (50) Bills, but also, did exceedingly above the limits of a four year Senator. The salute of Abia North people, on Senator Orji Uzor Kalu, for performing exceedingly above his legislative duty, is justified.
As Abia North become the most talked about District among Districts of the federation, giving Senator Orji Uzor Kalu, another four (4) years in the Senate, is a price to be paid by all good, loving and progressive Abia North people, who desire sustainable development of the land. With Orji Uzor Kalu, Abia North District is in safe hands.