Igbo's quest for united Nigeria not in doubt – Jonathan
2 min read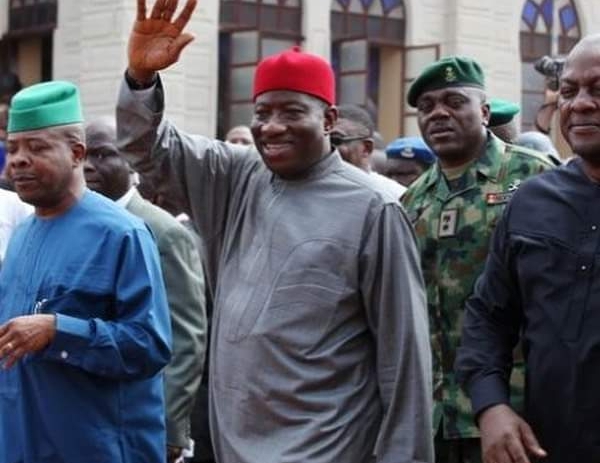 Former President Good luck Jonathan has said that Ndigbo, right from the struggle for Nigeria's independence, have been in the forefront of a desire for a united Nigeria.
He spoke at a lecture organised in celebration of the 80th birthday of elder statesman, Chief Emmanuel Iwuanyanwu, by the Correspondent Chapel of the Nigerian Union of Journalists in Owerri, on Saturday.
The former president said one of the foremost Igbo leaders, late Dr. Nnamdi Azikiwe, had exhibited pan-Nigerian and pan-African commitment in his pre-independence speeches, adding that it was the same spirit that Ndigbo of today exhibit in their quest for the unity of Nigeria.
He lauded the entrepreneurial spirit of Ndigbo, which have made them to live freely in every part of the world.
Jonathan, who chaired the occasion, expressed delight over Iwuanyanwu's sustained relevance and positive impact on Nigerians in the past eight decades.
He described Iwuanyanwu as a father, role model and man of many parts whose enviable track records of excellence, courage and determination have emboldened the continued quest for a united Nigeria.
He said Iwuanyanwu had continued to place Nigeria's unity above personal gains and called on politicians aspiring to elective positions to take deliberate steps to whittle down ethnic differences and focus on Nigeria's unity.
He said, "I have no doubt that Igbo hold an important place in Nigeria's unity, as they have contributed in no small measures to Nigeria's success in trade, industry, academics, and sundry areas of endeavour.
"Looking at our political history, the quest for Nigeria's unity can be achieved and this requires that all stakeholders work in synergy and imbibe the tenets of nationhood above ethnic and religious inclinations, in imitation of Iwuanyanwu.
"Nigeria as a country should know that we need to review certain things. We cannot become slaves to our challenges; if we work together, we can build a nation where everyone will have sense of belonging."