I got pregnant three times for Apostle Suleiman — Halima Abubakar
3 min read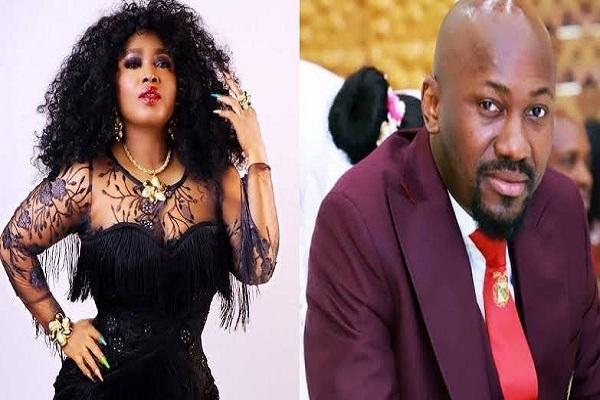 Nigerian actress, Halima Abubakar, has alleged that she got pregnant three times for Apostle Johnson Suleman, the general overseer of the Omega Fire Ministries International.
In September last year, Halima had called out Suleman on social media while claiming that the both of them once dated.
But Suleman threatened to sue her for "defamatory statements".
The matter appeared to have died down afterwards as reports of Halima's battle with an undisclosed illness surfaced.
In a recent interview, however, the film star claimed the pair dated for "six years".
The actress also said when rumours of their alleged romance first went public, she sought the cleric's advice on what to say but "he told me to go and die".
Meanwhile, in a viral video of the interview, Halima was asked if she was ever pregnant for Suleman.
"Yes, I was once pregnant for him," she said.
When further asked why she did not keep the pregnancy, she said, "When I lost the baby, he was crying, you would think it's real because he was shedding tears that I lost his child.
"It's crazy. I got pregnant three times for him. The last one got me bleeding…I had to take tablets to stop it…"
On how long it took the bleeding to stop, she replied "for four years, I actually just came out since I have been in a long spiritual battle…the blood just stopped rushing, you won't believe it."
In another clip from the interview, Halima alleged that the cleric slept with her while she was bleeding.
"He was sleeping with me even while I was bleeding. That's the dangerous part of it, and he was telling me he couldn't sleep with any other person, that's why," she added.
"The whole thing took me unaware because I was naive and not a spiritual person. Even when I'm on my period, he does that (sleeps with me)."
Halima said she is ready to go to court to prove that the pair had an affair.
However, Halima's latest claim comes after Sulieman dragged her to court for alleged defamation.
In the suit filed before a high court sitting in Abuja, Suleman demanded, among other things, the sum of one billion naira as damages.
"A declaration that the statements published by the defendant against the claimant on her Instagram hande @Halmabubakar, falsely and maliciously written and published to the general public, are delamatory of the person of the claimant," it reads.
"An order directing the defendant to publish a retraction of her defamatory statements published on her Instagram hande @alimabubakar and on several online blogs and newspapers.
"Pay the sum of N1,000,000,000.00 (one billion naira only) to the claimant as aggravated and exemplary damages for libel contained in the publication of the defendant against the claimant on her Instagram handle @Halimabubakar and caused to be published by the defendant in several newspapers and news blogs, including Gistlover at Gistlover.com.
"An order directing the defendant to pay the claimant the sum of 20,000,000.00 (twenty million naira) being legal fee paid to the counsels handing this suit."