How to kill Biafra and Oduduwa Republics — By Uzoma Ahamefule
8 min read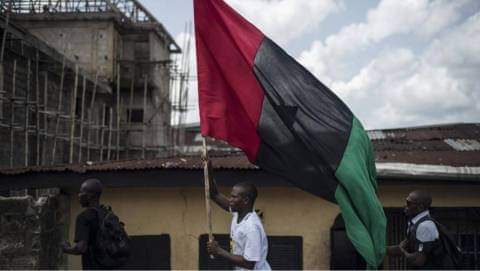 Part 2
"The only thing necessary for the triumph of evil is that good men do nothing." – Edmund Burke.
In the history of mankind facts have been repeatedly documented without any contradiction from century to century and country to country that there has never been peace in any institution or union where there is no equity and justice. Events have equally continued to emphasise that no amount of force or brutality has ever defeated or silenced truth permanently.
In a nutshell, let us retrospectively remember Major Isaac Jasper Adaka Boro. He was an Ijaw man, in today's Bayelsa State. He was the minority rights activist who led a protest against oil and gas exploitation in Niger Delta, and later declared "Niger Delta Republic" in February 1966. He was consequently arrested, charged for treason and imprisoned, but was smartly released shortly before the Nigeria Biafra war began. Because of the way he and his disciples had been suppressed and crushed to submission, numerous years after, many perhaps thought that that idea of protesting against oil exploitation and environmental neglect in Niger Delta died on that day Boro was pardoned and released from prison to join the Nigerian Army, but Ken Saro-Wiwa sprang up and proved such a permutation wrong. Remember Ken Saro-Wiwa. He was the environmental activist who was – amongst other eight Ogoni people – executed by hanging under the brutal military rule of Gen. Sani Abacha. Why? Saro-Wiwa was a very strong recognized voice internationally against oil exploitation, environmental damages and pollution in Ogoni land by Shell. He was equally very vocal against the military dictatorship of Abacha. In 1994 he was accused of murdering four prominent Ogoni Chiefs and was arrested. Many people – locally and internationally – showed their solidarity while he was in detention as they saw the charges against him as trumped-up charges. His trial was by special military tribunal, and he was found guilty and was executed by hanging on 10.11.1995.
More than 50 years after the Nigeria Biafra war under Gen. Yakubu Gowon and Col. Odimegwu Ojukwu ended, Nnamdi Kanu is today facing charges of treason for still wanting to have the same Biafra. Therefore, the reality is that brutality and force cannot conquer truth and suppress justice forever. If it had been so, Saro-Wiwa would not have tried what led to his execution knowing what had befallen Boro, neither would Kanu have tried to reawaken the conscience of the people and re-enact the spirit of Biafra knowing the consequences and what Ojukwu faced, or Sunday Adeyemo, popularly known as Sunday Igboho would not have declared Oduduwa Republic knowing that it was a felony offence. Subsequently, the statistical consequences are that if we make the same mistakes made in the past by not justly dealing with those contentious issues which led to the second protest against oil and gas exploitation and environmental pollution in Ogoni land by Saro-Wiwa – almost 30 years after Boro's protest and declaration of Niger Delta Republic – and the resolute by Nnamdi Kanu to have Biafra after the first declaration by Ojukwu 65 years ago, we are likely to live and witness another Saro-Wiwa and perhaps many more Kanus and Igbohos in the future.
Conflicts are inexorable by human nature, but what makes the end results to vary from individual to individual and from nation to nation in attaining reconciliations are the courage and the sincerity exhibited against all odds while engaging in genuine discussions. In pursuant to peace and solutions to disputes, wisdom and maturity must be paramount and sacrifices where the spirit of give and take is absolute are inevitable. Historical records around the globe unambiguously show that amicable settlements have never been achieved anywhere through guns and bombs, but rather via negotiations and resolutions from roundtable discussions. Truth and justice forcefully overpowered through the barrel of a gun or the instrumental power of an authority is only temporal, because it is like a seed thrown into a bush and forgotten, but must surely one day germinate and grow to produce even more seeds that will challenge the status quo.
The youths in the eastern part of Nigeria have been provoked by what they perceived as injustice against them, and they are angry. While I appeal to them to please stop the killings, drop their arms and shed their swords for whatever problem it is killings and destruction of properties can never be the solution as it takes the whole problem from bad to worse, I equally beg the Federal Government of Nigeria under President Buhari to please take them as his children and treat them as such by calming them down and appealing to them to drop their arms and sincerely address whatever grievances they have with wisdom and love. We have not forgotten how the late former president, Umaru Musa Yar'Adua handled the problem of the Niger Delta militants. He did not use force or military approach and he was very successful.
According to Hon. Chinedu Ogah (OON), a member representing Ikwo/Ezza South Federal Constituency at the National Assembly, there is unfortunately a disheartening and a very serious allegation of injustice, discrimination and hatred currently ongoing against the Igbo people in Nigeria. He said the South East has been deliberately excluded from the Scholarship Program of the Petroleum Technology Development Fund, (PTDF) on the flimsy excuses of insecurity in Igbo land. "The South East is not more prone to security threat than other zones in the country as others are being accommodated in the scholarship of PTDF. It is an act of hatred and negligence of the zone," said Hon. Ogah in protest. Things like this cause animosity and ignite protest.
We have also not forgotten that it was still this administration of APC under President Buhari that $22.7b were borrowed for projects that were meant to be situated in every state in Nigeria, but provokingly Edo State and all the entire Igbo States were strategically excluded from the project. Appointments to important, sensitive and strategic positions have continued to be one sided. Can we stop Biafra and Ododuwa agitations like this?
In my personal view, it has no commercial value that Nigeria borrowed money and has started building railways somewhere from the north to Niger Republic when the states in Nigeria have not been interconnected with railways and are actually begging for such. That money wasted on that project could have been better and maximally utilized in making sure that the federal roads in the 36 states of the federation are no longer death traps and facelifted. It was a waste of scarce resources and a misplaced priority that made people to raise eyebrows. Oduduwa and Biafra agitations will indeed be defeated permanently if the money we have spent and perhaps are still spending to search for oil in a desert in the north could be channeled into dredging the River Niger in Onitsha, and the Escravos River in Warri to international seaports, upgrading the Port-Harcourt seaport to international standard and doing the needful that will ease the gridlock in the Apapa Wharf in Lagos etc. Searching for oil anywhere in Nigeria is not a bad idea. But the timing to embark and to prioritize such a project in the midst of all our immediate wants and under the state of the nation that is full of skepticism, mistrust, fears and the allegations of secret agendas seems to wrongly give credence to accusations that fuels agitations.
One important area that should be seriously considered in our quest to permanently kill Biafra and Oduduwa Republics agitations is that all the state governments in Nigeria that see alcohol as a poison and a commodity that should not be consumed, and are actually destroying helpless Nigerians' warehouses, shops, goods and properties in search of alcohol should henceforth be stopped by the Federal Government from receiving revenue monies accruing from the same alcohol sold from other states. Nigeria constitution never prohibited the selling of alcohol in any part of Nigeria, but since the government officials do not have the political will to implement that very law, they should at least stop sharing these revenue monies to such states every month in the name of "Federal Allocation". It is hypocritical and not fair.
Above all, to kill all the agitations, we are obliged to insert the history of the Nigeria civil war into our school curriculum. Why do we even have history in our schools as a subject but refused to include the Nigeria Biafra war? Is there anything there to hide? But the colonial era is included as a part in our secondary school government subject, which is good. So, are we not doing ourselves a very great disservice by denying our children the rights to know correctly what led to the war, what happened during the war and how the war ended just to deter them from making the same mistakes? No wonder many of our youths today still beat the drums of war because they do not know the consequences of it and that war is not like a riot they witness where police shoot on air and use batons to disperse the crowd because for whatever irrational reason, we failed to guide them properly. We cannot continue to do the same thing every time and expect different results.
Nigeria is a country where events have shown that our leaders are always subjective in their thinking. If not: how can one explain that we rejected the national anthem given to us by the colonial masters before they left in 1960 on the ground that it was not from us, but we are proudly and boldly still holding on to the name "Nigeria" which the same usurpers, the colonists equally gave us before they left? Ridiculous and absolute absurd! How can one explain the rational? Name is very important in one's life because it is that person's identity. While it is true that we are supposed to do away with both identities, but if we are to speak in comparison: which of the two is even more important? Other smaller African countries have changed the names colonists gave to them except the so-acclaimed giant of Africa and the most populous black nation on the surface of the planet. So, as we try to kill Biafra and Oduduwa Republics we should also not forget to kill the colonial identity and the mentality of teaching our children the role and the history of Queen Elizabeth of England but refused to teach them the civil war that took the lives of more than 4 or 5 million people.
Uzoma Ahamefule, a concerned patriotic citizen and a refined African traditionalist, writes from Vienna, Austria
uzomaah@yahoo.com
+436607369050 (WhatsApp messages only)