How CPC forces are pushing for Malami as Tinubu's running-mate
2 min read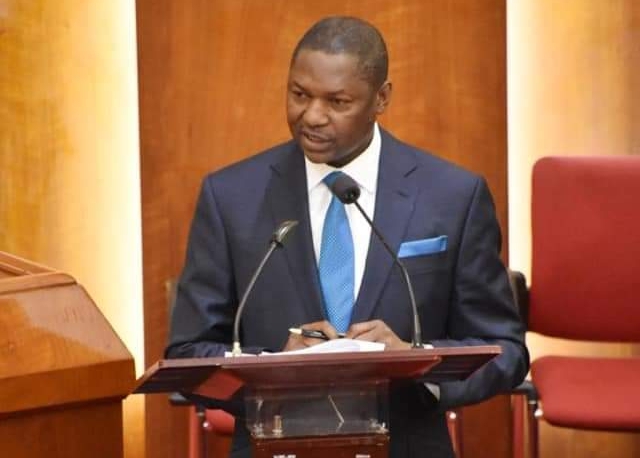 As the deadline for political parties to submit the names of their candidates is getting close, there have been horse trading over the choice of running mates to Presidential Candidates.
Recall that the Independent National Electoral Commission (INEC) has fixed June 17, as the deadline for the submission of candidates for the 2023 elections.
This paper had reported how the All Progressives Congress (APC) and the Peoples Democratic Party (PDP) have narrowed their choices of running mates to some key politicians.
According to sources while Asiwaju Bola Tinubu of the APC is considering Kashim Shettima, former governor of Borno State, former Vice-President Atiku Abubakar is strongly considering settling for Governor Ifeanyi Okowa of Delta State.
However, Dailytrust citing sources said that the Congress for Progressive Change (CPC) bloc of the APC are planning to approach President Muhammadu Buhari to recommend Abubakar Malami, the Attorney-General of the Federation and Minister of Justice or the Aviation Minister, Hadi Sirika, for the position.
"The CPC elements are planning to approach President Buhari to seek for his intercession to endorse either Abubakar Malami or Hadi Sirika as the running mate," a source said.
"But there is the high probability that the president will repeat what he did ahead of the APC special convention; he will listen to all but he will most likely allow the candidate to have a say in who he wants to work with…They would collectively work in producing the right candidate who will bring votes and acceptability because the ultimate goal is for the APC to retain power."
It was gathered that Tinubu has an appointment with the president on Wednesday and that the issue of running mate is among the issues to be discussed.
Analysts say the choice of the running mates will determine the victory or otherwise of the candidates in the February 25, 2023, presidential election.
Source: Newsband