How barrister Ifeanyi Ejiofor became the greatest threat to Nnamdi Kanu — Report
6 min read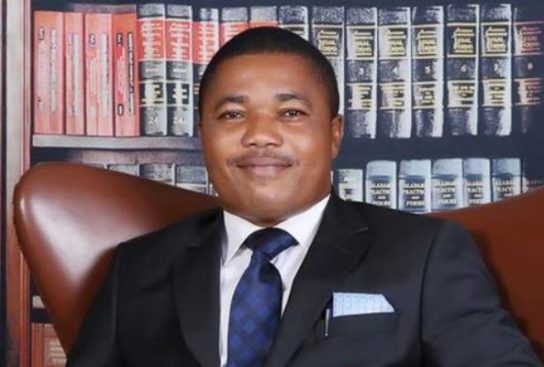 Details of how the legal counsel to the embattled leader of the Indigenous People Of Biafra (IPOB), Barrister Ifeanyi Ejiofor, became the greatest threat to his client, Nnamdi Kanu, have emerged.
In a special report by the founder of Due Process Advocates International (DPA) and Chief editor of Eculaw News, Emeka Ugwuonye which a copy was made available to News Band, noted that Ejiofor has become bad, greedy, incompetent and too compromised to handle the case of Nnamdi Kanu.
The Harvard trained attorney in the report explained that because of how fat Ejiofor has been feeding from the Biafra illusion under IPOB, he has continued to advise Nnamdi Kanu wrongly.
The human rights lawyer further stated that in a civilized world, the government would have arrested Ejiofor for egging his client in the dangerous direction which led to the establishment of the killer Eastern Security Network (ESN).
Ugwuonye while revealing that things have gotten too far in the wrong direction said that even if IPOB should sack Ejiofor from the legal team now, it will not make much of a difference.
Though, he said the removal of Ejiofor will be an impossible task for IPOB because he's been more than a lawyer to the separatist movement.
Emeka Ugwuonye however, described Ejiofor as an insider, an operative of IPOB/ESN and if removed from the movement, he will blackmail Nnamdi Kanu by revealing operational secrets of the group.
Part of the report reads, "When I say that Ejiofor is the greatest threat to Nnamdi Kanu today, I do so without any iota of sentiment or emotions. Anybody in Nnamdi Kanu's position who uses a lawyer like Ejiofor is destined to make huge mistakes and suffer greatly. The reason for this problem is not that Ejiofor is a bad man. He is simply too greedy, too incompetent and too compromised to do the job.
"Since 2017, you can see how Nnamdi Kanu's case and his Biafran illusions have gone so badly to a point where he is in detention and will not be released until he unequivocally renounces his dreams of a territorial Biafra.
"It is the duty of a lawyer to advise his client on the right path to follow when faced with legal jeopardy, and it is the duty of the client to follow lawyers advice. We describe that as Control of Client. Once your client cannot follow your advice, you must resign. You cannot represent a client who does what he likes, contrary to counsel's advice.
"The opposite to the lawyer's ability to control his client is when the client controls the lawyer. A lawyer worth his salt must not find himself in a position where the Client controls how he does his work. In the case of Nnamdi Kanu, Ejiofor lacked the ability or interest to control Nnamdi Kanu. Instead, he benefited personally from the problem. Indeed, Ejiofor is the only one in the leadership of IPOB who truly benefited. He is the only one not in hiding. He is the only one collecting money apparently legitimately. He is the only one getting rich out of the Biafran project without getting arrested for it. Others are overseas or in hiding. Others are in the bushes answering ESN fighters and getting killed. Ejiofor is the only one of them who gets money without any risk whatsoever.
"In 2017, Justice Nyako granted Nnamdi Kanu bail on certain conditions. Those conditions were very harsh. I advised Nnamdi Kanu to appeal against those conditions, but to keep to them until the appeal goes through. Ejiofor advised him that it was okay to violate those conditions. Nnamdi violated those conditions leading to the the military attack and his flight into exile.
"It is obvious what would happen. It is obvious. Even at that moment, Ejiofor continued to advise Nnamdi Kanu wrongly. In a civilized world, Ejiofor would have been arrested. It is clear that he is egging his client in the dangerous direction that led to the establishment of ESN and the death of thousands.
"Failure to understand the role of a lawyer in a case like Nnamdi Kanu's is the problem. You think that a lawyer is such a passive actor, who plays no role in the actions of his client. No! A lawyer immediately gains control over his client and makes sure he follows advice. And once your client cannot follow advice, you must resign to avoid being blamed for his actions.
"I once represented a former Head of State of Nigeria. The first conversation we had when he asked me to be his lawyer was on the issue of Client Control. I said to him: "General, I can't quite represent you". He asked me why not. I said to him: "I have never represented an African Head of State in his personal capacity. I doubt that such a Head of State will follow my advice". He laughed and said: "Emeka, I will follow your advice". And he followed my advice till the end. When I visited Nnamdi Kanu in Kuje Prison, on his invitation, the first thing we discussed was the issue of client control. I told him the risks he faced if he acted in certain ways. In the end, I realized that he would not follow my advice. Hence, it was impossible for me to do anything for him once he was out on bail.
"Today, Nnamdi Kanu is begging the government to find a political solution to his case. I laughed when I read that last week. I recall that last year when I suggested a political solution, all the blockheads in Igboland descended on me with abuses, convincing themselves that Nnamdi would be released unconditionally. What a bunch of dreamers. They don't understand how the world works. Nnamdi's position is extremely bad, maybe worse than other leaders of militant groups.
"The emergence of Peter Obi (whether he wins or not) has also proven me right in another way. I told the IPOB people that it was not true that you needed a separate State of Biafra in order for the Igbos to realize justice. I told them that the Igbos would be okay if we could have a Nigeria that is well governed. Obi's candidacy has shown that a good Igbo man will be supported by non-Igbos. Today, Obi is more popular in Yoruba land than Tinubu and more popular in the North than Atiku. That proves IPOB wrong. And that proves me right.
"If you look at the name of this forum, I called it Movement for Peaceful Change. Why? I wanted an opposite forum to the IPOB forum. IPOB told you that for there to be a change, there must be violence. They presented violence as an inevitable alternative. I wanted Nigerians and the world to know that change is possible without violence. Peter Obi and Datti have shown Nigerians that change is possible without violence. They have confirmed my belief. Of course, nobody will remember that I was one of the first Igbo men to say that "territorial Biafra" is unattainable and undesirable. I know the level of abuse I received from Biafrans, which merely confirmed my views – that they were not ready for a country of their own, even if that was tenable.
"Back to the issue here: The greatest threat to Nnamdi Kanu has been Ejiofor. Things have gotten too far in the wrong direction that even the removal of Ejiofor now will not do much of a difference. Also, some have wondered why Ejiofor could not be removed. The answer lies in the fact that Ejiofor has been more than a lawyer to IPOB. He is an insider and an operative of IPOB and ESN. If removed, he will blackmail Nnandi Kanu by revealing operstional secrets of ESN. In fact, Ejiofor makes posts in the name of Emma Powerful. Because most of the IPOB members are on the run and their leader in detention, Ejiofor could make a post and use the name of any of them to publish it. Most of the things he tells you that Nnamdi said from DSS detention were never said by Nnamdi Kanu. So, for those moments he speaks without Nnamdi Kanu's approval, he becomes Nnamdi Kanu and should be held responsible accordingly.
"And finally, if I may say this: the worst insult anyone has ever given to me is to suggest I am envious of Ejiofor. It is a deep insult because it is impossible for a person with my pedigree, academically and experientially, to be envious of a rabble rouser in a third world country who clearly lacks the ability to control a situation like the rise and collapse of IPOB."