Frying-pan sharing senator, Ohuabunwa accused of making N3m bogus pledges to Nzuko Arochukwu women's wing
3 min read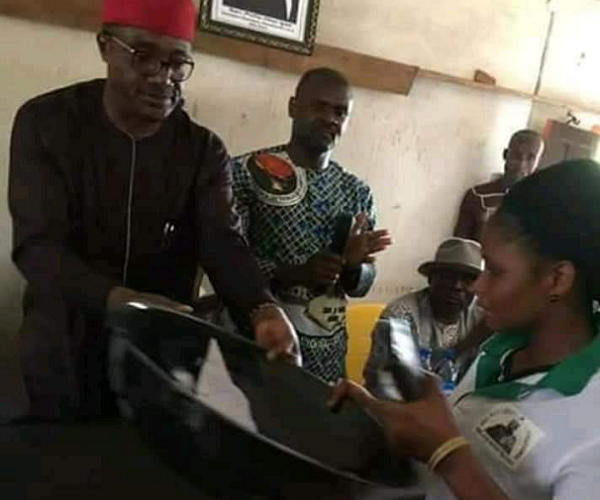 …Group denies endorsing his senatorial bid
Fresh facts have emerged on why the Women's Wing of Nzuko Arochukwu refused to openly endorsed a former senator representing Abia North senatorial district, Senator Mao Ohuabunwa for the Abia North senatorial district in 2023.
Some supporters of the former senator had claimed that the women endorsed Mr. Ohuabunwa, who is the PDP candidate for Abia North senatorial district election in 2023.
Some of the women, however, told our correspondent that the organization did not endorse Ohuabunwa, adding that Nzuko Arochukwu Women's Wing is not a political organization.
One of the women who refused to be named told our correspondent that Mr. Ohuabunwa was owing Nzuko Arochukwu Women's Wing the whooping sum of 3 million naira in pledges, and that the women cannot endorse him judging by his poor performance in the national assembly.
She said; "There is no group like Follow better in our Nzuko. God will discredit and disgrace anyone who wants to drag us into any political mess.
"We're free to belong to any political group or party, cast our votes based on our conscience, not on party level but on individual merit.
"We're not for sale for cheap popularity.
Please let's be guided.
"This is another plot to cause distraction and confusion in our mass rally.
"We have not even adopted our own, our fellow woman and we're selling our conscience with a pot of porridge.
"This is someone that is indebted to us to the tune of 3.3 million naira. He has not done any tangible thing to Nzuko Aro Women's Wing both in the past and present and someone is adopting him on our behalf for one one thousand naira. What a shame.
"May God forbid it in Jesus mighty name Amen. May God help us to remain focused in Jesus mighty name Amen."
Another member of the group said, "Ohuabunwa's only achievement was the distribution of frying pans to our women. We cannot support him in 2023."
Validating the claim by the women, our correspondent sighted a letter written to Senator Mao Ohuabunwa by the women, dated 28th October, 2019 requesting he redeem pledges made to them.
The letter which was signed by Mrs. Rosemary Egesi and Lady Bright Elekwa reads in part; "The Nzuko Arochukwu Women's Wing wishes to thank you for honouring her invitation as a Special Guest during the 2019 Mass Rally on 19th October, 2019 at Skills Acquisition Centre, Obinkita.
"We humbly remind you to redeem the pledge of Two Million Five Hundred Thousand Naira (N2,500,000.00) made towards our building
project.
"We also request you to redeem the balance of Eight Hundred Thousand Naira (N800,000.00) out of One Million Naira (N1,000,000.00) pledged in 2018 Mass Rally for which you gave Two Hundred Thousand Naira (N200,000.00) only.
"To this end therefore, we plead with you to redeem your pledges of Three Million Three Hundred Thousand Naira (3,300,000.00) to Nzuko Arochukwu Women's Wing to enable us complete the project in record time.
"May God bless and replenish your source as you redeem in Jesus name, Amen.
"Account details: Nzuko Arochukwu Women's Wing Project Account Number: 2033768225, First Bank"
Our correspondent could not reach Senator Mao Ohuabunwa for reactions over the report of owing the women as his phone numbers were switched off.