Foreign trip: After rejection in US, Tinubu heads to London
2 min read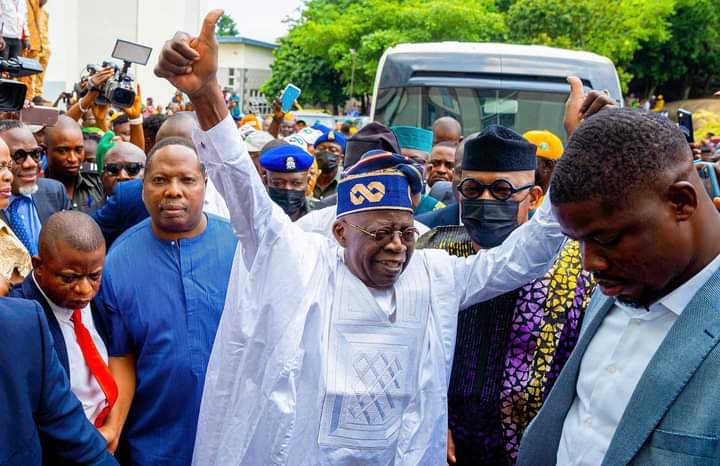 … set for Chatham House lecture Monday
The presidential candidate of the All Progressives Congress (APC), Bola Tinubu, has arrived the United Kingdom ahead of his planned lecture on Monday after his attempt to enter the United States of America was rebuffed according to multiple media reports.
The former Lagos State governor who was accompanied on the trip by some state governors and party leaders, will be speaking on security, economy and foreign policy at the Chatham House.
Recall that the presidential campaign council (PCC) of the APC had earlier announced that Tinubu will be spending 13 days on foreign trip to the United States and other European countries.
The PCC, in a statement on its official Twitter account last week, stated that Bola Tinubu will on December 5 speak at the Chatham House, the United Kingdom's elite Foreign and Policy Think-tank institution, where he will discuss issues bordering on security, economy and foreign policy.
Chatham House had on its official website said that Tinubu will discuss "his vision and recently unveiled manifesto for 'renewing hope' in Nigeria including his policy proposals for economic reform and revival and how to deliver secure and inclusive job opportunities for Nigerian citizens."
It said "the event is part of a series of events and outputs examining Nigeria's 2023 elections and political developments."
Though, the leadership of APC is yet to clear the air on why Bola Tinubu who was indicted for drug related offences in the United States in the late 1990's postponed his initial visit.
Meanwhile, the Chief Whip of the senate, Senator Kalu who made a case for Bola Tinubu in a Facebook post yesterday, described the reports that the party presidential hopeful was denied US visa as untrue.
He said: "As the election draws closer, the opposition will spread more fake news against our presidential candidate but we should always ignore and keep our eyes on the ball.
"The news that Tinubu was denied visa to the USA is as fake as other fake news.
"Tinubu postponed the travel himself and was never denied visa.
"The State Department of the US confirmed to me that Tinubu will be received in the third week of December.
"As the presidential candidate of our party with outstanding personality, he will be warmly welcomed in the United States."
Source: News Band