Elder Mark Ugorji endorses Mascot's candidacy as he joins APP in Abia
2 min read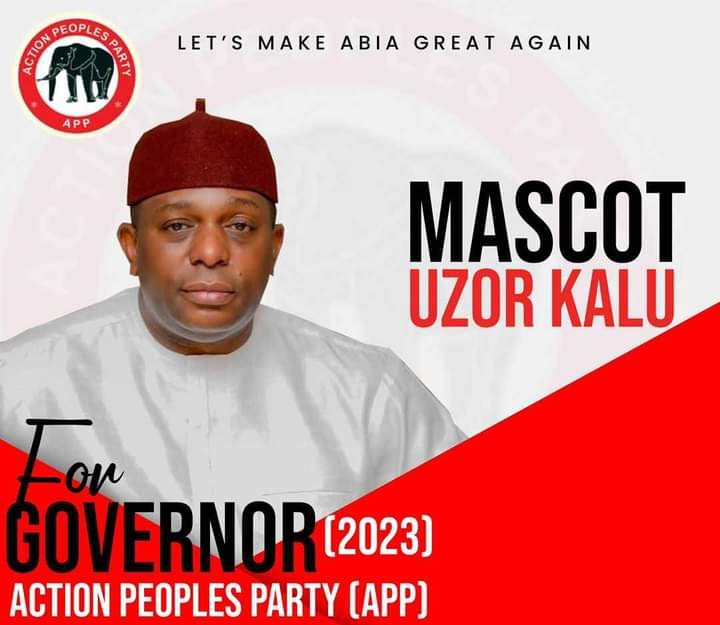 The widespread acceptance of the candidacy of Mascot Uzor Kalu, who is the governorship candidate of the Action Peoples Party (APP) for the 2023 gubernatorial race in Abia state, has continued to grow amongst the political heavyweights of the state as Elder Mark Ugorji joins the party.
Elder Ugorji, a former stalwart of the All Progressives Party (APC) in Umuahia North local government of Abia state, who was unveiled to a cross-section of the APP's executives at his country home at Olokoro in Umuahia, stated that his decision to endorse Mascot's candidacy is because of his track-record and by extension his family in Abia politics.
"Mascot Kalu is from a well-known lineage in Abia's politics. No politician in this state has not benefited from his family, except if the person is leaving in denial.
"When his brother was the governor of Abia state, the infrastructural projects we have now in Umuahia North were done by him. Mascot is not like our Umuahia brothers who will make promises to you and do the opposite."
Speaking further on his experiences in other parties, Elder Ugorji admonished the indigenes of Umuahia North to vote for Mascot as he is on a mission to fix Abia state.
"PDP and other parties have failed us in Abia. I have been a member of APC, APGA, and other parties, so I know what I am talking about.
"Abia state has been spoiled and Mascot is coming to fix things. If you are not tired of suffering in the state, then you can vote for another person. But if you are tired, then vote for Mascot."
Speaking at the event as a special guest of honour, Mascot Uzor Kalu appreciated Ugorji for joining the moving train while acknowledging his capacity in the politics of Abia.
"I know the capacity of Elder Ugorji and have been speaking with him about joining our party. When he accepted, I implored him to become the Director General of our campaign, which he duly obliged.
Mascot Kalu also seized the opportunity to reel out his manifesto to the people, which includes but is not limited to unifying Abia; the restoration of workers' salaries on the 26th of every month; the repositioning of Aba as the trade capital of Africa; the construction of at least 5 kilometers of new roads in each local government; the creation of employment opportunities for Abia youths, among others.
Elder Mark Ugorji will be unveiled as the Mascot Uzor Kalu's campaign Director General at the APP's secretariat in Umuahia by next week.