Edo: Obaseki plotting to impeach me, says Philips Shaibu
2 min read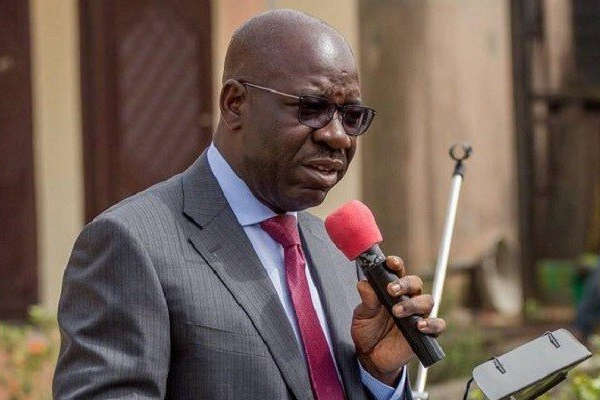 The deputy governor of Edo State, Mr Philips Shaibu has accused his boss, governor Godwin Obaseki of plotting to remove—impeach him from office
He requested special court protection from Obaseki's impeachment plot so that he can function as Deputy Governor of the South-South State.
Shaibu, in a suit filed at the Federal High Court Abuja, listed the Inspector General of Police, State Security Service, Edo Governor, Edo Speaker and Edo Chief Judge, as defendants.
He alleged that the governor was using security operatives as well as Edo Speaker and Chief Judge to perfect the plots to have him impeached.
In the affidavit he swore to sighted by The Nation, he alleged, ''That I know that this case is all about the action of the 3rd Defendant in preventing me from carrying out the functions of my office Deputy Governor of Edo and using the 1st and 2nd Defendants to harass, intimidate and embarrass me with the 4th and 5th Defendants in tandem with the desire of the 3rd Defendant to impeach me.
''The 3rd Defendant has hatched plans to impeach me and the court needs to urgently intervene by restraining him and all the other Defendants acting in concert with him.''
The face-off between Obaseki and Shaibu started after the Deputy Governor was sighted with Senator Adams Oshimohole during the inauguration of the 10th National Assembly in Abuja in a viral video.
The Governor, it was learnt, invited all the members of the Edo Assembly to his mansion to discuss the development in Benin without his Deputy.
The Deputy Governor, who reportedly got wind of the meeting, was said to have driven hurriedly to the mansion but was turned down at the entrance of the mansion.
Shaibu was reportedly told by DSS operatives that he was not on the list of invitees, a development that left him humiliated.
The Deputy Governor was said to have resorted to legal battles to save his job and career.
But an aide of the Governor confided in The Nation that Shaibu was chasing shadows.
The aide said: ''Philip is unserious. Nobody wants him out. The truth is that he wants the Governor to endorse him for Governor. The Governor says he is not playing politics now; that it is too early and that he wants to concentrate on governance till next year. But Philip is restless. He wants to draw the Governor out.''
However, the Governor, according to a credible source said he refuses to be provoked. ''Nobody wants the Deputy Governor out. He is chasing shadows,'' the source said.