Certified court documents of drug deal: Come clean or quit — Obi-Datti campaign office tells Tinubu
2 min read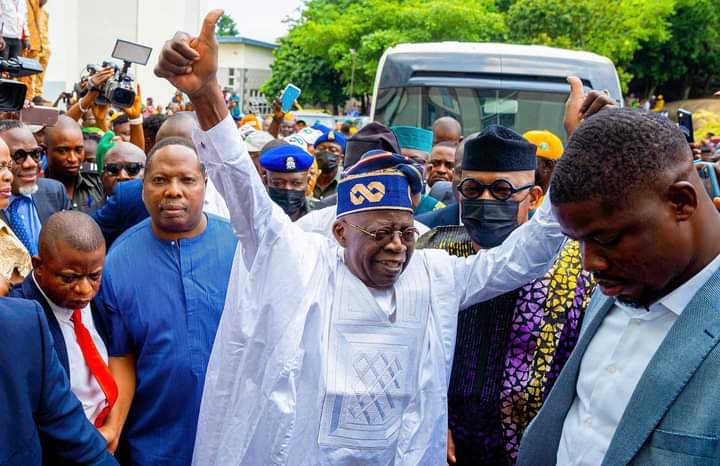 The Obi-Datti Media Office has asked the All Progressives Congress (APC) presidential candidate, Bola Tinubu to come clean with his past, engage Nigerians or quit, because the office he seeks to occupy requires a man who should be clean in all ramifications.
The latest demand is in response to the damaging document released by a United States court about his past.
The campaign office in a statement which a copy was made available to News Band, urged the former Lagos governor to come clean and stop indulging in proxy game about his past by denying Nigerians the opportunity of knowing exactly the person aspiring to govern them.
The statement reads, "What has made the Obi-Datti Media Office more curious is the continued refusal of the APC candidate to present himself for scrutiny by Nigerians, dodging every public and media interaction and using spokespersons and attack dogs to reach Nigerians and cover up his dirty tracks.
"Rather than be ashmed of the embarrassing situation, Tinubu Campaign office is arrogantly and fraudulently covering up and scheming to pick and chose the public events to attend.
"It's not enough to release a document as manifesto but not be available to defend and explain how you intend to carry out the implementations of the manifesto since spokespersons are not going to be on the ballot.
"If Tinubu truly had any record of narcotics and money laundering case arising from drug related businesses at any stage in his life, he must explain himself to Nigerians.
"And if he hid his past to Nigerians and the Independent National Electoral Commission, INEC, necessary steps should be taken by relevant authorities to save the country from such a person having access to power at the highest office in the land.
"Obi-Datti Media office is aware that there is a column in INEC form to candidates seeking to know if they had ever been convicted by any court of law anywhere in the world and that withholding such information breaches the
2022 Electoral Act (as amended).
"In view of the fresh facts arising from the US court document, Nigerians expect the Electoral Commission to demand a convincing response from the APC presidential candidate and to act on it accordingly without let or hindrance
"Following the successive failure of governance in our country over time, the Electoral Commission and indeed the entire Nigerian populace should show more than passing interest in the backgrounds of all those aspiring to rule this country.
"It's against this backdrop that we totally align our position with that of our Presidential Candidate, Mr. Peter Obi that candidacy by proxy must be rejected since the buck stops on the table of the person being elected not spokespersons or attack dogs".
Obi-Datti Media Office also demanded that if the APC candidate is not ready and willing to subject himself to the scrutiny required of anybody seeking to occupy the number one job in the land, he should quit.