BREAKING: Edwin Clark endorses Peter Obi
2 min read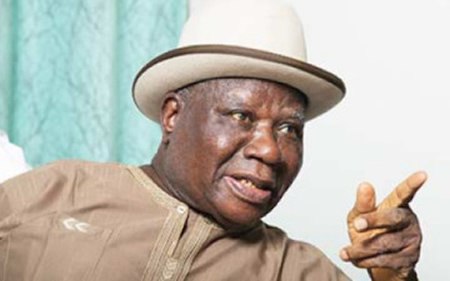 Chief Edwin Clark, former Federal Commissioner for Information and South South Leader, has endorsed the Presidential Candidate of Labour Party, Mr Peter Obi as his candidate for February presidential election.
Clark who is at the moment addressing newsmen at his Abuja home, said that with the former governor of Anambra State as president, Nigeria will become a united country.
The octogenarian also noted that one who must be the next president of the country must be educated and experienced, just as he said that South East should be allowed to produce the next president because the zone has resourceful and educated people to govern the country.
He said, "I have since been fully briefed on the successful outcome of the interaction held at that occasion. Amongst other things, I have taken note of the following observations which came out of the meeting: That PANDEF presented the expectations and demands of the peoples of the Niger Delta, comprising infrastructural development, devolution of power, resource control, effective and inclusive participation in the oil and gas sector, amongst other things, to the Presidential Candidate.
"That the vision statement shared by His Excellency Peter Obi at the occasion, as it relates to making Nigeria more productive, using the rich resource endowment in every part of the country; curbing waste and fighting corruption; and creating jobs for our teeming youths through innovative initiatives is very commendable.
"That his restated commitment to restructuring and devolution of power, will promote harmony, peaceful coexistence amongst the states and constituent parts of the country.
"That his vision for more equity and justice as it pertains to the South-South region, which in the past sixty years has produced much of the revenue for the national economy, but has been neglected with little impact in terms of infrastructure and social development, is convincing and commendable.
"Peter Obi's commitment to environmental justice to the clean up of the Niger Delta polluted communities is most welcomed, given that even the ongoing Ogoni clean-up has been rather slow.
"His commitment to inclusion of qualified persons from the Niger Delta in the national governance process in the future government if elected into power is very reassuring."